Wyoming Welcomes Caesars Sportsbook!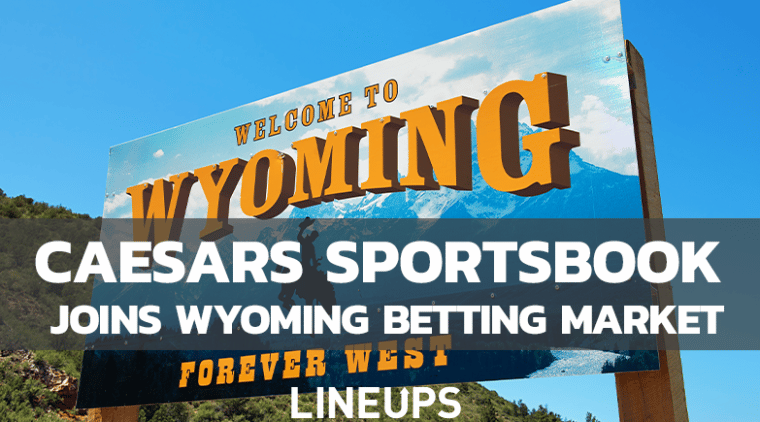 Caesars Entertainment is expanding its U.S. footprint with its expansion into Wyoming, which the company announced via press release on Aug. 2. Its coveted sportsbook, Caesars Sportsbook, is now available for Wyomingites on iOS and Android devices as well as desktops. 
This launch will include updates to the app including a larger focus on speed, ease of use, and new features that streamline the betting process. It will also feature, of course, its industry-leading customer loyalty program, Caesars Rewards. This program awards bettors in Wyoming with access to exclusive Caesars events and accommodations around the world, and most notably at several locations on the Las Vegas Strip. 
"We're ready to give sports fans in Wyoming the first-class sports betting experience they deserve," said Eric Hession, Co-President of Caesars Digital. "Our upgraded mobile sports wagering app together with unforgettable experiences through Caesars Rewards is a special combination we're excited to bring to this market."
With the addition of Wyoming, Caesars Sportsbook is now available online in 13 states. It has an established mobile presence in Arizona, Colorado, Illinois, Indiana, Iowa, Louisiana, Michigan, New Jersey, New York, Tennessee, Virginia, West Virginia, and Wyoming. It has retail locations in Illinois, Maryland, North Carolina, Washington D.C. and Nevada. 
Wyoming Sports Betting Market
Sports betting launched in Wyoming on September 1, 2021 with BetMGM and DraftKings as the two sole operators. Since then, FanDuel has joined the mix as the third active operator in the state and while Barstool Sportsbook and PointsBet have received approval to operate, they have not yet launched. All sportsbooks in the state are regulated by the Wyoming Pari-Mutuel Commission.
Per the legislation, mobile operators are taxed 10% on gross proceeds and are subject to a $100,000 five-year license followed by a $50,000 renewal fee thereafter. Wyoming, which is a fully online state, is also credited with being the first state to allow bettors to fund their account via cryptocurrency. 
From its inception in Sept. 2021 through May 2022, Wyoming has generated a $96.7 million handle with their highest monthly handle coming in January 2022 equating to almost $14 million in total bets wagered. November offered the state's biggest monthly gross revenue amount totaling $1.36 million on a 12.43% win rate. Through the state's 9 months of recorded revenue reports, the state has taken in $338,557 in tax revenue. Per legislation, the first $300,000 of revenue recorded by the state is to go to fund gambling addiction treatment. 
Wyoming is definitely a smaller player in sports betting when compared to other states which is in large part because of the lackluster sports presence in the state. There are no professional sports teams in the state which makes University of Wyoming, a member of the Mountain West Conference, the only real contender to bet on. The state is bordered by Colorado and Utah which together post several options for Wyoming bettors: the defending Stanley Cup Champions, Colorado Avalanche, Denver Broncos, Colorado Rockies, Denver Nuggets, and Utah Jazz.