Would Hawaii Really Issue a 55% Tax Rate on Sports Betting?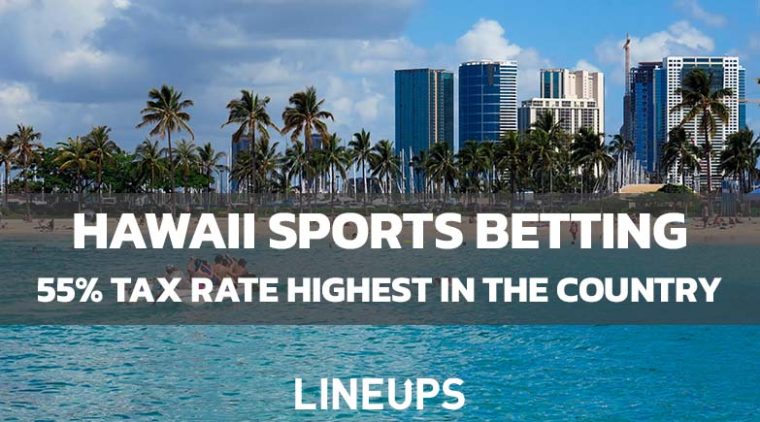 New York currently has the highest tax rate in the United States sports betting industry, but Hawaii is preparing to say "hold my Mai Tai" with its new proposed legislation. House Bill 1815, which was proposed late last week by Representative John Mizuno, calls for a 55% tax rate which would be the new highest in the country. Sportsbooks have expressed frustration over the current 50% rate in New York, and they would surely be unhappy if this becomes the new norm.
Tax Confusion – Do the Bettors Have to Pay?
The language in House Bill 1815 is quite ambiguous, and it has led to some serious concerns from potential sports bettors in Hawaii. Section 15 of the bill states that "there shall be levied, assessed, and collected a tax of fifty-five percent on all winnings paid out to any person by a sports wagering provider."
This language seems to insinuate that bettors would face unfavorable odds as they would shoulder the tax burden. Still, Mizuno offered reassurance, saying they "wanted to follow New York but go with a higher tax" and levy the tax against the operators, not the bettors. Mizuno has called this an "opening salvo," and that rate may be decreased through further legislative developments.
Hawaii in a Unique Position
Along with Utah, Hawaii is one of only two states in the country with no legalized gaming options – there are no casinos or lotteries of any kind in the state. However, Mizuno has expressed his belief that sports betting is already taking place across the state, and it makes sense for Hawaii to reap some benefits from tax dollars.
House Bill 1815 Details
Aside from the staggering 55% tax rate, we don't know a ton about the expected details of Hawaii's proposed sports betting market. HB 1815 "creates the online sports wagering corporation to regulate and administer sports wagering in the State over the Internet" within the Department of Business, Economic Development, and Tourism. Licensing fees for operators would be levied, although the draft of the bill leaves the amount blank.
Other Sports Betting Bills
In addition to HB 1815, Hawaii passed House Bill 1820 on Monday, establishing a casino control commission for the state and setting forth plans for a single stand-alone casino in Waikiki. The bill discusses how Waikiki used to be the "center of nightly entertainment" in Hawaii, but it has suffered from closing movie theaters, musical performance venues, and nightclubs. The addition of a casino would boost the Waikiki nightlife industry.
House Bill 736 is still hanging around in the state, and it has carried over from the 2021 legislative session. HB 736 introduces a pilot program with up to five sportsbook operators regulated by the Department of Business, Economic Development, and Tourism with a $30 million licensing fee issues to operators.
What Next?
HB 1815 and HB 1820 passed on first reading on Monday, but that's only the first step of a three-step process to pass through the Hawaii House of Representatives. Then, the bills need to be approved by the Hawaii Senate, signed by Governor David Ige, and approved by the federal government. We're only at the beginning of a lengthy legislative process, although it could take more time if the national sportsbooks opt to work against the state's goal of issuing such a high tax rate at 55%.