Wild Card Round Best Bets: Rams, 49ers, Steelers, and Raiders Looking To Beat The Spread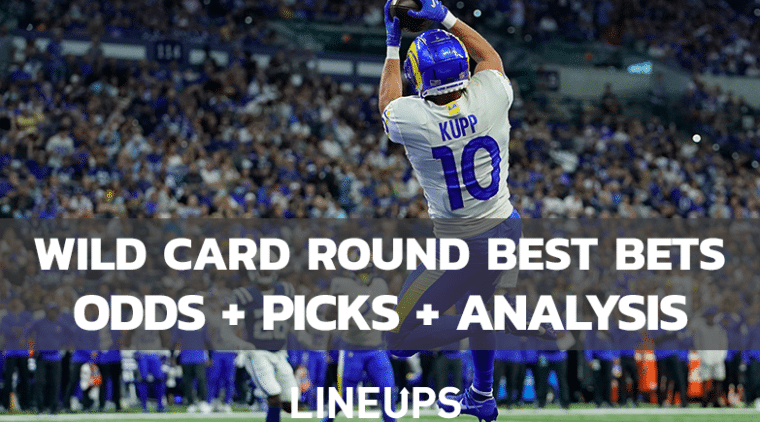 The NFL playoffs are underway, and you can find updated odds, lines, and predictions for the Wild Card Round here. Six playoff games kick off on Saturday through Monday, including some enticing entertainment options. The race for the Super Bowl starts here and here are some Wild Card Best Bets.
San Francisco 49ers (+3) vs Dallas Cowboys
This is a scary one given how popular of an underdog the 49ers have become recently, but it's also the only game this weekend where the team with the better head coach and more experienced playoff quarterback is getting points. The biggest matchup to watch out for here is the battle between San Francisco's secondary and Dallas' receiving core. Few teams in the NFL throw the ball more than Dallas and, if the Niners secondary is able to keep Dak and this offense at bay, the door is going to be wide open for Jimmy G and this big play 49er offense. Over the course of the season, just 5 teams allowed fewer passing yards per game than the 49ers at 206.5 yards/game. Similarly, only 6 teams allowed fewer rushing yards per game — making the 49ers the only team in the NFL to rank in the top 7 in both rushing and passing defense. Dak hasn't looked right since the Cowboys' victory over the Patriots on October 17th and they haven't beaten a team outside the NFC East since Taysom Hill threw 4 picks on Thursday Night Football in early December.
The Niners have the best red zone offense in the NFL and lead the league in yards per completion. The Cowboys are going to have to score to keep up in this one, and I think they're going to struggle against a defense that's been able to slow down Joe Burrow and Matt Stafford. The one silver lining for Cowboys fans is the health of Elijah Mitchell heading into the weekend. The 49ers leading rusher did not practice with the team as of Wednesday and is currently listed as questionable to play.
Los Angeles Rams (-4) vs Arizona Cardinals
Neither of these teams look like the Super Bowl contenders we thought they might be mid season but here we are and it's time to hammer the Rams. Ever since JJ Watt went down with a shoulder injury in late October the Cardinals have really struggled to defend the run. Allowing Rashaad Penny to rush for over 130 yards last weekend, they're going to have to their hands full as RB Cam Akers has finally been cleared to rejoin the Rams lineup. Teams coached by Kliff Kingsbury are a combined 17-41 straight up in the months of November and December dating all the way back to his college coaching career, and it's hard to imagine this Cardinals team .
I don't think the Rams are that great of a team as Matt Stafford continues to make costly turnovers that often result in points for the other team, but this Cardinals offense has looked worse in recent weeks — particularly since DeAndre Hopkins went down. To add insult to injury, the Cardinals may be without their two best running backs on Monday night as Chase Edmonds and James Conner are both listed as questionable.
Pittsburgh Steelers (+12.5) vs Kansas City Chiefs
God this is ugly. On paper the Chiefs dominate the Steelers in almost every facet of the game, and when they met on the field just three weeks ago that's exactly what happened. Kansas City has a top 3 offense, averaging 396.8 yards a game behind an electric passing attack that puts up over 280 yards a game. The Steelers, meanwhile, have easily the worst offense in the playoffs. They average the fewest yards per pass attempt of any team in the AFC and lack any semblance of a run game.
There's something about these big playoff spreads against Mike Tomlin, however, that give me pause. In his career, Tomlin is an insane 41-23-2 ATS as an underdog — by far and away the best of any NFL head coach in that span. It'll likely be Big Ben's last game in the NFL and this Chief's defense is still bad. Sure, they've produced more turnovers lately, but they still finished in the bottom six of the league in yards allowed per play and yards allowed per game. Kansas City has a history of getting behind early in playoff games, and I expect Mike Tomlin to take full advantage of any early missteps by Mahomes and company. 12.5 points is a lot to put on a team with a bad defense going up against one of the best coaching minds of the last decade.
Las Vegas Raiders (+5.5) vs Cincinnati Bengals
The Raiders undoubtedly got the short end of the stick by drawing the earliest time slot on Saturday after coming off an epic Sunday Night game against the Chargers, but I think fatigue has been an over-discussed element of this game. Not only are these professional athletes who can dedicate every waking moment to recovery and preparation, but there's also something to be said for the continuity a team gains from playing in back-to-back weeks — especially when they lack playoff experience. What's been under-discussed heading into this game, however, is the Raiders' ability to prevent offenses from converting big plays over the top. Cincinnati has lived all year on 30+ yard throws from Joe Burrow to Tee Higgins and Ja'Marr Chase. The results have been feast or famine as they have the second most plays of 40+ yards and the 6th most interceptions.
The Raiders, meanwhile, currently rank sixth in yards allowed per completion and have given up the fifth fewest explosive plays in the NFL despite being in a division with Patrick Mahomes and Justin Herbert. They're one of the few defenses that has the personnel to play Cincinnati's game, and, better yet, they'll be able to fight fire with fire as Derek Carr ranks second in the NFL with 67 plays of 20 yards or more. I like the Bengals to win by a field goal as they clearly have the better running game albeit a marginally worse defense. Expect both teams to trade quick scores early and for the game to turn into a slower, more methodical chess match that features a lot of second half clock chewing.