Who Will The Super Bowl 56 MVP Thank First Odds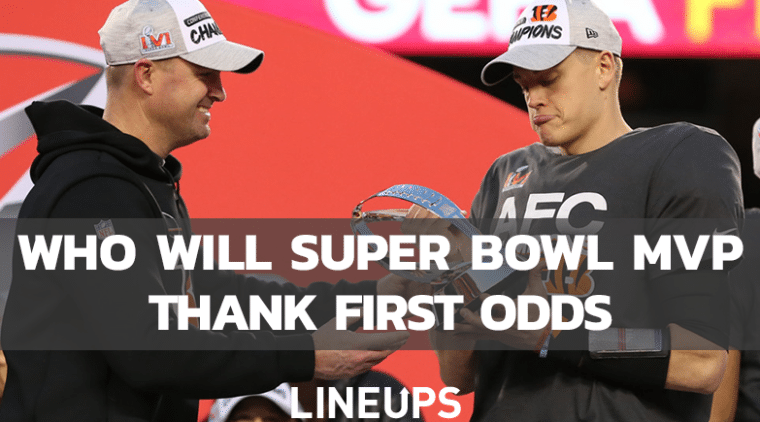 Are you a sports betting enthusiast who sees the Super Bowl as the most entertaining game of the year for you to bet on? Then look no further than our Super Bowl Props posts that cover everything from the "Coin Flip" to what we are covering in this post, which is "Who Will The Super Bowl 56 MVP Thank First?" This is another incredibly speculative prop bet that keeps bettors and fans engaged throughout the whole game. Check out the possibilities and their respective odds!
Who Will The Super Bowl 56 MVP Thank First Odds
Team/Teammates +100
City/Fans +275
God/Religion +350
Family +800
Any Other +1000
Coaches +1600
Team Owner +2000
Via DraftKings Sportsbook
Recent History Of The Prop
It's always funny to see Super Bowl prop bets like the "Who Will The Super Bowl 56 MVP Thank First" prop, and there are always a wide variety of possibilities, much like the Gatorade Color prop. Usually, we end up with God, family, teammates, or coach, but you never know when you may not get a "thank you" at all, which is another option to bet on! In 2020, Patrick Mahomes mentioned his teammates first before family, God, or coach, and we could very well see that again. If Stafford wins the MVP, I definitely could see him thanking God or his teammates first. If Joe Burrow was the MVP, I predict that he talks about his teammates first before anyone or anything else! This is always fun and is another highly speculative bet, so don't rack your brain over the possibilities. It's pretty random.
How To Bet On Who Will The Super Bowl MVP Thank First Prop
As mentioned in these other Super Bowl prop articles, several different sportsbooks offer these types of fun and meaningless props. Some of those sportsbooks are FanDuel, DraftKings, BetMGM, and Caesars, but it certainly does not stop with just those four!
Los Angeles Rams Vs. Cincinnati Bengals Betting Odds