When Will The Carolina's Join The Sports Betting Party?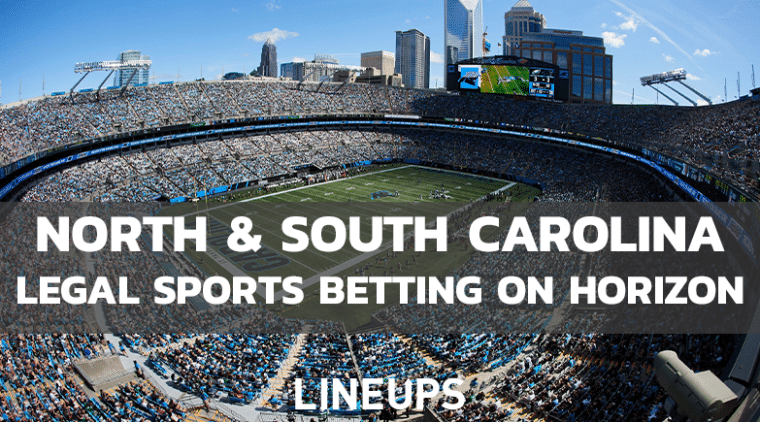 South Carolina Still A Long Way To Go
Both North and South Carolina have stayed on the sidelines of the sports betting game since its legalization in 2019, but recent updates suggest that this could change. Currently, South Carolina prohibits nearly all forms of gambling, prohibiting commercial and tribal casinos, as well as racetrack gambling, iGaming, and sports betting. North Carolina does allow in-person sports betting, but only on tribal lands. 
South Carolina sports betting has a history of being heavily opposed having banned nearly every form of gambling in the state. Only one other state, Hawaii, has the same rules in place. 
Enter Joe Cunningham, former United States Congressman and current 2022 candidate for governor of South Carolina who recently expressed his support for sports betting in the state. His proposal for the legalization of the popular activity would allow both mobile sports betting and brick-and-mortar betting.
A press release on Joe Cunningham's campaign website quoted Cunningham as saying, "legalizing sports betting would allow our state to fix real problems and create good-paying jobs without raising a single cent in taxes."
It also quoted Cunningham as saying, "the fact is sports betting is already happening in South Carolina; but it's underground, unregulated, and brings in zero tax revenue for our state. So we have two options: we can let the bookies run the entire industry and keep it underground with no tax revenue for our state, or we can bring it above board, regulate it, tax it, and fix problems with the money. This is a no-brainer."
Cunningham's proposal includes a tax revenue measure that supports public school education.
Current South Carolina Governor Henry McMaster, is the favorite in the election set for November, which doesn't bode well for Cunningham's sports betting proposal especially in a state with historic bias against the gambling industry. 

North Carolina Inches Closer
Just north lies North Carolina, who has better hopes of becoming a real player in the sports betting market but has to pass legislation first. Some state lawmakers have made assumptions that they will have legal online sports betting options for the people of North Carolina by the 2022 NFL season. 
North Carolina currently has two retail sportsbooks (located in tribal casinos) in the state. One is three hours from Charlotte and the other one is four hours. Not ideal for Hornets or Panthers fans. 
In August 2021, the Senate passed a bill to authorize online wagering on sports in a 26-19 vote. The bill included legalized betting on professional, collegiate, amateur, and online sports. It also committed the operators to an 8% tax rate on their adjusted gross revenue as well as licensing fees to operate in the state. 
Since then, North Carolina State Representative Jason Saine has led the charge in mitigating possible opposition by the House of Representatives. He believes that the majority will vote to approve the bill. Lawmakers and sports enthusiasts also have the support of Governor Roy Cooper in fighting for the legalization of sports betting, but unsurprisingly, have been met with opposition to the bill as well. 
Issues that opposed lawmakers have raised about legalizing the activity range from increasing addictive gambling to the financial impact on the lower class. But State Senator Sarah Crawford, a supporter of the bill, doesn't seem too concerned about those barriers. 
"The tax revenue on the sports betting will fund additional problem gaming help resources like treatment options and 24-7 hotlines and other resources that can be made available to individuals who have gambling problems," Crawford said. 
Both states (especially South Carolina) still have some big hurdles to get over before they can legally bet, but these are certainly steps in the right direction.