Week 1 NFL Odds & Lines Ahead of Thursday Night Football Matchup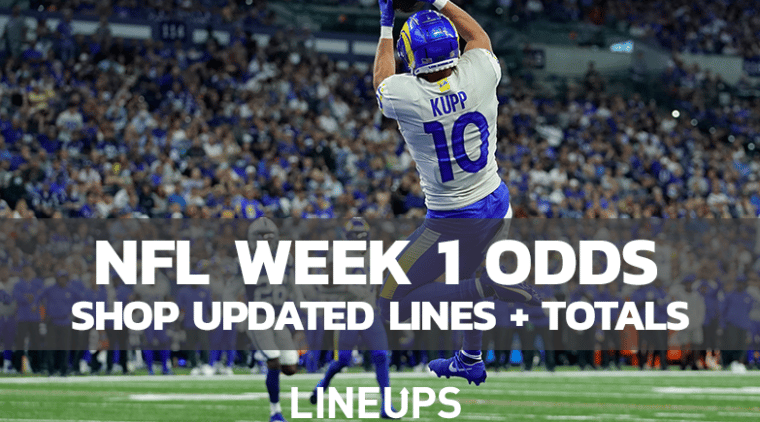 Well, folks, we finally made it- the offseason is over and at long last, it's time for some NFL football. And with great football comes great betting opportunities. Week 1 is, of course, hard to pin down since we haven't really seen the newest iterations of each team play yet, but there is certainly still value to be found on the board. One unique wrinkle of early season games is that the lines have been out for weeks already, so there's been a lot of opportunities for the numbers to move, and in some instances, they certainly have done so, and done it in a big way. Let's get into some of the most interesting plays for Week 1.
NFL Week 1 Odds
Find the best NFL Week 1 odds and lines across the major sportsbooks. 
Bills @ Rams; Thursday, 8:20pm Eastern
Where better to start than with the first game of the season? We're less than a week away from an epic clash between the defending champs, and the team that many thought should have faced them in that Super Bowl. The spread for this game opened with the Bills favored by a point; it has since been bet down to Buffalo -2.5, and there's no reason to believe that this movement will stop. While I think +2.5 is already solid value for a very talented Rams team playing a home game, I'd recommend holding off until as close as possible to kickoff to bet on this one; no reason to sell yourself short if the number is going to keep going towards the Bills.
I'd wait until the Rams are an underdog of a field goal or more, and then pull the trigger on their spread. As for the total, it's stayed more stable at 52.5, which I think is rather low for two of the top five or so offenses in the league, even though both sides have very strong defenses too. It's hard to imagine neither team cracking 25 points, and it's also hard to envision a blowout; with these two parameters in mind, that means we're very likely looking at over 52.5, a number I'm very comfortable with betting.
Patriots @ Dolphins; Sunday, 1pm Eastern
As a lifelong Patriots fan, seeing my team as only 3 point underdogs in this game set off all sorts of immediate red flags. Over the Pats' last nine trips to Miami, a period which includes three Super Bowl winning seasons, as well as another AFC title, they have walked away with an astounding seven losses. That includes some extremely strong Patriots teams, and some relatively uncompetitive Phins squads. This year's groups on both sides will not follow those descriptions. The Dolphins made the enormous move of bringing in Tyreek Hill, bolstered the o-line with Terron Armstead and Connor Williams, brought in an offense-first head coach, and shored up the pass rush in their already-solid defense by adding Melvin Ingram and recently, Trey Flowers.
The Patriots, however, had one of the most bizarre drafts of all time in which they replaced Shaq Mason with an enormous reach on Cole Strange, did next to nothing to strengthen Mac Jones's arsenal of offensive weapons, and completely ignored the dire need for an infusion of speed in the defense that got utterly torched by the rival Bills in two must-win late season matchups last winter. Suffice it to say, Miami will be covering those three points and more, in this incredibly predictable Week 1 divisional clash. There has been very minimal movement in the spread, possibly due to a large Patriots fanbase betting on their team and keeping the number where it is, a phenomenon I like to call "Michigan Syndrome," where the sheer size of a team's brand recognition lifts their odds to a level at which they do not belong.
Ravens @ Jets; Sunday, 1pm Eastern
This line has seen some of the most movement of any of the Week One games, due in large part to the up-in-the-air status of Zach Wilson. The Ravens opened as just 4.5 point favorites, and have been bet down to being favored by an even touchdown at 7 points. I think this is a very worthwhile bet; the Jets have potential to make some strong progress this season, but I don't see opening day, without their starting QB, against a potentially elite defense as the launchpad for that improvement.
It's easy to forget, but last year's Ravens team, who eventually missed the playoffs, was the 1-seed before Lamar Jackson got hurt; they had a solid offseason and should be playing at that high level once again. The points total is also a weird situation; the implication of the Ravens becoming bigger favorites due to bad news with the Jets offense is that there will be less scoring from the New York side, but the points total has not moved at all. Furthermore, if the Ravens are able to bury this game early, they could very well take their foot off the gas pedal and coast through the second half. 44.5 is a pretty low number, but I'd still take the under in this game.
Browns @ Panthers; Sunday, 1pm Eastern
The Baker Mayfield revenge game! Sometimes it feels like Roger Goodell and the TV Network executives sit down with a calendar and a red sharpie to create these scenarios, but I'm not about to complain- this game is going to be deeply entertaining. That being said, it has also had some of the most confusing moneyline movement of any of the Week 1 games; the Browns opened up at -4, but have since soared to +2.5. It's hard to imagine that the Deshaun Watson suspension rocked anybody's perspective for this game; even before he was officially suspended, nobody expected him to play the opener.
It also doesn't seem likely that anyone other than maybe myself sees the addition of Baker Mayfield as being impactful enough to swing a team from a 4 point underdog to a 2.5 point favorite. That being said, I love the Panthers at that number with an angry Baker Mayfield going up against a Jacoby Brisset-led Browns team opening the season on the road. I'd bet on them before the money goes even further in their direction. In terms of the total for this game, it's at 41.5 and falling. I don't see how either defense is solid enough to justify a game taking place with the teams scoring essentially in the teens of points, I'd watch this number to see if it keeps going down, but the over in this game is one of my favorite bets of the week
Bucs @ Cowboys; Sunday, 8:20pm Eastern
Lastly, we have Sunday's primetime matchup between America's Team and a team that's actually had postseason success on this side of the Clinton Administration. This was the opener for both teams last year as well, and it provided an exciting, hard-fought start to the season. I do not anticipate the same this year, as the Bucs look strong once again, and the Cowboys lost Amari Cooper and are limping into the season with one of their worst offensive lines in recent memory. The line right now is -1.5 for the Bucs, essentially a pickem in what I see as a fairly lopsided matchup, even in Dallas.
Amazingly, the line is moving even more towards Dallas, which feels like another case of Michigan Syndrome, as explained above; a huge, passionate Cowboys fanbase juicing the odds on their team. I would be comfortable with Bucs -1.5, but I'd also advise patience; wait and see if it moves even further before investing. The points total of 50.5 also seems somewhat low considering the offensive talent on both sides, but since this number is falling as well, I'd also suggest waiting for it to dip into the 40s before sinking assets into that wager.