Washington Commanders Vying For Sports Betting License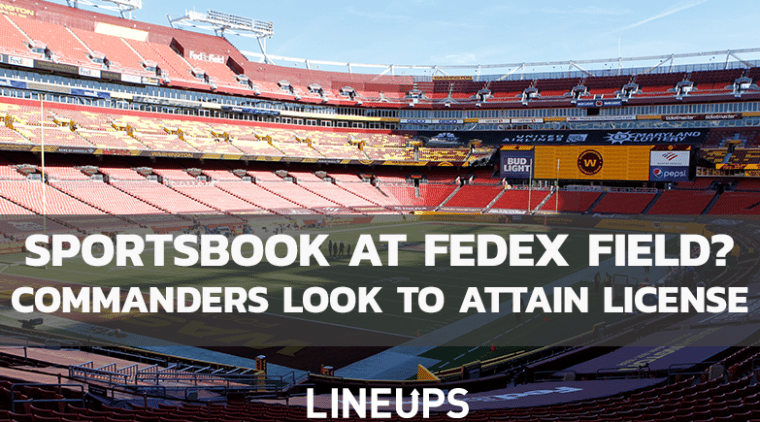 The Washington Commanders are joining the wave of sports teams looking to do a deal with a sportsbook as the Maryland-based team just announced that its executives will go before the Maryland Lottery and Gaming Control Commission (MLGCC) next week in pursuit of a sports betting permit for their stadium. 
Maryland Sports Betting Background
Sports betting in Maryland was passed by voters in November 2020 and was signed into law in April 2021 following the structuring of the market's rules. Over a year later, the online sports betting market has still not launched in the state. December of 2021 was the state's soft launch of sports betting in the state when several casinos opened retail sportsbooks. The state's Sports Wagering Application Review Commission has told eager Maryland sports bettors that fall 2022 is the earliest that sports betting could launch in the state. 
The law calls for 10 Class A licenses reserved for Maryland's six casinos, three professional sports teams (Washington Commanders, Baltimore Ravens, Baltimore Orioles) and the Maryland Jockey Club. It also calls for 30 additional Class B licenses available for other types of retail businesses, seven for the Maryland State Fairgrounds, four at off-track betting parlors, and two at commercial bingo halls with 200 or more machines.
Possible Partners
FedEx Field executives have yet to announce which sportsbook they are looking to partner with in this launch however the Commanders are partnered with FanDuel for their online-only license in Virginia. Consequently, FanDuel has a retail sportsbook at Live! Casino Maryland. 
Rumors have also circulated that Fanatics could be the team's potential partner for this season. They received approval to license in the state earlier this year and have posted several jobs on their hiring website that indicate jobs need to be filled at FedEx Field. This comes just a little bit after Fanatics announced the transition away from strictly sports apparel and a move towards a full-fledged sports company that includes a sportsbook, BetFanatics. 
Rise of In-Stadium Betting
For a long time after the repeal of PAPSA, the NFL staunchly opposed and legally prohibited the presence of in-stadium sportsbooks in the league. But according to the league's most recent collective bargaining agreement from 2020, the league will receive some percentage of "gambling revenues generated by gambling-related businesses in or physically attached to an NFL stadium." 
The Commanders will be joining a long list of professional sports teams who have made partnerships with sportsbooks in recent years. Last year, the Arizona Cardinals announced that they would be launching the league's first in-stadium sportsbook via BetMGM. Chicago's iconic Wrigley Field also received approval in 2021 to build a two-story in-stadium sportsbook at their field and Commanders neighbors, the Washington Wizards and Washington Capitals, opened a retail sportsbook in 2020 at Capital One Arena.
Whether the Commanders will join the cause and launch an in-house sportsbook or rather just a sportsbook lounge is still unknown until they talk to the MLGCC. Either way, it's expected that the Baltimore Ravens and Baltimore Orioles are not far behind in their push for an in-stadium sportsbook.