Von Miller Super Bowl 56 MVP Odds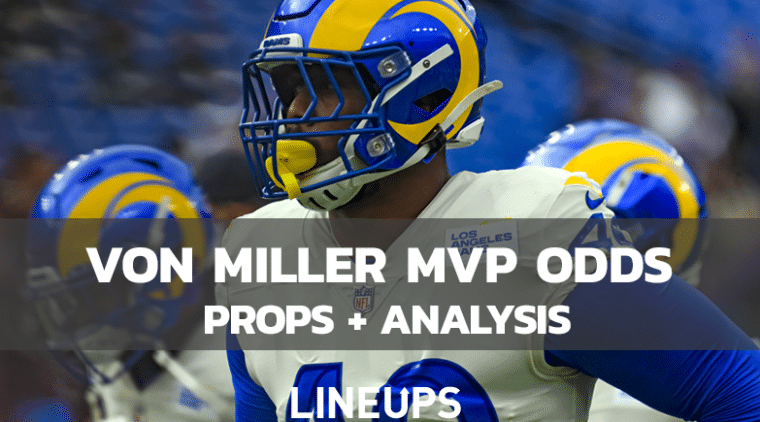 With the Super Bowl on the horizon, no question is more imminent than who will win the Super Bowl MVP award. Matthew Stafford and Joe Burrow are the clear favorites to win the MVP award at +110 and +225, respectively. But there are certainly runner-ups that have made compelling cases for a chance at the trophy. Among them is pass-rushing king Von Miller who DraftKings has at +5000 to win the Super Bowl 56 MVP award. He will have to defy the odds that have him as the twelfth-most likely player to win. He's behind both quarterbacks, Cooper Kupp, Aaron Donald, Ja'Marr Chase, Odell Beckham Jr., Joe Mixon, Tyler Higbee, Cam Akers, Tee Higgins and Tyler Boyd. Certainly no easy competitors in sight.
Von Miller Super Bowl 56 MVP Odds
But Von Miller is no stranger to this award, as he won it in 2015 at Super Bowl 50 with his beloved Denver Broncos. He's the only player on either team that has a Super Bowl MVP award under his belt. In Super Bowl 50, he had 2.5 sacks that led to two Broncos touchdowns, two forced fumbles, six tackles, and a defended pass that landed him the MVP award. He was just the sixth defensive player in Super Bowl history to win the MVP award and a defensive player hasn't won the award since. The only defensive player with better odds to win it this year over Miller is defensive teammate and arguably one of the best to ever do it, Aaron Donald. Donald is pegged at +1800 to win the award.
The fact that their opponent is the wretched Bengals offensive line (who has allowed the most sacks in the NFL) gives both Donald and Miller opportunities to perform very well in this game, it's just a matter of who exploits it more. The biggest roadblock between Miller and the MVP trophy is not the Bengals, it's Aaron Donald. However, if Miller comes out of this game with a second MVP award, it would be historic. No defensive player has ever come close to taking two Super Bowl MVP awards and anyone that has repeated the accomplishment is a quarterback. Also, Tom Brady is the only NFL player in history to win a Super Bowl MVP on two different teams, a club which Miller would join if he wins.
In the postseason, Von Miller is leading this defense in sacks, solo tackles, and tackles for loss. This comes on the heels of a solid regular season performance by Miller that included 9.5 sacks and consistency every game on the defensive line. The Tennessee Titans, who have a far less lethal defensive line than this one, put Burrow on the ground nine times (an NFL record) in the divisional round. So this defensive line, Miller included, will surely be chomping at the bit to do the same damage. But in order for Miller or Donald for that matter, to hoist the MVP trophy on Sunday, they'd have to outplay Matthew Stafford and Cooper Kupp and their undeniable chemistry, which is about as hard as it comes. But crazier things have happened. Miller won it in 2015 over Peyton Manning in his final season.
Los Angeles Rams Vs. Cincinnati Bengals Betting Odds