Virginia Records Decrease in Sports Betting Handle in June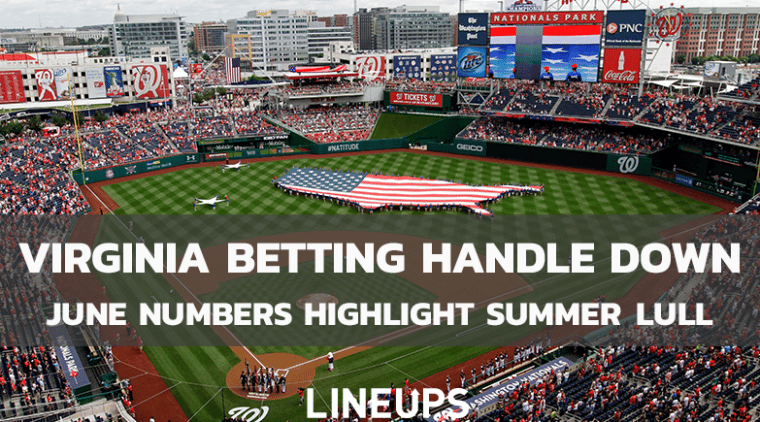 A Slow June
The month of June proved somewhat disappointing for the Virginia sports betting market as the state reported $295.2 million in wagers throughout the month, a 16% drop from May's $351.5 million handle. After paying out winners, sportsbooks had totaled nearly $26 million in gross revenue equating to a hold percentage hovering around 8.8%. This is also a sharp decrease from the month prior which saw $42.5 million in gross revenue on a hold of 12.1%. 
After bonuses and promotions were accounted for, the state's 13 sportsbooks brought in roughly $13 million in adjusted gross revenue (AGR) which was over 50% less than May's AGR. As was the state's tax money generated from the month which equated to just $1.87 million in June, contributing to the year to date total revenue from sports betting of $35.5 million. 
Promotional Expectations Changing
Operators deducted about $7.8 million form their gross revenue in bonuses and promotions though that number should decrease significantly going forward. The governing body of the sports betting market in Virginia, The Virginia Lottery, recently announced that sportsbook operators that have been operating in the state for 12 months, will no longer be exempt from tax on their bonuses and promotions. To date, operators have been able to deduct almost $200 million from their taxable income which has cut the state's potential tax revenue in half. 
The language on the new budget reads: "after the first 12 months of sports betting activity, a permit holder is prohibited from excluding from adjusted gross revenue any bonuses or promotions provided to bettors as an incentive to place or as a result of their having placed Internet sports betting wagers. The provisions of this paragraph begin the first month a permit holder collects wagers related to sports betting."
BetMGM, which is known for its heavy promotional tactics, has doled out 37.1% of the promotions in the state this year. The operator took its first wager in January 2021, so under the new rule, it's past the 12-month mark that allows promotional deductions. It remains to be seen how their marketing strategy and/or revenue patterns will change as a result of the new rule. 
Virginia vs. Other States
The sports betting market in Virginia is controlled mainly by three main operators: FanDuel, DraftKings, and BetMGM, who have 40.97%, 22.17%, and 19.70% of market share, respectively. Of all 13 mobile operators, just seven of them saw positive adjusted gross revenue on the month, which actually fairs pretty well in comparison to the rest of the U.S. market right now. 
23 states have released their revenue reports for the month of June, Virginia included, and have averaged a 22.9% dip on the monthly handle compared to May in their respective states. The states have also recorded a 44.1% average drop in total revenue compared to May.