Underdog Fantasy Readying to Enter Sports Betting Market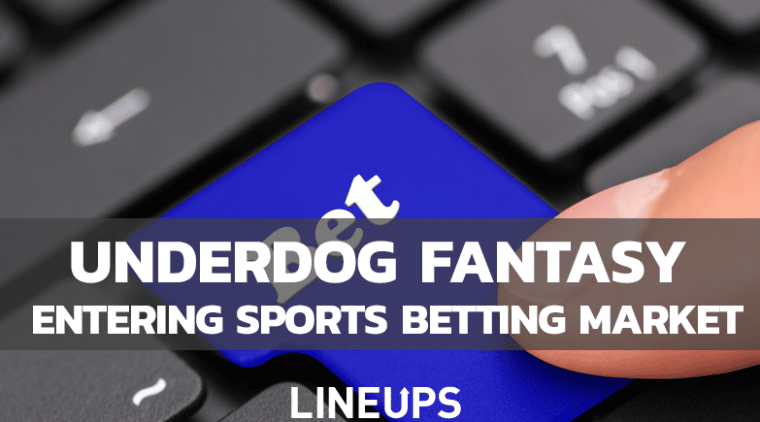 What We Know
In a recent press release, Underdog Fantasy announced that they "will be launching an innovative sportsbook in multiple markets over the coming months." This is not the first time they have expressed interest in entering the sports betting market, however this is the first timeline they have given related to the venture.
In September of 2021, Underdog took to Twitter to say "we are proud to announce we have acquired GOAT Gaming, a betting tech platform with an amazing team that will be our cornerstone in transforming sports betting. This is truly an evolution for Underdog. We plan to approach betting the same way we approach fantasy – with our players first and with best in class products and support. If you've enjoyed our games so far, we can't wait for you to see what's next."
Since then, discussions have been quiet – until now. Underdog's general manager of fantasy, Nick Rudman said that as a sportsbook, they are not planning to "compete at the same thing as everybody else." While they plan to offer classic betting options like spread and over/unders, they are also planning to differentiate promotions, marketing efforts, and how they spend their time, money, and energy. 
Founder Jeremy Levine said last year that "it will feel more like an immersive experience. And moving forward we're looking at different platforms, like voice, augmented reality, virtual reality."
Underdog Background
Levine has founded several daily fantasy sites, the first two of which were eventually bought by DraftKings and FanDuel. Then in 2020, Levine launched Underdog Fantasy, which took off with the introduction of its Best Ball tournaments. 
Best ball fantasy football is certainly on the rise, and Underdog is undoubtedly leading the industry. The company's first Best Ball Mania tournament had 34,000 entries total – this year alone they have over 37,000 and the year isn't even half way over. 
Just weeks ago, the company launched the biggest best ball tournament in history, the $10 million Best Ball Mania III – it's also been dubbed the biggest daily fantasy tournament in the modern era. Up to 451,000 players compete for $10 million in prize money. With just a $25 buy-in, the winner will be awarded $2 million, the runner-up, $1 million, and another $1 million to whichever entry accumulates the most points within the 14-week regular season. 
Sports Betting Market
Levine has expressed on several occasions just how dramatic the difference will be between Underdog's sportsbook and industry leaders like DraftKings and FanDuel. Some of the offerings they have hinted at include options adjacent from traditional betting like March Madness brackets and Super Bowl squares. 
Sportsbook operators today target similar demographics, with similar offers (free bets, deposits matches, bonuses) on similar platforms. And while Levine and the Underdog team begin their descent into the market, they vow to be different. How they plan to do that, specifically, remains to be seen. However, given the timeline of their announcement, industry experts believe that a launch could be coming prior to the 2022 NFL season.