Tom Brady Announces Retirement – Sports Betting Implications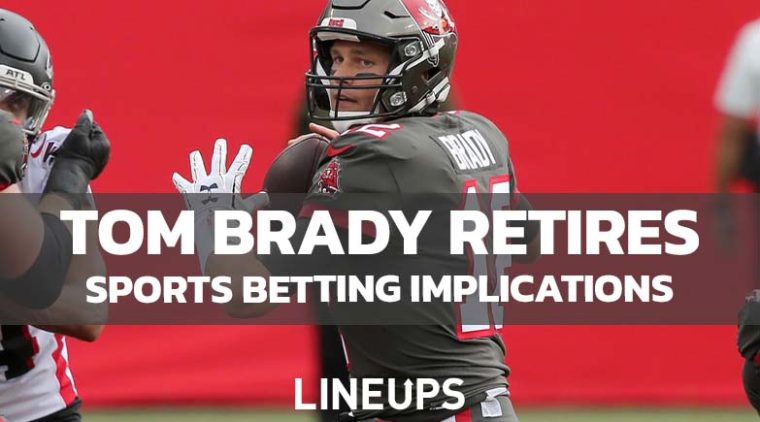 On Tuesday morning, Tom Brady confirmed via Twitter what had initially been reported on Saturday – he's officially retiring from the NFL. At 44 years old, Brady still led the NFL with 5,316 passing yards and 43 touchdowns this past season, and he's a surefire MVP finalist, if not the winner this year. To say he went out while still on top of his game is an understatement – I still had him at #1 in my personal QB index. Brady issued an official statement on Twitter in which he thanked his "teammates, coaches, fellow competitors, and fans," as well as his wife, Gisele, and three children.
❤️ pic.twitter.com/B3KKl7DFk3

— Tom Brady (@TomBrady) February 1, 2022
2023 Super Bowl Odds Shift
On Saturday, initial reports of Tom Brady's retirement were released by ESPN's Adam Schefter and Jeff Darlington. As that report spread, the Buccaneers' 2023 Super Bowl odds dropped from +1000 to +2000 on DraftKings Sportsbook, shifting them from the third favorite to the eighth. Those odds shifted back up after Brady denied the retirement report, and they now sit at +1200 on DraftKings. However, the Buccaneers were a +5000 longshot to win the Super Bowl before Brady joined the team, and it wouldn't be shocking to see them drop back into that range following Brady's official retirement.
With Brady's retirement and the likelihood of Aaron Rodgers joining the Denver Broncos or another AFC team, the NFC is looking wide open for the 2022-23 season. For now, the Rams (+1100), Cowboys (+1400), and 49ers (+1400) are the biggest favorites for the 2023 Super Bowl outside of the Buccaneers but look for some dark horse teams such as the Cardinals, Saints, and Eagles to make a splash this offseason.
Tom Brady: the ATS GOAT
Not only does Tom Brady retire with seven Super Bowl rings, by far the most of all time, he also retires as arguably the biggest gift to the sports betting world of all time. Brady retires with a 243-73 record straight up and 35-12 in the postseason. Against the spread, he finished 184-123-9 (59.9%) in the regular season and 25-21-1 (54.3%) in the postseason. If you simply spent Brady's entire career betting $100 on him ATS in every game he played, you'd be up just under $6,000 (assuming the traditional vig of -110).
Brady is a treasure trove for sports bettors, and he also embarrassed some other franchises in that respect. Brady has more ATS covers in his career (209) than the Panthers (205), Jaguars (180), or Texans (139) have straight up wins in franchise history. You made out even better if you were ever lucky enough to catch Brady as an underdog. As an underdog, Brady went 37-23 SU and 41-17-2 ATS (68.3%) and 51-9 ATS on six-point teasers.
What's Next for the Buccaneers?
Win totals for the 2022-23 season aren't published yet on sportsbooks, but the Buccaneers will see their projection decline with Brady's retirement. The Bucs also have some key free agents to make decisions, including Chris Godwin, Jason Pierre-Paul, Ryan Jensen, and Ndamukong Suh. It's unclear who the team's starting quarterback will be next season, but making a free agency play to bring Jameis Winston back could make some sense. A trade for Kirk Cousins, Jimmy Garoppolo, or even Aaron Rodgers could also be on the table.
Plenty is up in the air for the moment for this franchise, but Buccaneers' fans will spend this week celebrating Brady's accomplishments, grateful they got to have the best football player of all time on their roster, even for a short time.