theScore Bet Ends United States Operations Paving the Way for Future Integrations with Barstool Sportsbook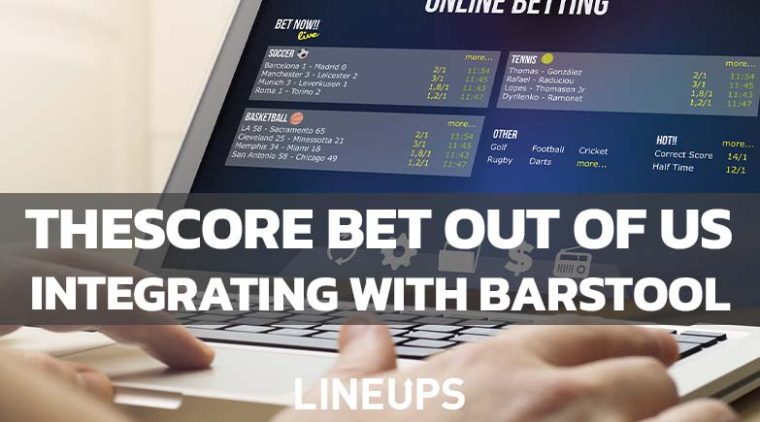 This week, theScore Bet announced that it would be discontinuing its online sports betting operations in the United States on Friday, July 1, 2022. theScore Bet is currently operational in four U.S. markets – New Jersey, Colorado, Indiana, and Iowa – and Ontario, Canada. Ahead of discontinuing operations, theScore Bet will no longer accept deposits or take new wagers on Wednesday, June 15.
Penn National acquisition @theScore tells customers it is leaving the US sportsbook space to concentrate on the Canadian market and to use Barstool Sportsbook instead. pic.twitter.com/ixzMYxjFDh

— Darren Rovell (@darrenrovell) June 1, 2022
theScore Bet Excelling in Ontario
While the United States market hasn't been kind to theScore Bet, the platform has quickly become a leader in the Ontario market. According to Sports Handle, theScore has accounted for 50% of Ontario's sports betting downloads since its legalization on April 4. According to another report, theScore Bet collected 35% of the app download share in April.
Revenue figures haven't yet been released in the market, and they will not be until after the provincial election in Ontario. However, it's easy to see that theScore Bet has been highly successful thanks to its existing four million monthly users on its sports news application and its brand recognition from the Canadian cable television station that launched in 1994.
theScore Bet's History
Shortly after the historic decision to overturn the Professional and Amateur Sports Protection Act in the federal courts in 2018, theScore became the first media company to launch sports betting operations in the United States in New Jersey. TheScore Bet was later launched in Colorado, Iowa, and Indiana, but none of those markets became highly successful.
However, Ontario has been a massive success for Ontario by the available metrics. According to the Penn National Gaming earnings call, 79% of Ontario bettors use theScore media app, and 50% of Ontario sports bettors have also used theScore iCasino. With its partnership with the Toronto Blue Jays, theScore will soon open a sports betting lounge at Rogers Centre.
theScore Bet highlights (via $PENN earnings call)

– 79% of Ontario bettors use theScore media app
– 50% of Ontario sports bettors have also used iCasino
– 84% of bettors have wagered on an Ontario team; 51% on Blue Jays
– Sports betting lounge to open at Blue Jays' Rogers Centre

— Ryan Butler (@ButlerBets) May 5, 2022
Push for Barstool Sportsbook
Penn National Gaming acquired Score Media and Gaming for $2.1 billion in cash and stock in August 2021 and a significant minority share in Barstool for $135 million and $28 million in stock in January 2020. Penn has significant long-term plans for synergy between those two companies, with theScore expanding its technological capabilities.
Benjie Levy, president and COO of theScore, told Sports Handle that the long-term plan includes "integrating theScore media app with Barstool Sportsbook," This move for theScore Bet helps "maximize the value of both brands through our organic media and gaming approach."
As part of theScore Bet's communications to its users, the company shared that "Barstool Sportsbook offers many of the same features as theScore Bet, including odds boosts and promotions across a variety of markets, and will soon be integrated with theScore media app."
Barstool Sportsbook is available in New Jersey, Colorado, Iowa, and Indiana, but it's not a seamless process for theScore Bet customers to transfer their accounts to Barstool. It's unclear if theScore Bet's market access agreements in those states will transfer to Barstool.
Further Integration and Consolidation
This recent series of decisions from Penn National Gaming highlights the expectation of more integration and consolidation in the sports betting industry. Barstool Sportsbook reportedly plans to transition to theScore's player account management (PAM) and trading platforms by the third quarter of 2023.
The top three sports betting operators in the United States – DraftKings, FanDuel, and BetMGM – control at least 70% of the overall market share per various estimates. Consolidation is already taking place, and we should expect those heavy-hitters to continue to acquire smaller brands and build up their in-house technological capabilities through synergies with other companies.