The 7 Best Super Bowl Player Props Featuring Burrow, OBJ, & More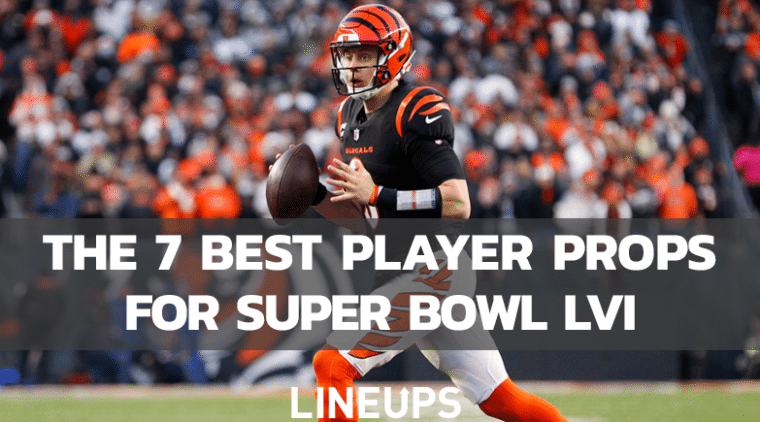 The Super Bowl has finally arrived and you can find the most up-to-date odds, lines, and predictions for the game here. With just one win standing in the way of a Vince Lombardi trophy for each team this weekend, there's a lot at stake for everyone with some skin in the game. Below are the 7 best Super Bowl player props for Sunday.
Super Bowl Player Props
Joe Burrow Over 275.5 Passing Yds
Certainly, this Rams defensive front is going to be able to get pressure on Burrow, but that's also part of the reason why I like the over on this bet. In the Bengals' Divisional round game against Tennessee, Burrow put up 348 passing yards despite getting sacked 9 times. Why? Because the game was close and the Bengals weren't able to run the ball. The Bengals aren't afraid to let Joe Burrow drop back even if they know there is pressure dialed up because it's the only way they can move the ball on offense. The Rams defense has completely shut down the run game in every single playoff game this year and the Bengals are going to need to pass the ball on Sunday to win. Layer in that the Bengals could very well be playing from behind, and that makes the perfect recipe for soft coverage and junk yardage in the fourth quarter.
Odell Beckham Jr Over 61.5 Yards
Cooper Kupp is going to get a lot of attention from the Bengals secondary and rightfully so. There's not much to say about it other than that Cincy's defense is likely going to try to box him in and limit yards after catch on short throws. OBJ, on the other hand, is a different story. He hasn't had an insane amount of receptions but the catches he does make tend to be in chunks of 12-18 yards. He's put up more yards in each playoff game than he has in the game before, and one could argue that Cincinnati's secondary is worse than the Niners though I'm not sure I buy it personally. Either way, if Cincinnati comes down hard on Kupp, look for OBJ to have a couple big catches.
Evan McPherson Over 7.5 Points
McPherson enters the Super Bowl 12/12 on field goals this postseason with 4 successful kicks in each game. He led the NFL with 7 field goals from 50 yards or more in the regular season and has connected from 54 and 52 in the postseason. While I think it's improbable the Bengals kick 4 field goals for the fourth consecutive game, there's no doubt they'll send him out at any distance under 60 yards. In a game where points may be hard to come by, I think McPherson could be the difference-maker on a number of Bengal drives. All it takes for this cover is 2 field goals and 2 extra points or 3 field goals straight up.
Tee Higgins Under 69.5 Receiving Yards
This line feels like a trap. Given that Higgins has put together back-to-back 95+ yard playoff performances and averaged over 77 yards a game in the regular season, you'd think this line would be at least 75 or 76. The fact that it's not even 70 is a sign that books are begging you to take it and I have a theory as to why. My bet is that the Rams end up putting Jalen Ramsey on Higgins instead of Chase so they can double Chase. Ramsey has been highly effective as a single coverage corner this season and would be the best player Higgins has squared off against. It's also reasonable to think that Joe Burrow is going to have significantly less time to throw this week, signaling a preference for quick throws. Higgins may rack up a couple receptions, but I wouldn't have high expectations for yards.
Joe Mixon Over 25.5 Receiving Yards
The Bengals aren't going to be able to run the ball on Sunday. Regardless of how bad their offensive line is, and it's pretty bad, the Rams haven't let any of their playoff opponents rush for over 61 yards. Joe Burrow is going to need to be able to throw the ball to win, and against a defensive line that has a clear mismatch, this means he's going to have to revert to some short passes. His two favorite targets when the pocket breaks down are Joe Mixon and Samaje Perine — both of whom went for 3 catches and over 25 yards last week (Mixon going for 27 and Perine 43). If the Bengals want to get anything consistent established on offense, they're going to need to get Mixon the ball on quick outs. Otherwise, they could be looking at a lot of 3 and outs and Zac Taylor knows it.
Joe Burrow Over 36.5 Pass Attempts
For the same reason I like the over on Joe Mixon receiving yards, I like the over on Joe Burrow pass attempts. Not only are the Bengals going to struggle to run the ball, I think they're going to struggle to get their offense going at all in the first quarter behind relentless pressure. For as well as their defense has played the last couple weeks, the Bengals are going to have to score to win this game especially if they get down early. If the Rams hold a lead heading into the fourth quarter, look for Burrow to start dropping back on nearly every down. Burrow has only put up 40 or more pass attempts twice this season, both times in the Bengal's biggest losses of the season. I don't necessarily think the Bengals will get blown out, though I do think they'll be coming from behind.
Joe Mixon Under 62.5 Rushing Yards
Finally, to tie it all together, I love the under on Joe Mixon's rushing yards. As previously stated, the Rams haven't let a single team rush for over 61 yards much less a single player. Leonard Fournette has put up the best performance of any RB in the playoffs against this defensive front with 51 yards in the Divisional Round — and that was behind one of the highest rated offensive lines in the NFL. Mixon has only rushed for over 62 yards once in the last 5 weeks, and none of the defensive lines he's faced were as good as the Rams.