Tennessee Sportsbooks Miss Minimum 10% Hold Rate for 2021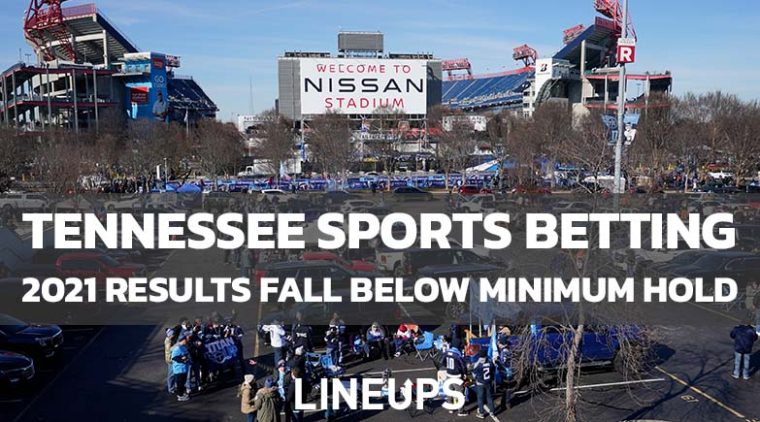 In December, Tennessee reported its third-highest monthly handle in state history with over $340 million in total sports bets. While the volume remained high, Tennessee has seen its total sports betting volume decline for three months running. Alec Cunningham, an analyst for PlayTenn, described how "the playoff push from the Tennessee Titans and the momentum of the Memphis Grizzlies gave sportsbooks a nice boost to make up for a dwindling college football schedule."
Tennessee Declining Handle
In December, sports betting operators in Tennessee brought in $341.8 million in bets last month, down from the previous two months. In November, Tennessee generated $365.7 million in total sports bets, 6.5% more than December, and the record-high for the state came in October with $375.3 million. Sportsbooks generated $24.6 million in revenue on a 7.2% hold rate, a solid number per industry standards if not for Tennessee's unique regulations.
Minimum 10% Hold Rate
As part of Tennessee's sports betting rules and regulations, operators must have a minimum hold rate of 10% on total sports betting handles to help boost the state's taxable income. However, on $2.7 billion in total sports bets in 2021, Tennessee operators reported just $198.5 million in taxable revenue, well below the 10% minimum. Due to the sportsbooks missing the mark, they will be subject to penalties under the state's regulations.
Which Sportsbooks are Affected?
After launching the first peer-to-peer social sports betting platform Wagr last month, Tennessee now has nine live sportsbooks in the market. However, the only four live sportsbooks on January 1, 2021, were BetMGM, DraftKings, FanDuel, and Action 24/7. Only sportsbooks that were live for the entirety of 2021 are subject to the penalties regarding missing the minimum hold rate.
BetMGM, DraftKings, and FanDuel represent a majority of the Tennessee market with Caesars the only other sportsbook with a significant market share. However, Caesars launched in March, so it doesn't apply to the penalties. Tennessee sports betting reports are minimal, and they don't include monthly handle breakdowns by the operator, so we can only speculate on which sportsbooks will miss the mark for the minimum hold rate for now.
New Regulator Changes Penalties
Tennessee changed its regulating body for sports betting on January 1, 2021, as the Sports Wagering Advisory Committee took over for the Tennessee Education Lottery. The SWAC is enforcing a new punishment of a "true-up" payment where operators can avoid a violation by paying the difference between their actual taxable hold and the expected 10% amount. The punishment used just to be a $25,000 fine, but sportsbooks have previously voiced concerns over licensure applications in other states if they have violations on their record.
Sportsbooks pushed to have the minimum hold rate eliminated in October, but the SWAC did not grant them that request. Of course, sportsbooks are not thrilled about the prospect of a minimum hold rate, and it hurts the bettors as well with potential limited promotional opportunities. Caesars director of issues management and strategic communications Dean Hesterman called the minimum hold rate "profoundly anti-consumer." For now, the minimum hold rate remains, and Tennessee operators will need to change their approach in 2022 to avoid paying fines next year.