Tennessee Sports Betting Showing Significant Year-Over-Year Growth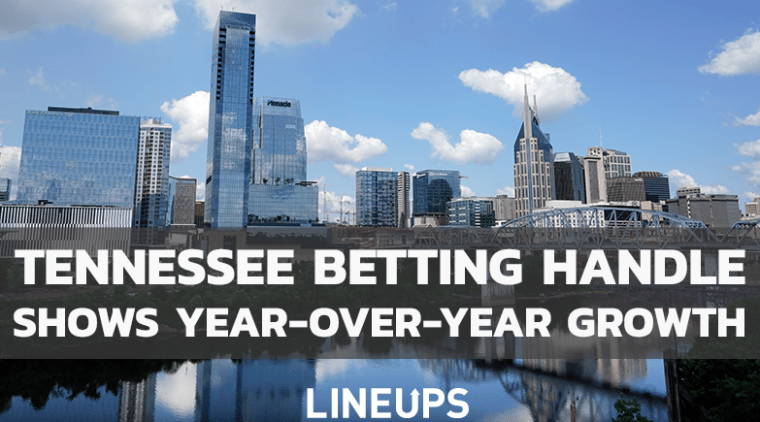 July Revenue Reports Released
Tennessee's Sports Wagering Advisory Council released their July revenue reports which showed a $182.77 million handle in the month. This makes Tennessee the tenth state to surpass the $5 billion mark for total sports betting handle since PAPSA was overturned. It joins the companies of New Jersey ($28.56 billion), Nevada ($25.15 billion), Pennsylvania ($15.21 billion), Illinois ($13.65 billion), New York ($9.76 billion), Indiana ($8.55 billion), Colorado ($7.62 billion), Michigan ($6.58 billion), and Virginia ($5.62 billion). 
Top 10 U.S. states in sports betting handle since PASPA repealed (in BILLIONS):

1. New Jersey: $25.1
2. Nevada: $21.9
3. Pennsylvania: $13.03
4. Illinois: $9.77
5. Indiana: $6.94
6. Colorado: $5.61
7. Michigan: $5.05
8. Tennessee: $3.74
9. Virginia: $3.71
10. New York: $3.58

— Ben Fawkes (@BFawkes22) March 21, 2022
Through July, the Volunteer State also became the 11th state to clear the $2 billion handle mark for the year and increased total handle through the first seven months of the year by 62.3% compared to the same time period in 2021. July 2022 also topped July 2021 in gross gaming revenue having increased their numbers by 48.2% alongside their tax revenue by $7.5 million for the same period last year. 
The state paid its players out over $164.5 million in winnings leaving operators with an adjusted gross income of just over $18.3 million. This gave Tennessee $3.7 million in tax revenue, contributing to its $29 million in tax revenue for the year. Handle, gross gaming revenue, adjusted gross revenue, adjusted gross revenue win rate, and tax revenue all increased substantially from July 2021. 
June revenue reports recorded a higher handle than July did in Tennessee as sports bettors wagered $215.77 million, 15.3% more than they did in July. Despite posting a higher handle, July's $18.3 million revenue trumped June's $12.8 million revenue and brought in $1.1 million more in tax revenue than June did. 
Overall, Tennessee is showing growth in practically all areas, and as we enter the busy sports season, this should continue steadily. 
Tennessee Sports Updates
Tennessee is a unique state as it does not have any physical sportsbooks present however Caesars Sportsbook recently partnered with the Memphis Grizzlies to become the official sports betting partner of the NBA team and put a Caesars Sportsbook Lounge in the Grizzlies' arena. Once the NBA season kicks off in a few months, loyal Memphis fans will be fired up to make a deep run in the playoffs again as their beloved Grizzlies lost to the eventual NBA Champions in the 2022 playoffs this year. 
But until then, the NFL season and more specifically, the Tennessee Titans, should keep sports bettors in the Volunteer State quite busy. Malik Willis had a solid showing in his first NFL preseason game which keeps the Tannehill-Willis race tighter than most people thought it would be. Derrick Henry is also poised to have a steady return after being injured for the majority of the season last year and will make for some solid rushing yard prop-bets on the phenom. 
And lastly, the Tennessee Volunteers football team will be looking to prove doubters wrong as they narrowly missed the Associated Press' Top 25 to BYU who won spot #25 by 54 votes. Nonetheless they will need to start fresh in a few weeks and build off of their 7-6 season last year when they host Ball State at Neyland Stadium on Sept. 1.