Tee Higgins Super Bowl 56 MVP Odds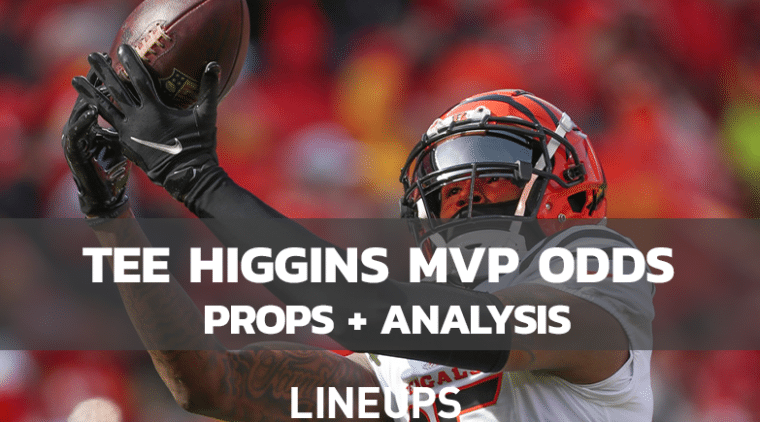 The Super Bowl is just days away; as it gets closer, questions of who will take the prestigious Super Bowl MVP award arise. DraftKings has Matthew Stafford pegged as the favorite to win at +100 and Joe Burrow closely behind at +225. All other sportsbooks also have the two quarterbacks as the favorites to win the award, but the opportunity is not gone for another to emerge, including Bengals wide receiver Tee Higgins, who is currently listed at +4000 to win the Super Bowl MVP award. He's behind fellow wide receiver and teammate Ja'Marr Chase in the hunt for the MVP award as Chase is currently listed at +1800 by DraftKings. Both Bengals wide receivers are behind the Rams' Cooper Kupp, who is pegged at +650, and is the favorite non-quarterback MVP candidate.
Tee Higgins Super Bowl 56 MVP Odds
Higgins is often the forgotten child of this offense as the chemistry between Joe Burrow and Ja'Marr Chase often washes out Higgins' consistency, but the truth is, Higgins has stepped when they needed it most, especially as of late. He is the second-most targeted player on this offense after Chase who will likely be in coverage this week against one of the best corners in the league, Jalen Ramsey. This gives Higgins the opportunity to see more targets and be the reliable option that he's been all year. He proved he was just that in the AFC Championship game where he led the charge with six catches for 103 yards. In his last two postsason games, he has caught for 199 yards over 13 receptions. Five different times this year, Higgins has had 100+ yards, including two games with 135+ yards and one game, in week 16, with 194 yards and two touchdowns. He also leads the team in average depth per target and yards in the air this postseason – in translation: he gets downfield. Fast.
Granted, if Burrow can find Chase first, he will. But don't count Higgins out to be central to this offense this week with the Rams defensive gameplan likely surrounding the elimination of Chase. In the regular season, the Rams allowed the eleventh-most passing yards per game (241.7), which should give this offense a little room to run in the air and exploit the weaknesses of the Rams secondary. But given how much the Bengals offense runs on the Chase-Burrow combination, Higgins' MVP status will rely heavily on what the Rams defense does to shut down Chase and take him out of the Cincinnati playbooks. If they are unsuccessful at doing so, then Chase will be THE target and thus the heavy favorite for a Bengals wide receiver to win this.
Higgins would have to go on an absolute tear to win this award over Burrow considering all that he's accomplished this year, and what he will have accomplished if he beats the Rams this week. Still it's very possible, as we've seen many Super Bowl's before, for an underdog to emerge as the true MVP despite what oddsmakers say. If you are on the Tee Higgins train, then this would be a great value bet at 40 to 1 odds.
Los Angeles Rams Vs. Cincinnati Bengals Betting Odds