Super Bowl MVP Odds: Will A Wide Receiver Steal The Show?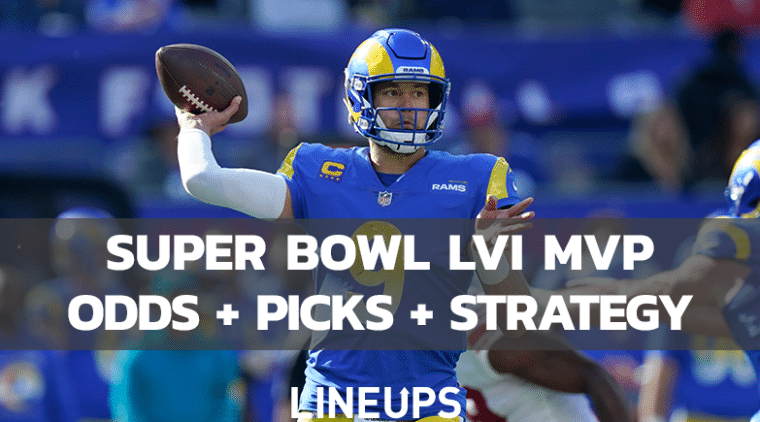 One of my favorite markets to bet on every year is Super Bowl MVP. It's an incredibly narrative-driven award, which is part of the reason it's only happened one time that a player on the losing team has won the award. In 1971, Cowboys' linebacker Chuck Howley became the first defensive player and non-quarterback to win the award with two interceptions and a forced fumble despite his team's loss to the Colts.
The Super Bowl MVP is often awarded to the winning team's quarterback, with nine of the last twelve awards going to the winning passer. Some of the most recent winners include Tom Brady and Patrick Mahomes, two of the league's best quarterbacks. A quarterback won the award 31 times out of 56, with running back and wide receiver the next most common position with seven winners apiece.
Super Bowl MVP Odds
The Favorites
Matthew Stafford: If the Rams win the Super Bowl, there will be a great chance Stafford will win the MVP. In his first year in LA, Stafford has arguably had the best season of his career. The Rams' quarterback has six touchdowns and no interceptions through the postseason, and he has over 330 passing yards in each of his last two games. If he puts up those types of numbers in a win over the Bengals, it will be tough for any player to unseat him for the Super Bowl MVP. Stafford should be able to put up another outstanding performance against the Bengals, and he's proving himself as one of the best quarterbacks in football. The narrative also backs Stafford after the tough start to his year with the downtrodden Lions has quickly changed course. Stafford can be found around +105 to win this award.
Joe Burrow: In just his first full season with the Bengals, Burrow has taken this franchise to new heights in their first Super Bowl appearance since 1989. With one more win, Burrow can become the first quarterback ever to win the Heisman, college national championship, and Super Bowl, and he's only 25 years old. Burrow's numbers haven't been elite through the playoffs, but he's been sacked more than any other quarterback, and he's remained a cool customer through it all. Burrow's odds are around +225 or +250 for Super Bowl MVP, and if you like the Bengals to win, I'd recommend splitting your wager between their ML and Burrow to win MVP as it's very likely he'd win the award if they win the Super Bowl.
Cooper Kupp: After becoming just the fourth player all-time to earn the triple crown as the league leader in receptions, yards, and touchdowns in the regular season, Kupp has continued his elite play in the postseason. Kupp has averaged 8.3 catches for 128.6 yards and 1.3 touchdowns through the Rams' three playoff games, and if he puts up those kinds of numbers in the Super Bowl, he'd be an excellent choice for MVP. The Bengals will do what they can to slow down Kupp, but many teams have tried, and all have failed this year. Stafford's favorite target will be called upon early and often in this game, and at +600 or +700, I love Kupp's value to win MVP. That's especially true as voters may look at this as an opportunity to reward Kupp's great season as he's unlikely to win the regular season MVP.
Long-Shots Worth a Look
Ja'Marr Chase: The Bengals' ascending rookie wide receiver sits at around +1100 to win the Super Bowl MVP, and he's worth a flier in this game. It's worth noting that no rookie has ever won Super Bowl MVP, but Chase is also arguably the best rookie offensive player of all time. If Chase has a game as he did against the Chiefs earlier this season with 11 catches for 266 yards and three touchdowns, he could win this award. However, Burrow would have a great passing game in that scenario, and it's hard to imagine the voters giving the award to Chase over Burrow if both have strong games.
Aaron Donald: With around +2500 odds to win Super Bowl MVP, the best defensive player in the NBA is worth a look here. The Bengals' offensive line has been atrocious – they allowed the Titans to have nine sacks in the divisional round – and Donald is undoubtedly going to take advantage. It would likely require a defensive touchdown or a game-changing play to sway the voters towards his direction, but Donald wants this Super Bowl badly, and it would be the cherry on top of a phenomenal career for him to win this award.
Odell Beckham Jr.: There's a world where the Bengals sell out to do everything in their power to slow down Cooper Kupp with constant double coverage. If they do, Odell Beckham Jr. could torch the Bengals, especially if Eli Apple is covering him often. Apple may not be the same liability he was early in his career, but OBJ would still be too much for him to handle in coverage. With Stafford throwing him the ball, OBJ could have over 100 yards and multiple touchdowns in this game.
Evan McPherson: Affectionately nicknamed "Money Mac," Evan McPherson has chipped in a whopping 40 kicking points so far in the playoffs. Imagine a world where this game becomes a defensive slugfest, and the Bengals rely on five field goals on their way to a 22-20 win. If McPherson were to hit the game-winning field goal, it might be enough for voters to look in his direction. It's not the most likely outcome, but that's why the odds are what they are, and I wouldn't mind throwing a few bucks on McPherson to become the first kicker to win Super Bowl MVP.