Super Bowl LVI: Odell Beckham Jr. Player Props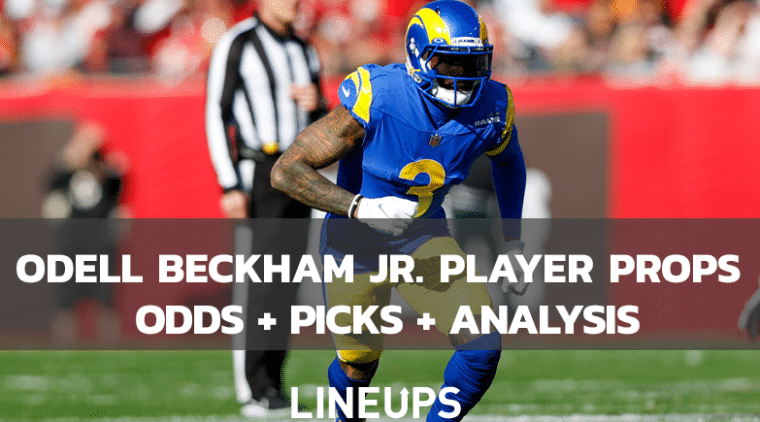 Get Odell Beckham Jr. Player props for Super Bowl LVI. Ever since landing in Los Angeles earlier this season, Odell Beckham Jr. has been able to shift the narrative surrounding him. OBJ has improved his production as the season has gone on consistently, and he's become an integral part of the Rams' offense. In the NFC Championship against the 49ers, OBJ finished with nine catches for 113 yards. With all of the attention on his teammate Cooper Kupp amid a historic season, is Beckham actually the better bet for player props in Super Bowl LVI?
Odell Beckham Jr. Player Props
Odell Beckham Jr. Over/Under 5.5 Receptions
After going over this number just once in nine games with the Rams, Odell Beckham Jr. has 15 catches over his last two games, including nine last week against the 49ers. The Rams have struggled to run the ball in the postseason, so their passing volume has been incredibly high the past two weeks, and Beckham has taken advantage. If he gets close to the 11 targets he did last week, he should be able to beat this number with no problem. OBJ could see a lot of Eli Apple this week, who has struggled in coverage throughout his career, so I lean the over here, especially at plus-money odds.
The Pick: Lean Over 5.5 Receptions
Odell Beckham Jr. Over/Under 62.5 Receiving Yards
Like his receptions prop, Odell Beckham Jr. had over 62.5 receiving yards in just two of nine games before going over in both of the last two games. The Bengals are allowing 248.4 passing yards per game, ranking 26th in the NFL. The Rams targeted their wide receivers at a 71.8% clip during the regular season, more than any other team, and play more three-wide sets than anyone. That's especially going to be true with Tyler Higbee likely out or at least very limited. In that favorable matchup against Apple, I love OBJ to break off a couple of long receptions and beat this number with ease.
The Pick: Bet Over 62.5 Receiving Yards
Odell Beckham Jr. Longest Reception Over/Under 23.5 Yards
On our Rams Super Bowl player prop video, we discussed the potential value in Matthew Stafford's longest pass over 39.5 yards. If you like that prop, you should be betting the over here as well. I lean towards the over here with Eli Apple in coverage and Stafford looking to air out the offense. OBJ has a reception of 29 yards or more in two of the three games in this year's postseason, and now he faces a Bengals' defense that allowed the eighth-highest rate of explosive plays during the regular season.
The Pick: Lean Over 23.5 Yards
Odell Beckham Jr. Touchdown
Make sure to shop around with this prop, as the odds differ significantly on different sportsbooks. However, at +140 odds on BetMGM and FanDuel, I love the value of this prop. OBJ only has one touchdown in three playoff games, but he scored five times in eight regular-season games with the Rams. With all of the Bengals' attention on Cooper Kupp around the goal-line, look for OBJ to find the end zone at least once. If you want to use the promo for First Touchdown Scorer, OBJ is also a solid target. With value touchdown props, I like to bet both the anytime and first-time props.
The Pick: Bet Odell Beckham Jr. Touchdown, Sprinkle First Touchdown