Super Bowl LVI: Los Angeles Rams vs. Cincinnati Bengals Chiefs Odds, Picks, and Predictions (2/13/22)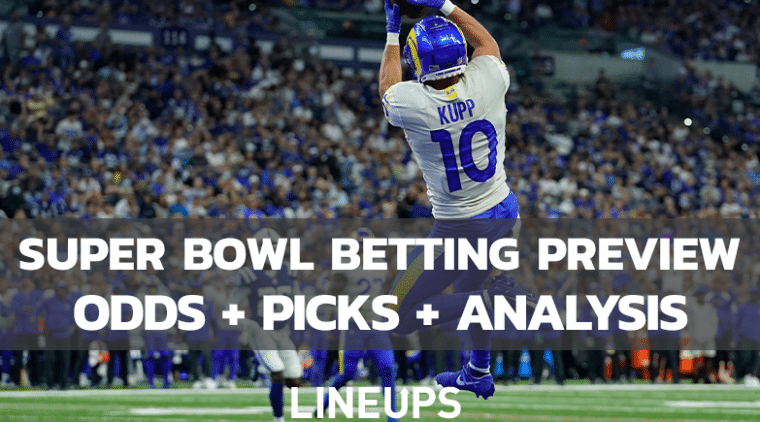 The Super Bowl has finally arrived, and we have you covered with Rams Vs. Bengals betting odds, picks, and predictions. There are tons of exciting betting markets to break down, and in this article, I'll give a detailed analysis of each team's strengths and weaknesses and how they will affect the game's result. Both of these teams have exciting stories worth celebrating.
Matthew Stafford has made the Super Bowl in his first season in Los Angeles, a triumphant accomplishment after his downtrodden career in Detroit. Joe Burrow, meanwhile, can become the first quarterback ever to win the Heisman, college national championship, and Super Bowl, and he's only 25 years old. Each team has taken difficult paths to get here, and there's plenty to like about each as they sit one win away from a championship. Let's take a look at the betting odds for Super Bowl LVI.
Los Angeles Rams Vs. Cincinnati Bengals Betting Odds
Injury Report
Los Angeles Rams: CB Jalen Ramsey (shoulder) Q, OT Andrew Whitworth (quadriceps) Q, WR Van Jefferson (knee) Q, RB Cam Akers (shoulder) Q, TE Tyler Higbee (knee – MCL) OUT, OT Joe Noteboom (chest) Q, DT Sebastian Joseph-Day (pectoral) IR, RB Darrell Henderson (knee – MCL) IR, CB Robert Rochell (chest) IR
Cincinnati Bengals: OG Jackson Carman (back) Q, TE C.J. Uzomah (knee – MCL) Q, DE Cameron Sample (groin) Q
Los Angeles Rams Betting Odds
I had some concerns about Matthew Stafford towards the end of the regular season as he threw for more interceptions than touchdowns over his final three games. Still, he's tightened up his game considerably, and it's led to him completing 72% of his passes with six touchdowns to just one interception in the playoffs. Of course, Cooper Kupp has been arguably the team MVP, and his chemistry with Stafford in their first year together has been remarkable. Kupp has 25 catches for 386 yards and four touchdowns in the postseason, and at around +600 odds, he's my favorite selection for Super Bowl MVP. Stafford and Kupp will keep Bengals' defensive coordinator Lou Anarumo up all night this week.
Of course, even if they're able to find a way to slow down Kupp (which nobody has this season), Odell Beckham Jr. has gotten better as the season has progressed, and he finished with nine catches for 113 yards last week against the 49ers. Kupp and OBJ could be even more relied upon with the injury statuses of Van Jefferson and Tyler Higbee up in the air. Kendall Blanton stepped up with Higbee out down the stretch against the 49ers, and he finished with five catches for 57 yards in the NFC Championship. There is some positive news on the injury front as the possible return of Darrell Henderson would add some spark to a run game that has lacked juice lately. The Rams averaged just 2.4 YPC against the 49ers, and they'd love to find a way to get more production on the ground to make Stafford's life easier.
While Stafford and Kupp are electric, the key to this game for the Rams will be their defense. The Rams ranked fifth in the NFL in defensive DVOA during the regular season, and the best defense the Bengals have faced in the playoffs has been the Titans, who ranked 12th. Tennessee rattled off a whopping nine sacks in that game, and that pass-rush is why I backed the Titans in that divisional-round game. While Joe Burrow deserves credit for hanging in the pocket and competing, the Bengals don't win that game if Ryan Tannehill doesn't throw three mind-boggling interceptions. The absence of Riley Reiff is incredibly problematic for an offensive line that was already one of the league's worst when Reiff was playing.
Los Angeles has been dominant against the run and the pass all year, especially up front, as they lead the NFL in pass-rush win rate. With Aaron Donald, Von Miller, and Leonard Floyd surging at the right time, the Rams' front seven will be the key difference-maker in this contest. The Rams will need to keep Burrow on his toes and make sure he doesn't have time to complete passes to his dynamic pass-catchers, especially with the Rams' secondary reeling from a few injuries down the stretch. In my eyes, Donald and Miller are exciting choices for longshot Super Bowl MVP futures due to this importance.
Cincinnati Bengals Betting Odds
In his career, Joe Burrow has pulled off some pretty spectacular things, but that 21-3 comeback against the Chiefs in the AFC Championship game might take the cake. He was under constant duress behind his shoddy offensive line but somehow kept finding a way to evade pressure and complete passes downfield. The adjustments this team made in the second half were brilliant as they focused on the underneath passing game to make Burrow's life easier. Samaje Perine's 41-yard screen reception for a touchdown was the perfect encapsulation of that strategy. I'll break down player props in upcoming articles this week, but I already have my eyes on Joe Mixon's receptions and receiving yardage lines.
Of course, Ja'Marr Chase and Tee Higgins are the stars of the show on offense, and they are the players the Rams need to be most worried about. Chase had an absurd rookie season with 81 catches for 1,455 yards and 13 touchdowns, and he's already one of the best receivers in football. Higgins is no slouch either, though, and he also had over 1,000 yards during the regular season. He led the way with six catches for 103 yards in the comeback effort against the Chiefs. The Rams haven't played a lot of shadow coverage with Jalen Ramsey this season, but this matchup may call for it as he may be put against Chase quite frequently. The Rams' strategy with their elite cornerback will dictate how productive this duo can be, as will Burrow's ability to evade pressure up front.
Bengals' defensive coordinator Lou Anarumo deserves a ton of credit for the halftime defensive adjustments to confuse Patrick Mahomes last week. Cincy played a near-perfect half in holding the Chiefs to 3 points in the second half and overtime. Anarumo dialed up a ton of dollar (3-2-6) and quarter (3-1-7) personnel, but this is a different type of challenge. Stafford wasn't pressured often this season, but he was most prone to making mistakes when he was under pressure. The Week 18 game against the 49ers in which he was sacked five times and threw two interceptions to allow the Niners back into the game stands out as the most prudent example. If the Bengals can generate a consistent pass rush and force Stafford to make quick decisions before routes fully develop, they may have a chance to fluster him.
The importance of the pass-rush means that Trey Hendrickson, who had 14 sacks in the regular season, and Sam Hubbard, who sacked Mahomes twice last week, will be critical. The Bengals took Tyreek Hill out of the game in the second half last week with bracket coverage, and a similar approach could be used against Cooper Kupp. However, that would likely leave Odell Beckham Jr. with a lot of single coverage. If Eli Apple is forced to defend OBJ one-on-one, it could be a long day for the Bengals' pass defense. Apple held up last week against Demarcus Robinson and Mecole Hardman, but OBJ is on another tier entirely. Anarumo's game plan against Sean McVay will be exciting to watch, especially in the second half, with adjustments most definitely in the cards.
Los Angeles Rams Vs. Cincinnati Bengals Picks & Prediction
I'm not a massive fan of the argument that the Bengals have had an easy path to get here, as winning three straight postseason games, two of which were on the road, is never easy. However, this is the best team they've played in the postseason, and they may not have faced a more formidable opponent all year. The Bengals' biggest weakness is their offensive line, especially with Riley Reiff out, and the Rams have the best pass-rush in the NFL, with Donald and Miller leading the way. Burrow will be under heavy pressure all game, and while he's good at evading the rush and making plays where there shouldn't be plays, he'll be at a disadvantage all game.
The other major factor here is that the Rams have allowed their opponents to convert on third downs at a rate of under 19% in the playoffs, and the Bengals have improbably converted on third-down at a 48.8% rate in the playoffs after converting at just 41.1% in the regular season. That screams regression, and the Rams won't let them convert 8 of 14 third-down tries like they did against the Chiefs, especially with the mismatch upfront. The Bengals will struggle to run the ball, and Burrow will be under constant pressure like he was in some of his team's worst losses this season.
On the other side of the field, Stafford has gotten more comfortable by the week this season, and this is his chance to solidify himself as one of the elites at the quarterback position. Sean McVay has been hungry for this opportunity after an embarrassing loss at the hands of the Patriots in the Super Bowl a few years ago. It's hard to imagine him being out-coached by his former assistant Zac Taylor with two weeks of preparation leading up to this game. Cooper Kupp should cap off his tremendous season with another electric performance, and the Rams will win the turnover battle and field position battle.
My Predictions: Rams win 28-17, Rams cover, under 48.5 points
Best Bet: Rams -4