Super Bowl 56 National Anthem Over/Under Odds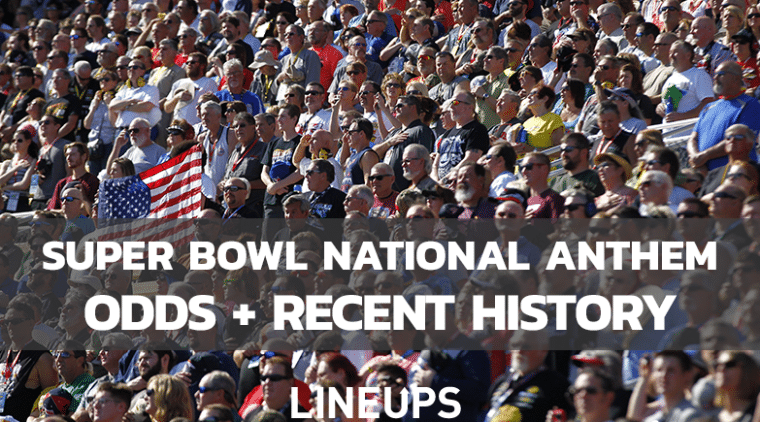 At Lineups.com, we have all of the Super Bowl prop bets covered, including the Super Bowl National Anthem Odds, which are based on the duration of the national anthem. This is another fun prop to bet on when enjoying the Super Bowl with friends and family. Take a look below at the most likely outcome for the Super Bowl National Anthem Odds!
Super Bowl LVI National Anthem Odds
Recent History Of The Prop
A country singer will be singing the National Anthem for the second year straight. Last year, it was Jazmine Sullivan and Eric Church, who had a beautiful duet. This year, Mickey Guyton said that she is "shook" and "grateful" to be performing. Her over/under on the national anthem's length is currently placed at one minute and 35 seconds. Before the 2021 Super Bowl, Sullivan and Church clocked the anthem in at two minutes and 16 seconds, which can be partially attributed to the back-and-forth style that they decided to perform it in. Since 2010, the anthem has averaged two minutes, which is significantly above the current line of one minute and 35 seconds; however, this is not Guyton's first time singing the National Anthem at a more significant event before, including at the 2021 National Memorial Day Concert. She performed that rendition in roughly ten seconds less. The Super Bowl performance should be just a hair bit slower than that, but this line is razor-sharp for this. See below how you can bet on the Super Bowl National Anthem prop!
How To Bet On National Anthem Prop
There are plenty of sportsbooks offering this prop, and most of them will have the same line. Still, take a look and see if you can find an advantage on some of the sportsbooks that have the prop because any advantage is vast when it comes to these props.
Los Angeles Rams Vs. Cincinnati Bengals Betting Odds