Super Bowl 56 Gatorade Shower Color Odds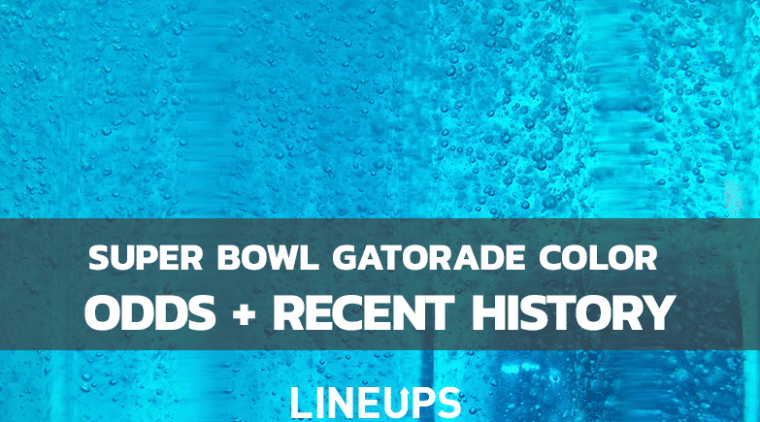 The Super Bowl Gatorade Color Odds is another incredibly speculative and quite random Super Bowl props bet that many football enthusiasts love to take part in. There is only one game every year where you can bet on such obscurity, so take a look below at the history and the potential outcomes for the Super Bowl Gatorade Color Odds!
Super Bowl 56 Gatorade Color Odds
Clear/Water +250
Orange +300
Yellow/Green +350
Blue +400
None +600
Red/Pink +1200
Purple +1400
Via DraftKings Sportsbook
Recent History Of The Prop
The Super Bowl Gatorade Color Prop is another extremely fun prop that takes no skill or savvy whatsoever. There are no trends to follow or consider: it is merely a bet of intuition and luck. Over the past ten years, there have been several different colors and two years where there was none poured on the head coach! Last season, the Gatorade color was blue, which marked the second time that color was used in the past three seasons. It was only poured once in the seven years before that, though. Other notable colors over the past decade have been orange (three times), yellow/green (once), and purple (once.) Orange is the favorite right now at +186, while yellow/green is at +300. There are plenty of other color choices with longer odds, so look at your sportsbook of choice to see which color you want to bet on!
How To Bet On Gatorade Color Prop
Plenty of sportsbooks offer all of the fun Super Bowl props that bettors love betting on, including FanDuel, DraftKings, BetMGM, Caesars, and many more! You will want to ensure that your state has legalized online sports betting. If you have any questions, Lineups.com has you covered. Head on over to our many state-specific sports betting pages, where you can find the most up-to-date information on online sports betting and its legalization.
Los Angeles Rams Vs. Cincinnati Bengals Betting Odds