Super Bowl 56 Coin Toss Odds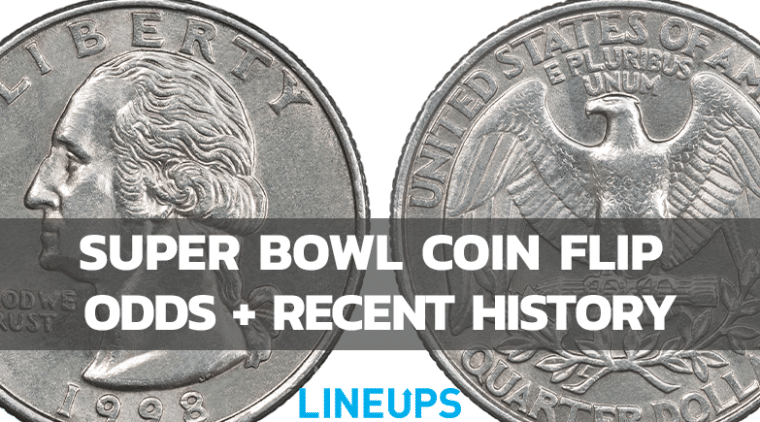 If you are looking for information on the always obscure and fun Super Bowl prop bets, look no further than the Lineups.com Super Bowl Prop posts that we have for all of the main props! This article is specific to the Super Bowl Coin Flip Odds, one of the many prop bets with only two outcomes. However, it is only one of the few that are close to even odds from the sportsbooks. Take a look at the history of the Super Bowl Coin Flip prop below and how to bet on it.
Super Bowl 56 Coin Toss Odds
Via DraftKings Sportsbook
Recent History Of The Prop
The Super Bowl Coin Flip is one of the most iconic prop bets. Through the 55 Super Bowls that have taken place in the NFL's history, tails have the slight lead over heads, hitting 29 times. That averages out to tails winning 53% of the time. The longest winning streak goes to tails, which has hit in four straight Super Bowls three separate times! Heads have hit in five of the past eight Super Bowls and nine of the past 14. I'm generally a believer in "tail never fails," but it's hard to argue with recent trends. Below I cover how and where you can bet on the Super Bowl Coin Flip prop.
How To Bet On Coin Toss Prop
Most sportsbooks will offer the Super Bowl Coin Toss prop, including FanDuel, DraftKings, BetMGM, Caesars, and many others. Make sure to search for the best odds on all of the Super Bowl prop bets, including the Coin Toss prop. On some sportsbooks, you can find the odds around -105, but others are at -104 for both heads and tails. The difference between -105 and -104 or -103 is marginal but can matter to certain people. Ensure you get the best odds available to you if it is essential!
Los Angeles Rams Vs. Cincinnati Bengals Betting Odds