Stanley Cup Final Odds 2022: Avalanche Favored to End Tampa's Reign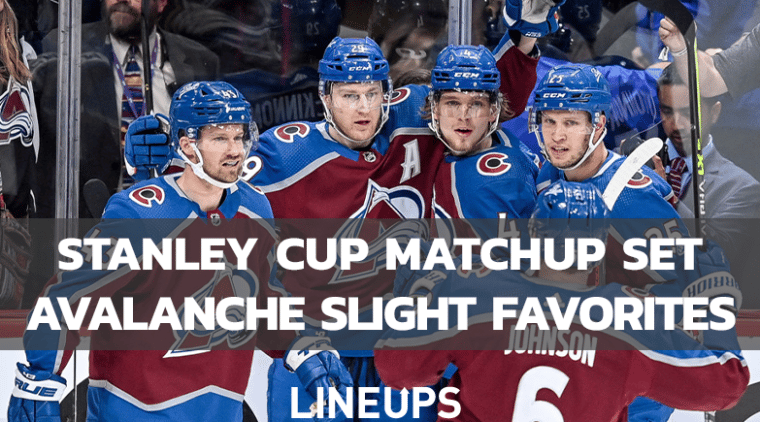 For the third consecutive year, the Tampa Bay Lightning are Stanley Cup Final-bound. Jon Cooper's team is looking for a three-peat against the Colorado Avalanche, after taking down the Stars in 2020 and Canadiens in 2021. One could argue Colorado represents the toughest challenge of that trio, and oddsmakers agree. The Avalanche opened as a -195 favorite over Tampa and will have home-ice advantage, which is critical against a Lightning team that hasn't lost at home in over a month.
Recent Stanley Cup Final Odds
2021) Lightning -250 over Canadiens
2020) Lightning -180 over Stars
2019) Bruins -150 over Blues
2018) Golden Knights -150 over Capitals
2017) Penguins -155 over Predators
Game 1 Lightning Vs. Avalanche Odds
How Did They Get Here?
The Avalanche in 2022 might be what the Lightning were in 2020. Tampa rode a supremely talented core to some great regular seasons and deep playoff runs from 2015-2019, but it was never enough to get over the hump. After a Stanley Cup Final berth for the young group in 2015, the Lightning fell a win short of the Final in both 2016 and 2018. Tampa face-planted in the first round against Columbus a year later, after a historic 62-win season. Once the Lightning finally broke through in 2020, the pressure came off and Tampa turned into a playoff juggernaut.
The Avalanche suffered a similar playoff disappointment over the last three seasons, falling short of the conference final after winning the Presidents' Trophy in 2021, but no one in the West was getting in their way this time. Jared Bednar's group is 12-2 in these playoffs, and the experience Nathan MacKinnon and co. have gained over the years has proven to be a difference-maker. To be remembered forever, though, the Avalanche need four more wins.
How Do They Matchup?
For a distant observer, the Lightning probably look appetizing at +160 in this series. It's tough to bet against 11 consecutive playoff series wins plus championship experience up and down the roster. When you consider the Lightning entered as underdogs against both the Maple Leafs and Panthers earlier in these playoffs, it's easy to say the oddsmakers are overthinking it. That may be true. But it's also true that the Avalanche are a challenge unlike any other. They're tied for the league-lead in goals in these playoffs despite only playing 14 games. At 4.6 goals/game to Tampa's 3.1, there's no arguing Colorado has more goal-scoring ability than the defending champions. The most critical matchup of this series will be that powerful offense against the unsinkable Andrei Vasilevskiy.
Is Colorado battle-tested enough to beat the Lightning? They still haven't faced a goaltender of Vasilevskiy's caliber. In fact, Colorado opened the playoffs against two teams dealing with goaltender injuries before toying with an unreliable Mike Smith in the conference final. Jordan Binnington gave the Avalanche some trouble in the conference semifinals before he went down with an injury. It's possible Vasilevskiy will cause similar problems.
At the same time, it's hard to imagine the Avalanche turning in performances as flat as the Rangers did against Tampa. New York didn't lose Game 6 because of Vasilevskiy. For much of the game, Vasilevskiy didn't have to do too much. The Rangers just weren't getting it done offensively. The Avalanche will be able to generate more shots than New York did, and as the Lightning proved against Igor Shesterkin, a dominant goaltender can only do so much when pucks are flying at him left and right.
Injuries are also a factor in the series, as Tampa's Brayden Point is expected to return from a leg injury at some point while Nazem Kadri's status is up in the air for the Avalanche due to a thumb injury. Colorado will have goaltender Darcy Kuemper healthy after he missed time against the Oilers
Oddsmakers are decisively leaning toward the Avalanche bringing Tampa's run of dominance to a halt. At -195 to win the series and -175 to win Game 1, the Avalanche have better odds than most Stanley Cup Final favorites from the past decade. After the underdog won in 2018 and 2019, oddsmakers got it right with the Lightning each of the last two years. Tampa's quest to prove them wrong begins Wednesday night in Denver.