Sportsbooks Get Crushed as Paolo Banchero Goes #1 in the Draft Despite Conflicting Reports from Woj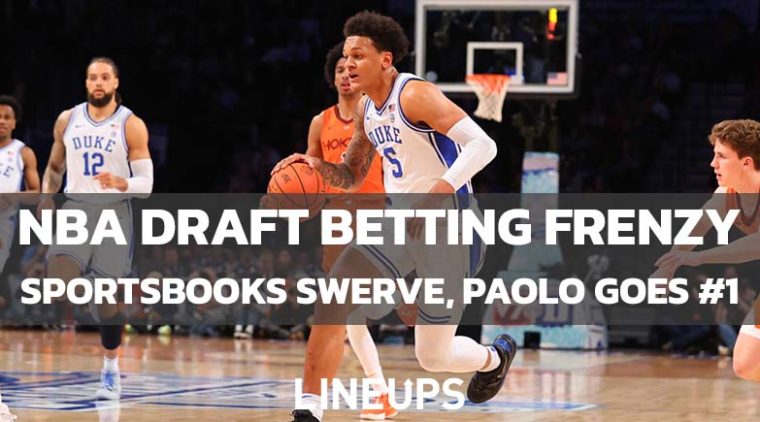 If you're a fan of the NBA, you're probably pretty familiar with Adrian Wojnarowski, the NBA Insider better known as "Woj." It's typically expected that whatever Woj publishes to Twitter can be taken as fact – after all, he's more plugged in on NBA transactions than anyone. However, his intel on the NBA Draft was wrong, so wrong in fact that it directly contradicted the overwhelming odds movement taking place on regulated sportsbooks.
Woj's Confusing Tweet Shifts the Odds
At 8:41 AM EST on the day of the NBA Draft, Woj tweeted out that the first three picks were "increasingly firm" – it would be Jabari Smith to the Magic, Chet Holmgren to the Thunder, and Paolo Banchero to the Rockets. This fell in line with what the odds had been telling us for the months leading up to the draft – Smith was set to be the first overall selection.
As team boards finalize today, the 1-2-3 of the NBA Draft is increasingly firm, per sources: Jabari Smith to Orlando, Chet Holmgren to Oklahoma City and Paolo Banchero to Houston.

— Adrian Wojnarowski (@wojespn) June 23, 2022
However, prior to the tweet from Woj, Banchero's odds had shrunk rapidly. The Duke prospect could be found at odds as high as +2200 on FanDuel a few weeks before the draft, but his odds rocketed overnight to as low as -230 as he suddenly became the favorite. Following Woj's tweet, the markets closed and reopened with Smith at around -10000 odds.
As the day went on, the odds were steamed as Smith's odds went from -10000 to much closer to even money prior to the beginning of the draft. Meanwhile, Paolo Banchero's odds skyrocketed from around even money 20 minutes prior to the draft up all the way to -5000 on FanDuel Sportsbook at 7:58 PM EST.
As Paolo Banchero goes No. 1 in the #NBADraft, this feels like a seminal moment in sports betting.

The betting markets were right.

Woj was wrong.

This will reverberate for a while.

— Ben Fawkes (@BFawkes22) June 24, 2022
Sportsbooks Hit Hard from Banchero Fiasco
While sportsbooks' traders worked hard to mitigate potential losses, the bettors "caught us with our pants down, to be honest," according to Matt Lindeman, WynnBET Sportsbook's senior lead trader. WynnBET's losses on Paolo Banchero odds came in at the low six figures range, which Lindeman considers the worst result during his time booking draft odds in the sportsbook industry.
"I'm hoping this is a lesson that saves us from making another mistake in future drafts," Lindeman added. "We got smoked," added Andy Morrissey, a trader at WynnBET. "Paolo moving from 20/1 to the favorite within a couple days is just as aggressive as I've seen in the last drafts I've booked," said Motoi Pearson, a senior trader at WynnBET.
Elsewhere, DraftKings and Caesars were small losers on the Banchero market, while PointsBet was among the biggest winners as it had Jabari Smith as one of its largest liabilities. "This draft was different," said Sam Garriock, Trading Manager at PointsBet. "There was less publicly-available information out there – or at least the stuff that was out there was incorrect – and therefore we had to be very responsive to money."
On June 19th, Paolo Banchero was +2000 to be selected with the 1st pick in the NBA Draft.

A bettor put $2,000 on Banchero that day.

Today's Payout: $42,000 🤯 pic.twitter.com/vU11VtgndC

— DraftKings Sportsbook (@DKSportsbook) June 24, 2022
Will Sportsbooks Stop Offering Draft Markets?
Johnny Avello of DraftKings told US Bets that he's "not the biggest fan" of booking draft action as the markets are "information-based and not played out on the field." Some sportsbooks, such as Circa Sports, opted not to accept wagers on the draft. Jeffrey Benson, Circa Sports' sportsbook operations manager, noted that sportsbooks could enforce stricter rules in the future, including taking odds down more than a day in advance.
Eight states with legalized sports betting don't allow sportsbooks to post draft markets. Their reasoning is they restrict eligible betting markets to "an event at which two or more persons participate in sports or athletic events and receive compensation in excess of actual expenses for their participation in event."
However, sportsbooks are unlikely to stop offering these draft-based markets. For every example of Paolo Banchero or Mac Jones last year where the sportsbooks get caught in trouble, there are even more examples of sportsbooks pulling in significant winnings on these events. However, bettors may change how they view these markets in the future.