Sportsbooks Face "Biggest Liability on a Golfer Maybe in History" as Tiger Woods Makes Masters Return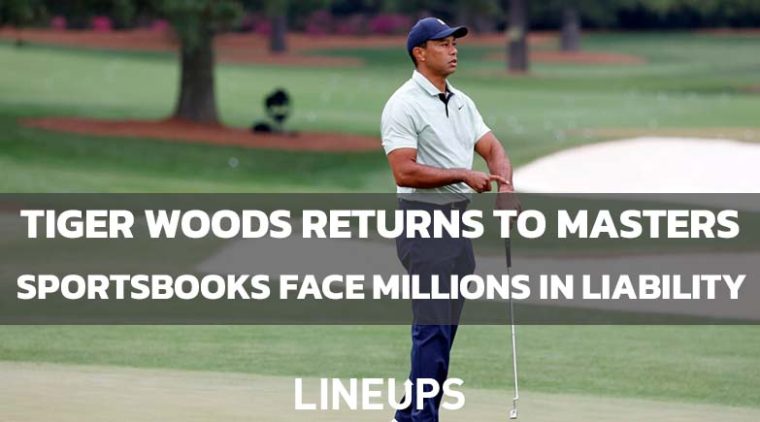 In February 2021, Tiger Woods was involved in a significant car crash which left him with serious injuries and some doctors questioning whether he would be able to walk again. This week, he returns to his professional golf tournament since the accident, and the excitement from golf fans has been seismic as he returns to the course where he is a five-time champion. As such, sportsbooks have been seeing a massive amount of betting action on Tiger Woods, and it has turned into a massive liability.
"Once Tiger Woods began practicing at Augusta, bettors flocked to @BetMGM to place wagers on the golf legend. Woods is currently BetMGM's biggest liability to win the tournament."

– Matt Cosgriff, Director of Trading, BetMGM

— John Ewing 🦁 (@johnewing) April 4, 2022
Sportsbooks Stand to Lose Millions
With Tiger Woods taking the course at Augusta this week by storm, sportsbooks will be biding their time to see if the legendary golfer can make for a rare occasion where the house loses big. Adam Pullen, Caesars' Assistant Director of Trading called Tiger Woods "the biggest liability on a golfer maybe in history." Pullen also noted that Woods is likely the sportsbook's only real liability in the Masters.
PointsBet Trading Analyst Mike Korn stated that "Tiger action in the last 24 hours has been like nothing we have ever seen before. He is currently doubling any other golfer in terms of handle and tripling any golfer in terms of bet count." Per Sports Handle, PointsBet's PointsBet's liability on Woods was seven times as much as its second-biggest liability (Kevin Kisner 150/1).
Jay Croucher, head of trading for PointsBet, said "Tiger winning the Masters would be the worst result for us at any golf tournament since we started operating in the U.S. by far." One PointsBet customer wagered $7,500 on Woods to win $450,000.
DraftKings took a $10,000 bet on Tiger to win the Masters at +4000, meaning the potential payout is $400,000. According to a company spokesperson, the company stands to lose "millions and millions of dollars" if Woods wins.
Betting insights for the Masters from @BetMGM.

Tournament winner splits

Highest Ticket%
•Tiger Woods 12.4%
•Justin Thomas 5.7%
•Scottie Scheffler 5.3%

Highest Handle%
•Woods 14.8%
•Thomas 7%
•Brooks Koepka 6.6%

Biggest Liability
•Woods#themasters

— PlayPennsylvania (@PlayPANews) April 6, 2022
What are the True Odds on Tiger?
Jeff Sherman, assistant manager of race and sports at Las Vegas' Westgate SuperBook stated that "under these current circumstances, Tiger's true odds of winning are around 200/1, down from 500/1 last week." However, sportsbooks were forced to slice the odds on the prop so that their liability would be lessened.
The current odds don't take into consideration the fact that Woods is arguably the best golfer of all time and won the Masters in 2019 as he worked his way back from similarly arduous circumstances. Sherman noted that if that hadn't happened, there likely wouldn't be the same frenzy around Tiger this week in terms of betting.
Will Tiger Make the Cut?
Tiger Woods is listed at around even odds to make the cut, which illustrates that sportsbooks are attempting to lessen their liability on a potential Masters win. Woods has made the cut in 20 straight Masters, so this has expectedly been one of the most popular prop bets for this week.
There has also been sharp action on both Tiger to miss the cut and make the cut. At FanDuel, over half of all bets on both sides of that market are on Woods. The next closest in the "miss the cut" market is on Bryson DeChambeau at 11%.
Tiger Woods – Moving the Needle in the Betting Market
Some sportsbook managers and analysts have linked the Tiger Mania to when an NFL or NBA team lands a big free agent or trade acquisition and there's a frenzied effort to bet on championship odds. Sunny Gupta, US sportsbook manager for Tipico, likened it to the surge that the Clippers saw in championship futures after landing Kawhi Leonard and Paul George.
Mike Korn, a PointsBet Trading Analyst, described the similarity to "the amount of bets that came in on the Bucs after Brady announced he would be coming out of retirement. But even that isn't close to the Tiger mania over the last 24 hours."
At seemingly every sportsbook this week, Tiger Woods is the largest liability across a range of markets, and excitement is sure to reach a fever pitch throughout the week at Augusta. Even 25 years after his first Masters win, nobody captures the imagination of golf fans and sports bettors like Tiger Woods.
Tiger Woods has teed off at #TheMasters.

This is real life.

pic.twitter.com/9qcWwwYwK5

— Lukas Weese (@Weesesports) April 7, 2022