Sports Betting Advertising Increased 281% Year-Over-Year as Sportsbooks Warned of "Unsustainable" and "Predatory" Action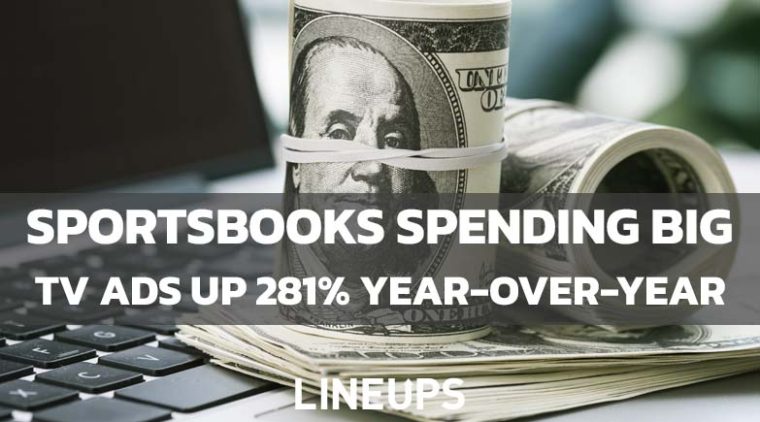 Sportsbooks continue to prioritize customer acquisition if recently reported advertising spending numbers are any indication. According to iSpot.tv, United States sportsbooks spent $282 million on advertising from September 2021 to May 2022, which was a 281% increase over the same 9-month period year-over-year. During the first week of the NFL regular season last year, sportsbooks doled out almost $21.5 million in ad spending per Adweek.
Is TV Advertising Working?
Despite the aggressive increase in spending, television advertising impressions were only up 48% from September 2021 to May 2022. According to Media Post, 60% of those impressions were on national linear TV networks, 37% came from local TV media deals, and 2.7% came from streaming platforms. Year-over-year numbers show a shift away from local advertising in favor of national advertising.
FanDuel, the largest online sportsbook operator in the country, has been the most aggressive in advertising spending. According to iSpot.tv, FanDuel has "more than tripled national TV ad spend year-over-year" and "accounted for nearly 34% of sportsbook ad impressions on national TV" over the nine months in discussion.
Caesars had been second in advertising spending over those nine months at 21.7%, but the company announced earlier this year that it's planning on slashing its traditional media spending. CEO Tom Reeg noted that "we have accomplished what we set out to do" in customer acquisition and becoming a significant player in the sports betting space.
Sustainability and Other Concerns
At the SBC Summit North America last year, Bill Miller, the president of the American Gaming Association (AGA), called the current level of sports betting advertising an "unsustainable arms race." Miller also warned that if the industry doesn't begin self-regulating, it will be subject to government regulations such as the structure in Europe.
In the United Kingdom, sportsbooks are under a "whistle-to-whistle" ban in terms of advertising during games. In Italy, all gambling advertising has been banned since 2019. Sportsbooks in Spain are prohibited from advertising on jerseys or stadium naming rights. Broadcast advertisements are also restricted between 1 and 5 AM.
Massachusetts Weighing its Options
Massachusetts is working through sports betting legislation as its House of Representatives and Senate attempt to find common ground between their differing bills. One aspect of the debate is regarding advertising – the Senate bill prohibits sports betting advertising during live television events. Still, enforcement will prove difficult due to national broadcasts originating from other states.
For a fully implemented ban on sports betting advertising to take place, it would need to come from the federal government. Thus far, that doesn't appear to be something under consideration, but several parties have expressed concern over the issues that arise from overexposure of consumers to sports betting products.
New Jersey Warns of Government Intrusion
During a September 2021 GeoComply webinar, New Jersey Division of Gaming Enforcement Director David Rebuck warned operators of the need to put up guardrails on advertising. "Don't allow your marketing staff to operate unchecked … They want to attract people and be creative, but they cannot be unchecked. If they are, they will be checked by us, and it will happen in a way you won't be happy with."
According to the Council on Compulsive Gambling of New Jersey, calls to the organization's hotline have spiked nearly 500% since the first legal bet was placed in the state in 2018. "The uptick is pushed by the abundance of promotion on television," Felician Grondin of the CCGNJ stated. "Advertising of this nature can be equated to a liquor store offering free alcohol or a drug dealer offering a free bag of heroin to individuals with a substance abuse problem."
Sports betting companies are looking to double their marketing spending in 2022. Currently, there is no federal regulation on these ads. pic.twitter.com/FT8qe8uPaH

— Stop Predatory Gambling (@SPGambling) January 12, 2022