Self-Exclusion Program Creating Issues in Ontario as Bettors Exploit Loophole: AGCO Investigating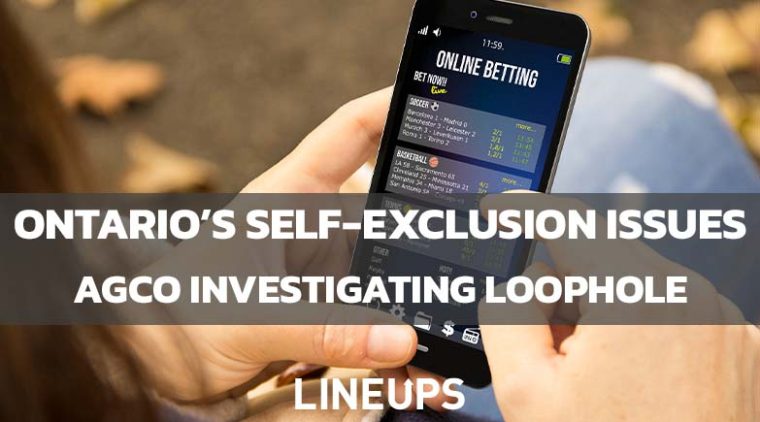 Online sports betting launched in Ontario on April 4, 2022, and the market now has several platforms available, including DraftKings, Caesars, and FanDuel. However, bettors have been taking advantage of a loophole in the responsible gaming rules in the province to the detriment of sportsbooks. The Alcohol and Gaming Commission of Ontario (AGCO) is reportedly "gathering information" about the abuse of this loophole.
Ontario's Self-Exclusion Program
According to Ontario's Responsible Gaming website, voluntary self-exclusion is a "commitment you make to yourself by voluntarily entering into an agreement with online or land-based operators not to gamble for a chosen time. It can be an important first step in helping to control your gambling."
The self-exclusion program allows you to choose the length of time you want to be excluded. It works across all Ontario casinos and Ontario Lottery and Gaming Corporation sites, including Proline+, which was previously the province's only online option for legal sports betting. The self-exclusion program also removes you from all OLG marketing lists and uses photo recognition to prohibit you from in-person casinos.
Previous Self-Exclusion Issues
There have been past issues with Ontario's self-exclusion programs. In 2017, a man was denied a $10,000 jackpot over a self-exclusion form he had signed 17 years earlier. John Marando, at the time, said that the OLG "didn't mind taking my money all these years. It sure would have been a nice sum. No, they don't want to pay me."
Other issues have arisen from the facial recognition technology not working as self-excluded individuals have not been kept out of casinos. Figures obtained through a freedom of information request by the CBC showed that from July 2016 to October 2017, 3,755 of over 20,000 people on the self-exclusion list were detected on OLG properties.
Bettors Take Advantage of Self-Exclusion Loophole
Under the AGCO's standards for online betting, sportsbook operators must promote a voluntary self-exclusion program through their mobile applications and websites. The self-exclusion program locks customers out of their account for a designated period of time and cancels all pending bets or "future game transactions," and "facilitate the return of the balance of unused funds."
Bettors are using these rules to place a wager with one online sportsbook, bet the other side with a different sportsbook, and void the losing bet by excluding themselves from the sportsbook with the lost wager, thereby recouping their outstanding losses and securing the winnings from the other book. Of course, this presents massive problems for sportsbooks in the province.
Potential Solutions for the Issue
There is currently no self-exclusion mechanism that works across all sportsbooks in Ontario, and the AGCO is working on this type of solution. The self-exclusion process should be universal – if a bettor excludes themselves from one sportsbook, this should be honored at every licensed operator, as is the case in many other regions.
According to Raymond Kahnert, senior communications advisor with the AGCO, "the launch of a centralized self-exclusion registry is a priority for AGCO and iGaming Ontario." Presumably, the centralized self-exclusion process would close the loophole as sports bettors would be ineligible to place further wagers at any sportsbook after applying for self-exclusion.
We are hoping that this system is a linked one.

Asking at-risk consumers to self-exclude at EVERY regulated operator is a battle that many will lose.

Ideally a consumer can self-exclude ONCE, which should then be honoured at EVERY licensed operator – as per other jurisdictions. https://t.co/2MgWX0ceCX

— SNBET (@SNBET_ca) March 15, 2022