Russell Wilson Traded to the Denver Broncos – Super Bowl Odds Shift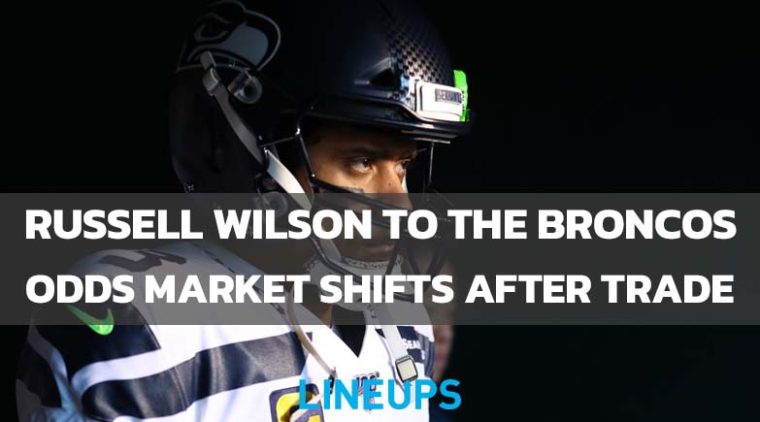 Tuesday, March 8, 2022. It will go down as an emotional rollercoaster of a day for the Denver Broncos fan base and the NFL as a whole. When Aaron Rodgers announced he would remain with the Packers next season, the Broncos' fan base was heartbroken as their chances of landing a Super Bowl-winning quarterback seemed to evaporate. Then, at 1:41 PM EST, ESPN's Adam Schefter announced the Broncos had made the move to acquire Wilson in one of the biggest trades in NFL history.
Blockbuster: After weeks of negotiations, in one of the largest trades in NFL history, the Seattle Seahawks and Denver Broncos have agreed to terms for a deal involving Super-Bowl winning QB Russell Wilson, sources tell ESPN.

Trade is pending a physical and Wilson's approval. pic.twitter.com/oRFDV8Ehyx

— Adam Schefter (@AdamSchefter) March 8, 2022
Details of the Wilson Trade
Of course, the Broncos weren't going to acquire Wilson without trading away heavy compensation, and they moved mountains to get the eight-time Pro Bowler to Denver. The final trade package included the following players and picks.
Broncos/Seahawks Trade Details #NFL

Denver Acquires

Russell Wilson
4th Round Pick

Seahawks Acquires

QB Drew Lock
TE Noah Fant
DL Shelby Harris
Two 1st Round Picks
Two 2nd Round Picks
5th Round Pick

— Lineups (@lineups) March 8, 2022
Shelby Harris was highly regarded as a leader in the Broncos' locker room, and he had signed a three-year, $27 million contract with the team last offseason. Drew Lock was a former second-round pick at quarterback who never found his footing as a starter. Noah Fant had provided value in the team's passing game, but he never surpassed 700 yards or four touchdowns in a season.
Broncos' Odds Market Shifts
Following the announcement of the Russell Wilson trade, sportsbooks were quick to react and change their odds for Denver's futures markets. With the news swirling around the Broncos making a play for a big-name quarterback, you have to imagine they were well-prepared to shift the odds.
DraftKings Sportsbook currently has the Broncos listed at +1200 to win the Super Bowl, +750 to win the AFC, and +250 to win the AFC West. Most sportsbooks have similar numbers to these, but as always, make sure you shop the market for the best odds before placing a bet.
Broncos Super Bowl Odds #NFL
(@BetMGM)

+1800: Before Rodgers Deal
+2500: After Rodgers Decided TO Say In Green Bay
+1200: After Trading FOR Russell Wilson pic.twitter.com/zMzhUV5Cu0

— Lineups (@lineups) March 8, 2022
Denver Isn't Done
The Wilson trade won't be finalized until the start of the new league year on March 16, but we can start to project the Broncos' salary cap situation and draft resources heading into the offseason. The Broncos still have three picks in the top 100 of this year's draft after trading Von Miller to the Rams for a second and third-round pick in this year's draft. Miller has been hinting at a return to Denver, and signing him might be one of the first moves this team makes.
The Broncos had been looking at about $39 million in total cap space this offseason, but Wilson's $24 million cap hit will eat into some of that. Still, Shelby Harris, Drew Lock, and Noah Fant had a combined $17 million cap hit this year, so Denver will retain around $32 million in cap space before any additional restructuring of contracts.
Denver's roster doesn't have many holes, but retaining some key veterans in CB Kyle Fuller, RB Melvin Gordon, CB Bryce Callahan, S Kareem Jackson, and OT Bobby Massie could be seen as a priority. The Broncos could also look to upgrade the interior of the offensive line, bring in another pass-rusher, or add secondary depth in a free agency class that is deep at all three positions.