Public Remains Divided On Sports Betting Ads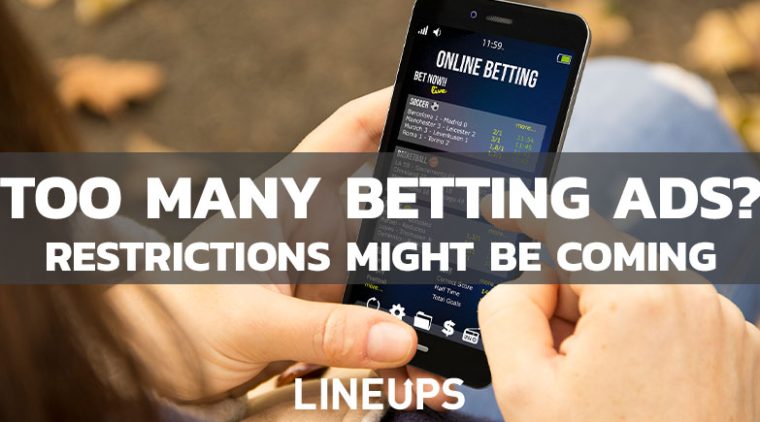 Advertising is an inevitability in life. Especially when it comes to "appointment TV" such as live sports, you can expect to see an onslaught of ads for domestic beer, car insurance, and pickup trucks. And those have all been mainstays in live sports advertising for decades. However, one industry advertisement has rapidly begun dominating the airwaves: sports betting. Nowadays, switching on the primetime sporting event means you'll also see ads for DraftKings, FanDuel, Caesars, and plenty of other betting platforms. And, while this is a sign that the popularity of legal wagering continues to surge, not everyone is pleased with the amount of sports betting ads. Here's everything you need to know about the current conversation around sports betting advertising.
Is It Time To Stop Airing Betting Ads During Games?
Those that are opposed to ads for sports betting platforms have a few different reasons. One of the most prevalent has been out of, to put it bluntly, annoyance. Casual sports fans with no interest in betting are likely to be turned off after seeing the same advertisement for the sixth time during a game. This might hurt the industry itself, as many remember a similar issue with daily fantasy sports advertising years ago.
However, the opposition to advertising goes deeper than that, as seen in a recent piece from the Philadelphia Inquirer. In the article, the argument is made that the advertisements are a major detriment to viewers fighting gambling addictions. Considering the amount of people reaching out for help with these issues is on the rise, the argument is being made that sports betting ads should be banned altogether during sporting events. While it might sound like a major shift, the United Kingdom has put a full ban on sports wagering ads during games, while Italy has had a full ban for years.
What's The Counter Argument?
However, the article from the Philadelphia Inquirer also highlighted the other side of the argument. According to Howard Gensler, who co-wrote the piece, airing ads for sportsbooks is no different than some of the other ads you'll see during a game for fast food, alcohol, and prescription drugs. Additionally, he highlights the pros around advertisements and the industry as a whole, with tax revenue being a major benefit to different states. It's a complicated argument to be sure, and one that will continue as more states begin to launch legal sports wagering.
What Should We Expect For The Future?
The argument against sports betting ads, especially during games, is nothing new. However, looking at the numbers, it's a conversation that's become inevitable. According to the World Sports Network, we've seen a massive amount in ad spending on sports wagering and gaming this past year. The total industry ad spending totaled $488 million in the course of a year, with major sportsbooks like FanDuel and DraftKings being major contributors. This isn't looking to slow down at the time of this writing, although the conversation around restrictions is a necessary one that could impact the future of the sports betting industry.