Premier League Planning to Phase Out Gambling Shirt Sponsorships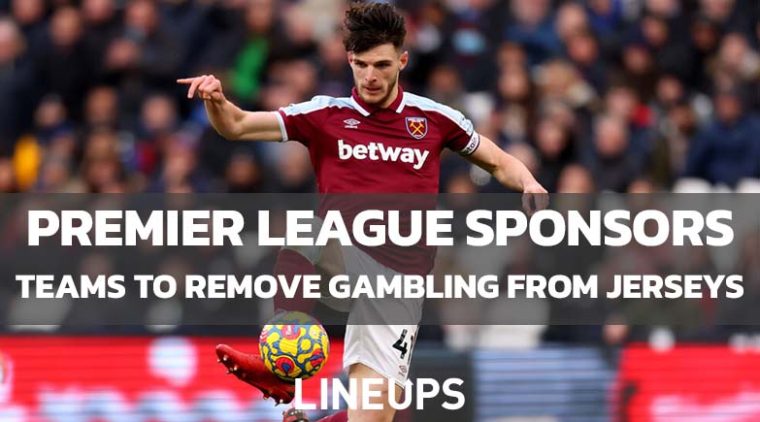 The Premier League is reportedly asking its clubs to support a three-year phase-out plan to remove gambling sponsorships from jerseys in order to avert a government-imposed ban. According to Sky News, the Premier League contacted its clubs on Monday to propose a three-year timeline for a voluntary ban. The ban would begin in August at the start of the new season, but it would not affect existing deals until the 2024-25 season.
Clubs Asked for Response
The Premier League's 20 top-flight clubs were given one week to make a decision on this proposal. If 14 clubs vote in favor, the phase-out model would be adopted immediately. The government is hoping to decide on a ban before July 21.
Half of last season's 20 top-flight teams had betting sponsors on their jerseys. Everton and the recently promoted Bournemouth both recently signed new shirt deals with betting firms, and Crystal Palace recently dropped their sponsorship in favor of cinch, an online car marketplace.
Other shirt sponsors from last season included Betway and SpreadEx Sport at West Ham, Hollywood Bet at Brentford, and Sportsbet.io at Southampton.
According to a University of Glasgow study, more than 700 betting-related logos can be seen during the course of a Premier League match. Therefore, there would be plenty of other opportunities for sponsorships outside of the jerseys.
Last week, Sky News reported that the Premier League had suggested to the government that shirt-sleeve branding should be permitted to continue indefinitely, but that aspect of the new plan is unclear.
What Would the Cost Be?
According to Sky Sports, almost half of Premier League clubs were sponsored by betting companies last season, but the ban isn't likely to be overwhelmingly impactful to their bottom line as they can draw on other types of sponsorships.
Still, the Daily Mail reported that across the Premier League and English Football League, the country's top two leagues, betting shirt sponsorships were worth a combined UK £100 million (US $122 million) during the 2021-22 season.
Meanwhile, the ban would be much more significant for the English Football League, the second-tier league in the country, as its clubs would reportedly lose out on about £40 million per year in revenue.
End Of Betting Football Shirt Sponsorships

The Premier League has reportedly asked its clubs to phase out jersey sponsorships with betting companies

UK government is reportedly planning to ban betting companies from sponsoring team jerseys as part of a gambling reform campaign pic.twitter.com/jw9zdKidGq

— Nqobile Ndlovu (@CashNSport) July 5, 2022
UK Government Dropping the Hammer
In December 2020, the Department for Digital, Culture, Media and Sport (DCMS) launched a review of the Gambling Act, and speculation has run rampant ever since about potential bans on shirt sponsorships and other types of advertising.
In April, the UK's Committee of Advertising Practice (CAP) announced plans to ban betting advertisements featuring athletes and social media influencers. In addition, betting companies will be prohibited from using teams' official kits and stadiums in any potential campaigns.
In May, the BBC reported that the government had been processing a proposal to outlaw shirt sponsorship deals with betting brands, but that was later watered down following backlash from the gambling industry. Now, the government hopes to reach a voluntary agreement with clubs rather than implement new legislation, although a broader package of gambling reforms is expected in a white paper in the next few weeks.
Will Clubs Support the Ban?
According to one financial analyst cited in the Sky Sports article, the big six clubs – Arsenal, Chelsea, Liverpool, Manchester City, Manchester United, and Tottenham Hotspur – would be expected to support the voluntary ban since none of them have shirt sponsorships with gambling companies, and they have plenty of other paths to revenue. Smaller clubs may not be as willing.
A DCMS spokesperson noted last week that "we are undertaking the most comprehensive review of gambling laws in 15 years to ensure they are fit for the digital age. We will be pushing a White Paper as part of a review of gambling legislation in the coming weeks."