Potential Super Bowl 56 Odds & Lookahead Lines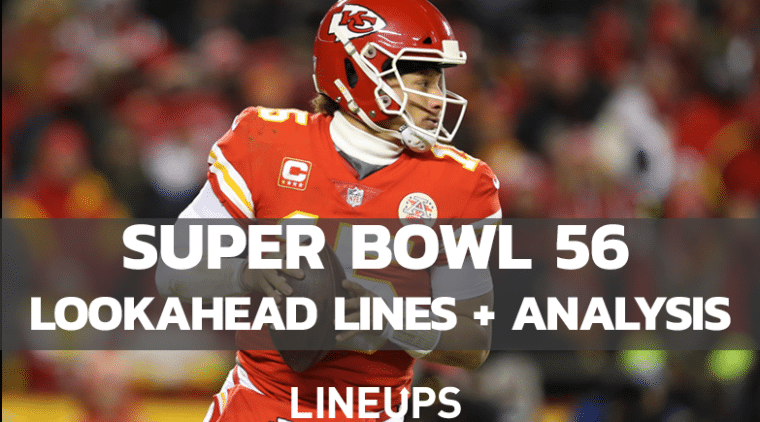 The Super Bowl is less than three weeks away and only four teams remain with a chance to vie for history. As it sits right now, the Rams and Chiefs are favored to come out of their respective Conference Championship Round games and play on February 13th at SoFi. If these playoffs have taught us anything, though, it's that what we think will happen is often far from reality. Let's take a look at the Super Bowl odds as they currently are and dive into a few scenarios.
Super Bowl 56 Lookahead Lines & Odds
Super Bowl 56 Winner Odds
Favorite Super Bowl Matchup: Rams vs Chiefs (+100)
Is this a chalky play? Yes. Is it the safe bet? Sure. But you know what else is chalky and safe — investing in index funds and saving for retirement. I love the Bengals story and I think Joe Burrow is the greatest personality to hit the NFL since Peyton Manning. But this Chiefs team is so generationally excellent on offense that I'm not sure too much else matters. Even if they stall for quarters at a time, they're able to score in bunches and force their opposition into attack mode. No doubt the Bengals offense can be explosive, but this offensive line has been so handicapped that a couple key 3 and outs seem almost inevitable. Sure, the Chiefs beat the Bengals in week 17, but I have no doubt the Chiefs will score more than 3 points in the second half this time around. I also think Burrow, who hasn't thrown a pick since week 13, is due for a turnover regression.
As far as the Rams vs Niners game goes, I like a dynamic Rams team to finally put up some points against this stout 49er defense. While I do think the Niners front 4 poses problems for the Rams in the run game, I also feel like that week 18 game gave this offense some confidence that they can move the ball against the Niners despite the loss. If it's not for a couple stupid Stafford turnovers, who knows if the Niners even make the playoffs. Maybe even more alarming for Niners fans in this game is how bad their offense has been for stretches this postseason. I certainly wouldn't count on special teams to pull it off in 2 straight games.
Value Play: Chiefs vs 49ers (+220)
If +100 odds aren't enough reward for your risk, though, a 49ers vs Chiefs Super Bowl future is the best alternative. After last weekend's game against Buffalo, I struggle to envision a scenario where the Chiefs don't come out of the AFC. Even if Cincinnati keeps it close, all Kansas City needs to do is get the ball back at any point under 2 minutes and I love their chances. I do, however, see a path for the Niners to pull off the upset. Kyle Shanahan has owned Sean McVey historically, winning his last 6 matchups against the Rams. Over Sean McVey's career, his teams have averaged 27 points a game on offense. Against Shanahan, they average just 18. The Niners have been able to run the ball at will on the Rams this year and if the Niners defense is able to neutralize the Rams offense with a couple early stops, this could play right into the hands of Kyle Shanahan and that offense.
Favorite Straight Forecast: Rams beat Chiefs (+300)
Stafford for the Super Bowl? If the Rams win on Sunday this would bizarrely mark the second straight year that a team gets to play at home for the Super Bowl. While both of these offenses are incredibly explosive, it is often defense that has the final say in the Super Bowls. I don't know if offenses tend to get tighter on the biggest stage or what, but in 9 out of the last 13 Super Bowls the better defense has prevailed over the better offense. This isn't a trend we necessarily see play out in the Conference Championship Round, which is why the Chiefs feel like the sharp play this weekend.
The addition of Von Miller has been crucial in aiding this Rams pass rush and there remains no answer for Aaron Donald. We saw in last year's Super Bowl between the Bucs and Chiefs how much of a problem quick linebacker play posed for this Chiefs offense. This Kansas City offensive line has certainly improved from last year, but all it will take is a couple quick pressures and forced three and outs. This Kansas City defense has one of the weakest secondaries in the NFL and the Rams not only have one of the best schemers in the pass game for a head coach but also two of the most dynamic wide receivers in football to complement the scheme. I love the over in this matchup and the Rams to win in a shootout. I think they have the only defense capable of slowing down the opposing offense, albeit just barely.
My Prediction: Rams win 38-31, over hits and Rams Super Bowl future hits (+210)