Philadelphia Eagles vs. Tampa Bay Buccaneers Player Props (1/16/22)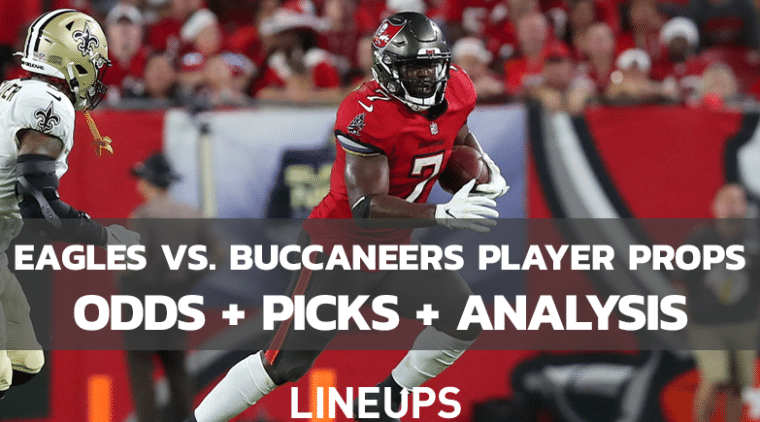 The Buccaneers open up their title defense with a rematch against the Eagles, a team they beat 28-22 earlier this year. Tom Brady has his own unique history with the Philadelphia team after losing to them in the Super Bowl a few years ago, and this should be an exciting game to watch. Keep an eye on the weather for this one, as it's expected to be raining with up to 25 mph winds, which could significantly impact the passing games for each team. You can use the player prop search tool below to find the best odds in your market for props in the Eagles vs. Buccaneers game.
Philadelphia Eagles Vs. Tampa Bay Buccaneers Player Prop Search Tool
Tom Brady Over 1.5 Rushing Yards
One of the highest percentage hit rates for props in this game has to do with the future Hall of Fame quarterback running the ball, which he isn't known to do very often. However, he averages 4.8 rushing yards per game this year and has gone over this line in 11 of 17 games (65%). It may be difficult for Brady to complete downfield passes in the wind and rain, and it wouldn't be shocking to see him take off at some point to pick up a few yards on the ground. The best part of this prop is that it only takes one play for it to hit, and I'm not expecting enough pressure from the Philly defensive line against an elite Tampa offensive line to lead to any negative rushing yards in this game.
Jalen Hurts Under 199.5 Passing Yards
Tampa Bay is more vulnerable against the pass than against the run, especially with all of its injuries in the secondary. Still, I have a hard time trusting Hurts to throw the ball in the expected adverse weather conditions. Hurts is very willing to take off and run as soon as the pocket starts to collapse on him, and with Shaquil Barrett returning and Philly dealing with some O-line injuries, that may be a more frequent occurrence this week. Even when the Eagles were working their way back from a multi-score deficit against the Buccaneers earlier this year, Hurts finished the game with just 115 passing yards. Hurts is averaging just 177.9 passing yards per game over his last ten, and I'm not expecting a better-than-average performance in the wind and rain.
Leonard Fournette Over 13.5 Rushing Attempts and 59.5 Rushing Yards
Playoff Lenny is back in action this week, and it will be exciting to see him resume his lead-back role for Tampa after he averaged 75 rushing yards per game in the playoffs last year. There seems to be some disparity between the yardage line and the rushing attempts line of 13.5 for Fournette this week. He has gone over 80 rushing yards in every game in which he has had 14+ carries this year, and I have a lot of confidence in him getting to that number this week. This year, the Eagles allow just 4.0 YPC, but the Buccaneers' offensive line ranks fifth in adjusted line yards per Football Outsiders. With Tampa dealing with injuries in its wide receiver room and the conditions calling for a greater emphasis on the ground game, expect a strong performance in Fournette's return to the lineup.
Quez Watkins Over 27.5 Receiving Yards
If you've been reading my stuff this year, you know I have a weird affinity for the Eagles' gadget player Quez Watkins. The 2020 sixth-round pick has made some huge plays for his team this season, and it was great to see him get back in the fold with a significant role in his 5-catch, 84-yard performance last week. I have no hesitancy in saying he's a better player than Jalen Reagor, and he should be involved in the game plan this week as he's capable of picking up the ball at the line of scrimmage and creating yards after the catch. Watkins's longest reception prop is sitting at 28.5 yards, so he can easily break this yardage total in just one play. Don't go huge on this prop as his role in the offense has been far from consistent, but I have a feeling he breaks a big play this week.
NFL Odds Corner
Super Bowl 56 Odds
NFL Divisional Odds
NFL MVP Odds
NFL Win Totals
NFL Playoff Odds
NFL OROY Odds
NFL DROY Odds
NFL DPOY Odds
NFL OPOY Odds
NFL CPOY Odds