Pennsylvania Sports Betting Sees Slow June But Record Fiscal Year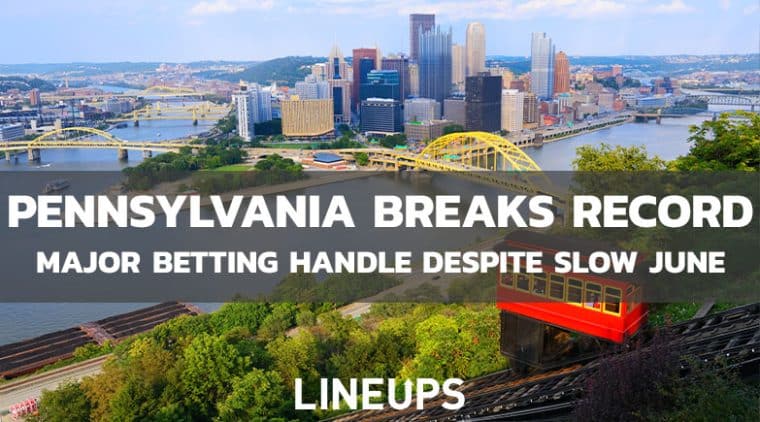 Since sports betting in the United States has been legal for a few years now, it's been interesting to watch the numbers develop. Since June of 2018, the total sports betting handle in the country has hit $141 billion, and that shouldn't slow down anytime soon. This number is definitely boosted by the past year of betting launches, with New York, Louisiana, and Arizona all becoming home to online sports betting sites since last September. And yet another state has a target date for legal betting, with Ohio sports wagering rolling out on New Year's Day in 2023. While these new markets are interesting to keep an eye on, one state that's been consistent for years is Pennsylvania, which just saw a major landmark. Let's take a look at Pennsylvania sports betting by the numbers.
Pennsylvania Hits Record Sports Betting Revenue
June of 2022 might have been hot when it comes to the temperature, but the betting market was anything but in Pennsylvania. The overall sports betting handle was down over 20% from month to month as the state saw a total of $393.5 million wagered throughout June. With the NHL and NBA seasons over, this makes a lot of sense, since betting handles tend to dip before football season starts. Interestingly, betting at Pennsylvania retail sportsbooks was still fairly popular in June, with $29.5 million in wagers.
Despite some low June 2022 betting numbers, revenue has been great in the Keystone State. In fact, June still saw nearly $23 million in overall revenue, representing a 5.8% hold. Overall betting revenue in the state is now over $1.1 billion. June's total sports betting handle also pushed Pennsylvania sports betting past the $15 billion mark. Plus, according to Covers.com, the state saw an amazing fiscal year of over $5 billion, beating out the former record of $3.87 billion.
Pennsylvania Sports Betting Should Keep Seeing Big Numbers
The numbers should only go up for the Pennsylvania sports betting market. Even though plenty of local bettors are backing the Pittsburgh Pirates and Philadelphia Phillies throughout the regular season, summertime generally sees sports betting numbers begin to slow down. However, the fall brings with it the kickoff of the NFL season, and it should be a big one in Pennsylvania. The Pittsburgh Steelers and Philadelphia Eagles both have a return to the playoffs as the main goal, and local bettors will undoubtedly be placing wagers on both teams throughout the season. To put it in perspective, Pennsylvania saw a total betting handle of $578 million last September during the first month of the pro football season. With two local pro teams coming off of postseason runs, don't be surprised if that number balloons this September.
Plenty of Sportsbooks in the Keystone State
Pennsylvania bettors have plenty of different options when they're looking to place wagers. Two of the top PA sports betting options include FanDuel Sportsbook (which saw the most money in June 2022) and DraftKings Sportsbook. But that's just the tip of the iceberg, as BetMGM Sportsbook, BetRivers Sportsbook, PointsBet Sportsbook, and Unibet Sportsbook are also active in the state.