Ontario Sports Betting Expected to Launch on April 4!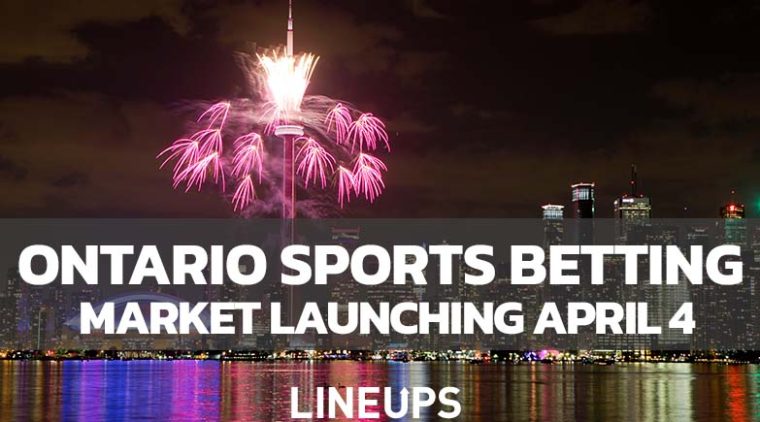 The launch of sports betting and iGaming is finally expected to arrive in Ontario on April 4, 2022. iGaming Ontario (iGO), a new subsidiary of the Alcohol and Gaming Commission of Ontario (AGCO), is working with the government to establish the new online gaming market. Ontario sports bettors can currently only legally place bets through PROLINE+, run in partnership with the provincial lottery, but the options are set to expand massively. Details are still emerging regarding this launch, but we have some information on this exciting news for Ontario sports fans and gamers.
Ontario iGaming and Sports Betting Launching April 4
On April 4, private gaming and online sportsbooks that are registered with the AGCO and have an operating agreement with iGO can begin offering their games to players in Ontario. The operators will be subject to the regulations set forth by the Ontario government. The tax rate for operators has not been established, but it's expected to be somewhere around 20%.
Martha Otton, iGO Executive Director, described some of the "assurances consumers can expect" as "prevention of underage access, ensuring compliance with applicable laws including anti-money laundering rules and regulations, and measures to enable more responsible gambling."
Specifics of the Ontario Market
Ontario has about 15 million people, which would make it the fifth-largest US state. In its first year of operation, Ontario is expected to generate roughly $800 million in gross revenue. For reference, Pennsylvania, which has a 34% tax rate on sports betting, generated just over $500 million in gross gaming revenue in 2021.
Canadian sports bettors are currently wagering around $10 billion per year through illegal bookmakers per the Canadian Gaming Association, so there is a solid incentive to legalize and regulate that market to generate taxable revenue. Once Ontario launches iGaming, it's expected to be one of the most competitive and robust markets in North America.
Canadian Online Gaming Legal Status
Similar to when the United States repealed the Amateur and Professional Sports Act in 2018, Canada passed C-218 in early 2021 to pave the way for provinces to legalize sports betting individually. Several provincial lotteries now have agreements with sports betting providers, and betting activity has been on the rise over the past year. Ontario will be the first province to launch online sports betting in Canada.
Paul Burns, President of the Canadian Gaming Association, described this development in Ontario as "another major milestone and achievement for Ontario's gaming industry after sports betting." Burns referenced the presence of safe and legal gambling options and the investment and job creation in Ontario that the new industry will foster.
Which Sportsbooks Will be Available?
Several of the most prominent sportsbooks in the United States are expected to pursue licenses in the new Ontario market. PointsBet Canada is already making waves in Ontario with a newly established operation in Toronto and partnerships with Curling Canada, the NHL Alumni Association, and the Trailer Park Boys. In addition, Sports Interaction is now the official sports betting partner of the National Lacrosse League in Canada.
The following is a list of the sportsbooks which we expect to be available on April 4 when the online sports betting market launches:
FanDuel Ontario
DraftKings Ontario
Caesars Ontario
BetMGM Ontario
theScore Bet Ontario
PointsBet Ontario
Betway Ontario
Sports Interaction Ontario