North Carolina House Rejects Sports Betting Bill After Promising Start to the Week, State Sets Sights to 2023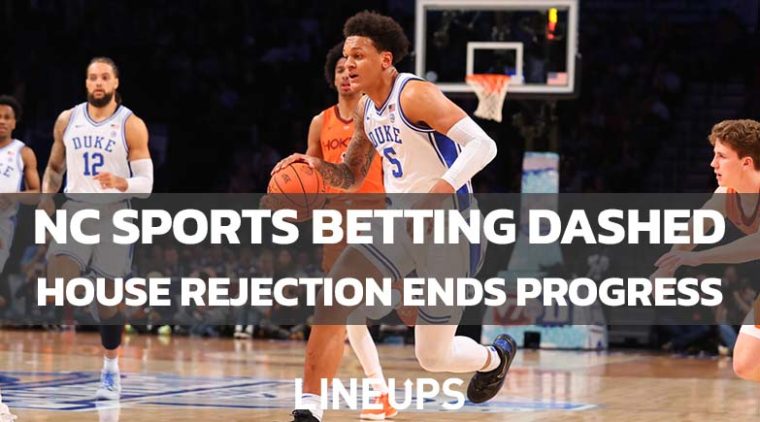 On Tuesday, we were hopeful as the North Carolina House Judiciary 1 Committee approved two sports betting bills that pushed the state closer to legalization. However, on Wednesday, the House failed to pass one of the two bills by a margin of just one vote. Passage of both bills was necessary for successful legalization, so North Carolina is now unlikely to legalize mobile sports betting in 2022.
BREAKING: North Carolina will not approve online sports betting this year

— Ryan Butler (@ButlerBets) June 22, 2022
Complicated Path to Legalization
After both SB 38 and SB 688 were approved on Tuesday and flew through three committees in less than 24 hours, the North Carolina House failed to pass them on Wednesday. SB 38 was supported by a vote of 51-50, while SB 688 was killed by a vote of 51-50 – one legislator, Rep. Jeffrey Elmore, voted yes on SB 38 but not SB 688.
"The one opinion that matters to me, the one judgment to me that matters, is what does Jesus think," Rep. Larry Pittman said. "It's very clear from his word what he thinks of these two bills, and I'm gonna be on his side and vote 'No.'"
Rep. Abe Jones expressed his opposition by saying sports betting could lead to prostitution and exploitation, and the values his father taught him are against it. Rep. Pricey Harrison was among the most vocal opposers as she repeatedly said, "it's not good for North Carolina." She had previously raised objections to the constitutionality of SB 688.
Looks like Rep. Jeffrey Elmore, R-Wilkes, is the guy who derailed the sports betting bill. Voting yes on one bill but no on the other, which meant one passed 51-50 and other failed 50-51 #ncpol #ncga pic.twitter.com/IkfRCO1GU5

— Colin Campbell (@RaleighReporter) June 22, 2022
Late Ban on College Sports Betting
One of the latest developments in North Carolina's legislative efforts was the addition of a complete ban on college sports betting in the state. North Carolina was set to become the only state with a total ban on college sports betting. Other states prohibit individual player props or in-state teams, not a zero-tolerance policy like North Carolina legislators approved.
The ban on college sports betting set up vigorous debates on the House floor as legislators raised concerns over college athletes being corrupted by sports betting. "Why do that to sport, which is supposed to be pure, and it's supposed to be honest?" said Rep. Marcia Morey, a former Olympic swimmer and NCAA investigator.
Rep. John Autry, formerly a producer and editor of coaching shows with former UNC men's basketball coaches Dean Smith and Bill Guthridge, was the first to introduce the ban on college sports betting. He specifically mentioned the point-shaving scandals between UNC and NC State in the late 1950s and early 1960s as giving cause for concern.
Yesterday: North Carolina punts on legalized online sports betting.

Today: Paolo Banchero, from Duke, driving the biggest topic in sports betting.

If only there was a way for states to monetize situations like this …

— PJ Walsh (@PJWalsh24) June 23, 2022
What Did the Bills Entail?
SB 688 would have set the baseline for sports betting in North Carolina, with the state authorizing as many as 12 mobile sportsbooks. It was widely expected that DraftKings and FanDuel would be among the first operators in the state. The legislation also allowed retail sportsbooks at professional sports venues in North Carolina.
SB 38 was a companion bill to SB 688 that introduced changes to the original bill. SB raised the tax rate from 8% to 14% and raised the licensing fee from $500,000 to $1 million. SB 38 also included a $1 million fee for licensing renewal, while SB 688 set the renewal fee at $100,000.
Following various amendments in the House Finance Committee, SB 38 would have sent $2 million in annual tax revenue to the Department of Health and Human Services for problem gaming programs. In addition, proceeds for the new Major Events, Games, and Attraction Fund dropped from 50% to 30%, while 10% of proceeds were set aside for Historically Black Colleges and Universities in North Carolina.
Glad North Carolina legislators did what's right. Having things like legal sports betting or marijuana will lead to prostitution and human trafficking. Plus it says in the Bible not to bet on sports on your phone

— Gary McStephenson (@GMcstephenson) June 23, 2022
What Happens Now?
The North Carolina legislative session ends on June 30, and Rep. Jason Saine told WRAL that sports betting legislation "isn't totally dead" for this session. However, the House failing to pass SB 38 indicates that it is highly unlikely to happen this year.
For now, there are two tribal-owned Harrah's casinos in western North Carolina featuring Caesars Sportsbooks. Mobile wagering is legal in neighboring Tennessee and Virginia, so North Carolina can expect to lose potential tax revenue to those states for the foreseeable future.
It's unlikely that we have any more significant news for a while in North Carolina's push for mobile sports betting, but we'll keep you updated with any new information.