Nikola Jokic Stat Correction the Latest Player Prop Betting Controversy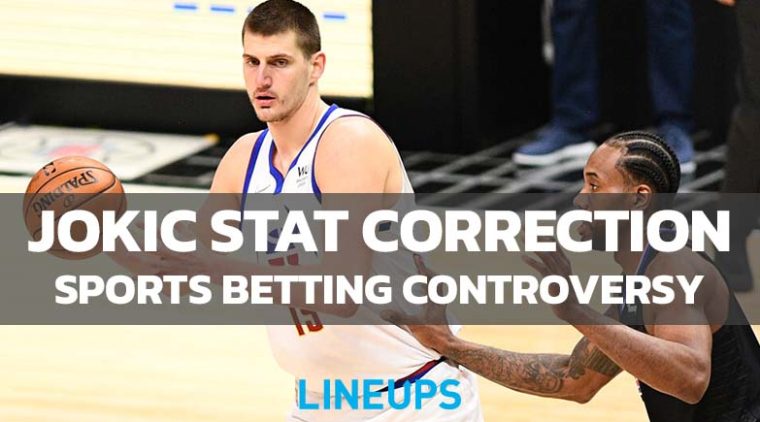 It's becoming more and more of a topic of conversation – the NBA's inconsistent stat tracking is impacting sports bettors in the player prop market. Nikola Jokic was the latest example of an error in stat tracking impacting bettors as the Nuggets' big man was retroactively given a rebound, his tenth in the game, two days after the game. Jokic, therefore, finished the game with a triple-double, and there were plenty of bettors who had that prop in straight bets and parlays.
What Happened on the Play?
Sports bettors closely tracking the box score during the Nuggets vs. Bucks game were shocked when they saw that Milwaukee guard Jrue Holiday was given a rebound rather than Jokic following the Denver center's block that led to possession for his team. Holiday tipped the ball away from Jokic, but he possessed it for long enough that it should have been considered a rebound. Following the NBA's stat correction, Jokic's official line now reads 24 points, 15 assists, and 10 rebounds in his team's 136-130 win over the Bucks.
Sportsbooks React in Different Ways
FanDuel Sportsbook, considered one of the most respectable books in terms of honoring their players' wagers, quickly granted wins to tickets with "Nikola Jokic to record a triple-double" despite being marked as losers initially on Sunday. DraftKings Sportsbook, meanwhile, is still marking tickets as losers with Jokic to record a triple-double due to their regulations that prevent the sportsbook from resettling the market. However, DraftKings is refunding bettors in full as though they won, and they will receive their would-be winnings in withdrawable cash, not site credit.
@nbastats @BucksPR @NuggetsPR 3:30 second quarter of Bucks Nuggets this should be a Nikola Jokic rebound to Jrue Holiday steal not a Holiday rebound, Jokic has full possession of the ball an is looking down court for a pass an gets stripped please fix it to a Holdiay steal pic.twitter.com/D5aPbweFFd

— Mvpiid (@SixerzShake) January 31, 2022
Draymond Green Controversy
Sports bettors rarely get the best of sportsbooks, but with social media discussion growing in popularity and scope, there can be enough pressures put on sportsbooks to enact change in such situations that call for it. On January 9, DraftKings experienced some controversy as Draymond Green ceremoniously started in Klay Thompson's return to the court but only spent a few seconds on the floor as he was dealing with a calf injury. After Cleveland won the jump ball in the game, the Warriors fouled them to stop the ball and allow Green to head to the bench.
Before the start of the game, news spread that Green was planning on starting in name only, and savvy sports bettors rushed to place unders wagers on Green. He finished with no points, no rebounds, and no assists in what would later become known as an "organized event," FanDuel and BetMGM paid out unders in full, but DraftKings did not do so until days later. In addition, some sports bettors waiting on big payouts on their Green tickets were limited the following night drastically for no apparent reason.
These are NOT my tickets. They were DM'd to me.

This is a SMALL sample size with what is at stake here. I've seen MILLIONS (plural) of dollars worth of tickets on this.

He played and recorded a stat. This is a HUGE moment in the history of gambling and how this is graded. pic.twitter.com/VJKsD5uwzI

— Beau L. Wagner⚡️ (@BeauLWagner) January 10, 2022
Future Implications
The recent Jokic controversy was not the first example of such a disparity in stat tracking impacting sports betting results. Not all of the cases receive nearly the publicity that the Draymond Green case did. The way sportsbooks respond to these ongoing issues is an essential factor for bettors, and DraftKings isn't doing itself any favors. DraftKings tweeted on Tuesday that it would be honoring the payouts of the Nikola Jokic triple-double but added that it would be for "straight bets only," and not parlays.
Of course, it's evident that the NBA needs to develop software for more consistent stat tracking. The big national sportsbooks such as DraftKings and FanDuel have partnerships with the NBA, and they will undoubtedly be putting pressure on the league to develop a long-term solution to this issue. Whether that comes in the form of dedicated employees to track stats each night with a mindset towards sports betting or improved technology remains to be seen.
In the past, nobody would care much if Jokic finished with nine or ten rebounds, aside from those tracking his triple-doubles for sentimental reasons. However, with millions of dollars at stake every night, sports bettors will be more hesitant to give their business to sportsbooks that have not proven they can handle these controversies quickly and to the liking of bettors.
We will be honoring the payouts of Nikola Jokic's triple-double from Sunday night's game following the NBA's stat correction.

Funds will be in accounts shortly! (Straight bets only) pic.twitter.com/8QMYHMMXlH

— DraftKings Sportsbook (@DKSportsbook) February 1, 2022