NFL Week 7 Odds and Lookahead Lines: Four Bets to Make This Weekend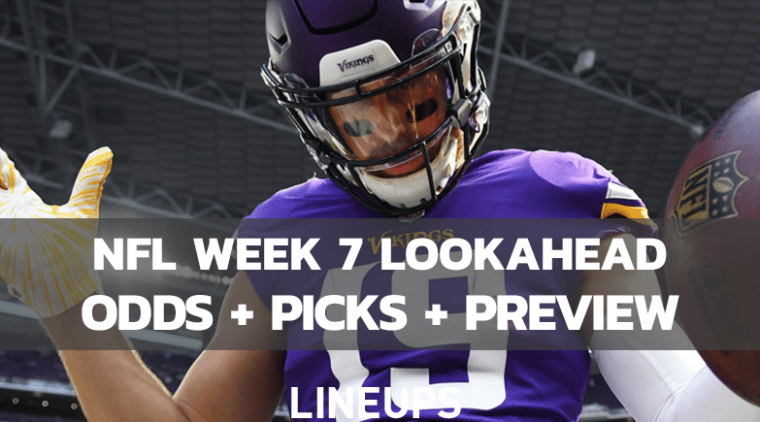 Get a jump on NFL Week 7 odds & lookahead lines, along with four bets to place before lines begin to move for next week. Find updated NFL Week 7 odds below.
Week 7 NFL Odds & Lines
Lookahead NFL odds & Lines for Week 7
Early NFL Week 7 Bets To Place
Week 6 of the NFL season is just getting underway, but it's not too early to start thinking about Week 7 bets. Let's take a look at which bets you might want to lock in before this week's action moves some of the lines.
New York Giants Moneyline (+130) vs. Jacksonville Jaguars
The Jaguars' odds are still riding the high of their dominant wins over the Colts and Chargers, but after an ugly loss to the Texans in Week 5, it may just take one more loss for bettors to lose faith in Jacksonville.
The Jaguars face a tough matchup this week against the Colts, who surely are motivated after losing 24-0 to this team in September. With Jonathan Taylor and Shaquille Leonard healthy, Indianapolis is in good position to knock the Jaguars down to 2-4.
A third consecutive loss would probably erase Jacksonville's status as a favorite against a hard-nosed, well-coached Giants team. With the way Brian Daboll is coaching and Saquon Barkley is running, we might see money pour in on New York.
New York Jets (+3.5) vs. Denver Broncos
The Broncos have been favored more often than not this season, but similar to the Jaguars, one more loss may end that trend.
Denver's offense remains broken through five weeks, and a strong defense generally hasn't been enough to overcome Russell Wilson's struggles and some poor coaching decisions. If the Broncos come out and look flat for the sixth consecutive week, the Jets at least have a chance to move this line to under a field goal.
A beaten up Russell Wilson will face the Chargers on Monday, and there's a real chance the offense just won't be able to keep pace with Justin Herbert. Regardless of what the Jets do in Green Bay, that should be enough for bettors to give up on the Broncos.
Kansas City Chiefs Moneyline (-125) vs. San Francisco 49ers
There's no doubt the 49ers are a tough team to face on the road, but I'm worried about them this week. With nearly the entire defensive line injured and two members of the secondary hurt – one out for the year – San Francisco is due for disappointment in Atlanta, whether that comes in the form of a close game or an outright loss.
The Chiefs' offense could easily take advantage of the 49ers' depleted defense. Their dominant showing against an otherwise tough Buccaneers defense is enough proof.
With the Bills on tap for this weekend, even a Chiefs loss probably wouldn't move this line toward the 49ers. A 49ers loss to the Falcons, or anything close, has the chance to reinforce the Chiefs as an even stronger favorite than they already are. Kansas City -125 is a solid value today.
Seattle Seahawks (+7.5) vs. Los Angeles Chargers
The Seahawks are a bit overlooked against the Cardinals this weekend. There still aren't many believers in the Geno Smith-led offense despite it being a top-10 unit in both points and yards through five weeks. If Seattle takes care of business against Arizona at home, I wouldn't be surprised to see this line move under a touchdown.
You truly never know what you might get from the Chargers, and one more impressive week from the Seahawks' offense should be enough for oddsmakers to realize this line is putting too much confidence in the Chargers' ability to stop it.