NFL Week 1 Odds Release: Rams, Buccaneers, and Broncos Favored in Primetime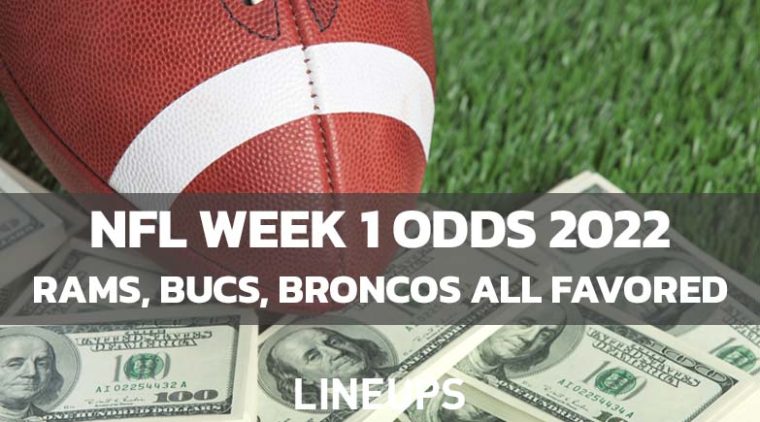 NFL 2022 Week 1 Odds Release
The schedule for Week 1 of the NFL has dropped, and with it comes betting odds for each of the opening week's games. We have you covered with all of your sports betting needs at Lineups including live odds for the Week 1 games this NFL season. It's never too early to start thinking about wagers for Week 1, but keep in mind that injuries and further roster moves could change these lines significantly by the time the games come around.
How to Join a Sportsbook
If you're in a legal betting state, you likely have tons of great options for sports betting online. Our site has you covered with the latest new-user bonuses and all of the sign-up information you need to get started with great sportsbooks like DraftKings, FanDuel, BetMGM, and more. Simply click through our menu on the top to find your state and learn how to get signed up with huge new-user bonuses that you can access today!
Thursday Night Football: Buffalo Bills at Los Angeles Rams
When: Thursday, September 8 at 8:20 PM EST
Where: SoFi Stadium – Los Angeles, CA
How to Watch: Amazon Prime
San Francisco 49ers at Chicago Bears
When: Sunday, September 11 at 1:00 PM EST
Where: Soldier Field – Chicago, IL
How to Watch: Fox, Fox Sports, fuboTV
Philadelphia Eagles at Detroit Lions
When: Sunday, September 11 at 1:00 PM EST
Where: Ford Field – Detroit, MI
How to Watch: Fox, Fox Sports, fuboTV
New Orleans Saints at Atlanta Falcons
When: Sunday, September 11 at 1:00 PM EST
Where: Mercedez-Benz Stadium – Atlanta, GA
How to Watch: Fox, Fox Sports, fuboTV
Cleveland Browns at Carolina Panthers
When: Sunday, September 11 at 1:00 PM EST
Where: Bank of America Stadium – Charlotte, NC
How to Watch: Fox, Fox Sports, fuboTV
Jacksonville Jaguars at Washington Commanders
When: Sunday, September 11 at 1:00 PM EST
Where: FedEx Field – North Englewood, MD
How to Watch: Fox, Fox Sports, fuboTV
New York Giants at Tennessee Titans
When: Sunday, September 11 at 1:00 PM EST
Where: Nissan Stadium – Nashville, TN
How to Watch: CBS, Paramount+, fuboTV
Baltimore Ravens at New York Jets
When: Sunday, September 11 at 1:00 PM EST
Where: MetLife Stadium – East Rutherford, NJ
How to Watch: CBS, Paramount+, fuboTV
Pittsburgh Steelers at Cincinnati Bengals
When: Sunday, September 11 at 1:00 PM EST
Where: Paul Brown Stadium – Cincinnati, OH
How to Watch: CBS, Paramount+, fuboTV
Indianapolis Colts at Houston Texans
When: Sunday, September 11 at 1:00 PM EST
Where: NRG Stadium – Houston, TX
How to Watch: CBS, Paramount+, fuboTV
New England Patriots at Miami Dolphins
When: Sunday, September 11 at 1:00 PM EST
Where: MetLife Stadium – East Rutherford, NJ
How to Watch: CBS, Paramount+, fuboTV
Kansas City Chiefs at Arizona Cardinals
When: Sunday, September 11 at 4:05 PM EST
Where: State Farm Stadium – Glendale, AZ
How to Watch: Fox, Fox Sports, fuboTV
Las Vegas Raiders at Los Angeles Chargers
When: Sunday, September 11 at 4:25 PM EST
Where: SoFi Stadium – Los Angeles, CA
How to Watch: CBS, Paramount+, fuboTV
Green Bay Packers at Minnesota Vikings
When: Sunday, September 11 at 4:25 PM EST
Where: U.S. Bank Stadium – Minneapolis, MN
How to Watch: Fox, Fox Sports, fuboTV
Sunday Night Football: Tampa Bay Buccaneers at Dallas Cowboys
When: Sunday, September 11 at 8:20 PM EST
Where: AT&T Stadium – Arlington, TX
How to Watch: NBC, NBCSports, Peacock, fuboTV
Monday Night Football: Denver Broncos at Seattle Seahawks
When: Monday, September 12 at 8:15 PM EST
Where: Lumen Field – Seattle, WA
How to Watch: ESPN, ESPN+, fuboTV