NFL Futures Friday: Bet on Courtland Sutton's Breakout with Russell Wilson in 2022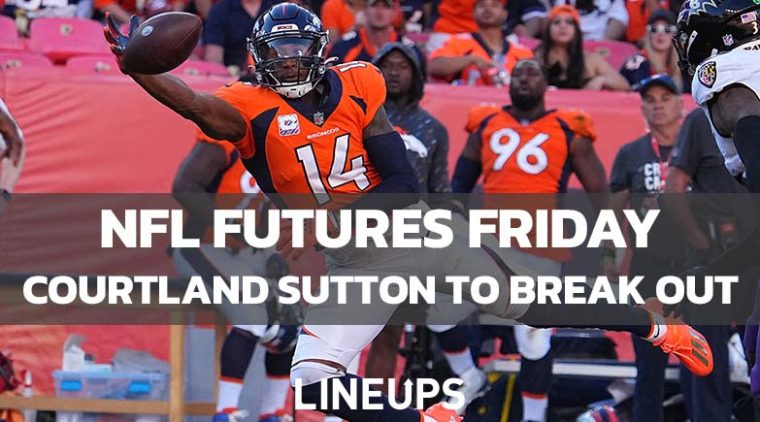 DraftKings Sportsbook has dropped an extensive selection of player prop lines for the entire season, and you can choose from a wide range of players on the site. For the most part, I prefer betting unders as they will hit much more frequently due to injuries and other factors.
However, when DraftKings' lines first popped up, the player who caught my eye was Courtland Sutton, the Broncos' wide receiver. This article will spotlight why I believe Sutton is set for a breakout season and why I would bet the over on his props.
Courtland Sutton's Over/Under Lines: 62.5 receptions, 900.5 receiving yards, 5.5 touchdowns
My Current Projections: 78 receptions, 1,114 yards, 9 touchdowns
Sutton's Past Statistics
When the Broncos drafted Courtland Sutton with the 40th overall pick in the 2018 NFL Draft, the consensus was that they were getting a true X-receiver with physicality and size to be a dominant contested-catch player. However, Sutton's career has yet to fully take off as he has just one 1,000-yard season in four years.
In 2019, Sutton made his first and only Pro Bowl appearance when he caught 72 passes for 1,112 yards and six touchdowns. His quarterbacks that season were Joe Flacco, Drew Lock, and Brandon Allen, and Sutton still made the most of his opportunities with a massive 25.7% target share and an impressive 15.4 yards per reception.
Unfortunately, Sutton proceeded to tear his ACL in Week 2 of the 2020 season, and he finished with just three catches for 66 yards. In 2021, he played an entire 17-game season. Still, the conservative tendencies of Teddy Bridgewater and the erratic play of Drew Lock severely hampered his upside – he finished with 58 catches for 776 yards and two touchdowns.
Still, despite the erratic play throughout his career, you can see Sutton's potential regularly. He flashes high-upside play with his ability to win on 50/50 jump balls, make absurd catches down the field, and win after the catch with shiftiness and contact balance.
Courtland Sutton MOSSED him 😱

(via @NFL)pic.twitter.com/caCbhu8Iox

— NFL on ESPN (@ESPNNFL) November 3, 2019
Arrival of Russell Wilson
Earlier this offseason, the Broncos finally acquired their franchise quarterback Russell Wilson who should elevate the entire roster. Wilson is a nine-time Pro Bowler and a former Super Bowl champion, and the difference in play from the Broncos' putrid quarterbacks in recent years should be drastic. While Wilson had played in a frustratingly run-first offense in Seattle for his entire career, he has supported several big-time statistical seasons for wide receivers.
D.K. Metcalf has averaged over 1,000 yards over his three seasons in Seattle, and Lockett has averaged over 1,000 yards over the last four years. Both receivers have 7+ touchdowns in each season over those respective spans. Going back further, Doug Baldwin had a stretch with Wilson where he averaged over 1,000 yards over four years and even had a 14-touchdown season.
We love the Russell Wilson to Courtland Sutton connection 🙌

(🎥 @Broncos)pic.twitter.com/p4HYxGNpzC

— PFF Fantasy Football (@PFF_Fantasy) May 23, 2022
Sutton's Projection this Season
Detractors to Sutton, particularly in the fantasy football space, will often point to the prospect of too many mouths to feed in the Denver offense. However, Sutton profiles as the alpha receiver of the group. Jerry Jeudy is a pristine route-runner, but he will often play as the flanker and come out of the slot more often, so he won't see the same high-leverage targets as Sutton.
K.J. Hamler is also still recovering from an ACL injury, and it could take some time for him to hit the ground running. Tim Patrick has been an excellent complementary receiver in the NFL, but Sutton is the highest-paid receiver of the group and the fourth-highest-paid receiver on the team, and we should expect him to be the #1 option.
Among wide receivers with at least 60 targets last season, Sutton ranked first in average depth of target (aDOT) at 15.4. In 2019, he ranked 12th among receivers with 95+ targets with an aDOT of 12.3. Those downfield targets are incredibly valuable for a top-tier receiver, and Wilson should be able to utilize better his skill set with his downfield accuracy.
Sutton was also top-10 in unrealized air yards last season, and in Sutton's breakout 2019 season, he ranked tenth in the NFL in yards per route run per PFF despite his putrid quarterback play. He has all the makings of the team's X-receiver in Nathaniel Hackett's offense and Russell Wilson's new #1 target.
Courtland Sutton's route-running 😳 pic.twitter.com/48FJvZDA7U

— PFF (@PFF) August 29, 2021
Conclusion
Jerry Jeudy is a highly enticing player who was drafted with higher capital than Sutton, but I am projecting Sutton to be the team's WR1 this season. However, Jeudy's prop lines have him projected for more catches, yards, and touchdowns than Sutton, and I see that as a market inefficiency. Even in the Broncos' anemic offense last season, Sutton ranked seventh in air yards, sandwiched between Metcalf and Lockett.
Sutton had over 1,110 yards and six touchdowns with putrid quarterback play and poor coaching in 2019, and now he is working with Russell Wilson and Nathaniel Hackett. I'm all-in on 2022 being Sutton's breakout season as a top talent at his position in the NFL, and I'm scooping him up wherever I can in fantasy football. You should be doing the same, and the over on his player props is a smart bet across the board.