NFL Futures Friday: Jameis Winston Drawing Sharp Action at Caesars to Lead in Passing Yardage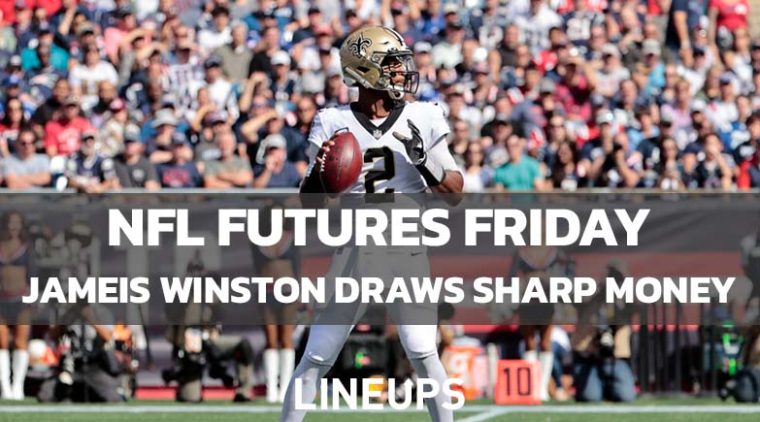 A great way to identify value in NFL Futures markets during the offseason is to track where the sharp money is going. At Caesars Sportsbook, New Orleans Saints' quarterback Jameis Winston has been the most popular bet to lead the league in passing in 2022. The former #1 overall pick has 18% of the total bets and 27% of the total money, indicating the proliferation of big-money bettors. Winston's price has been reduced from +7500 to +4000, which is tied with Tua Tagovailoa and Carson Wentz.
Jameis Winston's 2021 Season
Winston played in just seven games last season before suffering a season-ending torn ACL, but his numbers were modest in that stretch. If you remove the game against the Buccaneers in which Winston suffered the torn ACL, he averaged just 185.6 passing yards per game, which would have ranked just 31st in the NFL. Winston's 14 touchdowns to just three interceptions were more of a higher caliber, but leading the NFL in passing yardage would be a massive leap from his production last year.
Saints' Improved Pass-Catching
Last season, the Saints' leading pass-catchers were Alvin Kamara with 47 receptions and Marquez Callaway with 46 receptions – they were the only two players with over 40 catches. However, the Saints made a solid effort to revitalize the team's pass-catching over the offseason. First-round rookie Chris Olave has a pro-ready game with smooth route-running and natural hands – I wouldn't be shocked if he led all rookies in receptions. Jarvis Landry also helps provide a veteran presence.
The most significant question mark for the Saints is the health of Michael Thomas. The former All-Pro wideout is reportedly not yet 100% healthy, and head coach Dennis Allen told reporters on Thursday that he's considered "doubtful" to participate in the team's mandatory minicamp. Thomas played just seven games in 2020 after injuring his ankle, missed all of 2021 after receiving surgery on the same ankle, and later suffered a setback. His health is paramount to Winston's success.
Winston's Odds for Other Awards
Jameis Winston is a top candidate for the Comeback Player of the Year award after leading the Saints to a 5-2 record as a starter last year, and his odds currently sit somewhere between +550 and +650 depending on your sportsbook. Winston is also listed at around +8000 to win the MVP award, which would be quite the leap for the player. One aspect that might hold Winston back from gaudy numbers for these awards is the prospect of the Saints having one of the best defenses in the NFL once again.
The Verdict
One bettor in Virginia placed a $2,000 wager on Jameis Winston to lead the league in passing yards for a potential $100,000 payout. Another bettor in Nevada placed a $1,000 wager on Winston for a potential $80,000 payout. If you find odds around +7000, there can certainly be value on a healthy Winston, as these large wagers suggest.
However, Jameis Winston's passing volume was highly limited last year, and the arrivals of Chris Olave and Jarvis Landry may not be enough to change that. Michael Thomas's health is worth watching as a healthy Thomas changes the equation, but there's nothing to suggest that he returns to an All-Pro level.
The loss of Terron Armstead could also be significant for Winston's productivity as rookie Trevor Penning has a lot of work to refine his pass protection to come anywhere close to Armstead's elite play. The Saints' defense being one of the best in the NFL, will also limit the passing volume, and I don't find it incredibly likely that Winston challenges the top names at quarterback for the top numbers in passing yardage.