NFL Draft Best Bets For Day One 2022: Value On Ekwonu, Hutchinson Goes Two?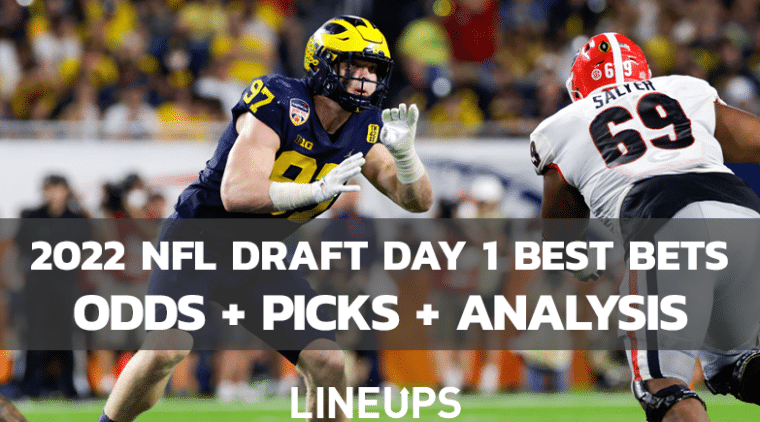 The First Round of the NFL Draft kicks off this Thursday in Las Vegas at Caesars Forum. For each of the last 30 years, 4 teams who didn't make the playoffs the year before made it the following year. If this standard holds, 4 unassuming teams will find themselves in the 2022 NFL Playoffs with a chance to vie for Super Bowl LVII. The NFL Draft is one of the key areas where teams get the pieces they need to pull themselves over the hump. Here are some of the best bets for this year's NFL Draft.
NFL Draft Best Bets 2022
Odds From FanDuel 4/26
Ikem Ekwonu No. 1 Pick (+400)
This is more of a value play than anything but could be a worthwhile investment given the uncertainty with what Jacksonville is going to do here. As of Monday morning, Aidan Hutchinson has moved from -175 to +150 to be the number 1 overall pick. Travon Walker has moved into the favorite spot at -150 with Ekwonu occupying the third place spot at +600. This erratic movement signals that Jacksonville may be willing to jettison the idea of drafting a defensive linemen in the first round entirely. With owner Shad Khan putting pressure on GM Trent Baalke to make Trevor Lawrence work, a good pass blocking offensive linemen seems like the next logical conclusion for Jacksonville. It's also worth noting that Baalke, reportedly, still holds a mild grudge against Michigan Head Coach Jim Harbaugh from his days as a GM in San Francisco when Harbaugh was the 49ers head coach. While I doubt this is a determining factor, it may not be immaterial to the Jags decision.
I wouldn't put too much money down on Ekwonu, but at +750 he's great value for half a unit.
Aidan Hutchinson No. 2 Pick (-200)
If the Jags do decide to go with Walker or an offensive linemen with the first pick, the Lions will pick up Hutchinson at 2. Beyond just being the hometown hero, Hutchinson has both the desirable traits and the collegiate production you'd want out of a player this high up in the draft. In a class with few "sure things", he's seemingly the closest one. You're not getting the best of the number with this one given how Hutchinson's stock has moved, but for the first time since most sportsbooks started putting out lines for the draft, it seems feasible that Hutchinson falls to 2. If he does, this bet is the closest thing to a lock.
Ahmad Gardner Draft Position u4.5 (-250)
While it seems fairly evident that the Lions and Jaguars are going to take linemen with the first two picks, there's some mystery regarding what will happen after. I think the Texans are going to end up taking Evan Neal (or Ekwonu if he's still on the board), and the Jets Sauce Garnder. Sauce is one of the more intriguing players in this draft given his length and almost otherworldly collegiate numbers. The Jets' secondary is the weakest unit on an already weak team. With a second year quarterback, marginally average offensive line, and below average weapons, the Jets can't afford to keep playing in shootouts. They have already upgraded by signing DJ Reed and would upgrade significantly with the addition of Sauce Gardner.
Chris Olave Draft Position u16.5 (-205)
This number is low because most draft experts have Olave as the 4th receiver taken in this class, behind Wilson, Williams, and London. While I think this is an accurate depiction of how things will play out, I don't think it means Olave gets pushed back to 17. The Washington Commanders, New York Jets, Atlanta Falcons, Baltimore Ravens, Houston Texans and New York Giants could all use a WR. While some of these teams will inevitably not address their need for a receiver in the first round, I believe a good chunk of them will. One year after Ja'Marr Chase flipped the fortunes of an entire franchise one year after being drafted, expect a lot of jostling around for WRs with "franchise changing" talent in this loaded WR class. Chris Olave is one of those guys.
Baltimore Ravens to take Offensive Lineman with First Pick (+250)
I like the Ravens to take Northern Iowa OT Trevor Penning here. The Ravens need someone who can line up opposite Ronny Stanley and stay healthy. Moreover, this organization loves players with a nasty streak that can make it hurt in the run game. Penning provides both of these qualities along with one of the best size/speed combinations in the draft. There are a lot of different directions the Ravens could go with this pick, but at +250, an offensive linemen selection appears to provide the most value.
Minnesota Vikings to take Cornerback with First Pick (-125)
The Vikings desperately need a cornerback this year and with the 12th pick they'll have their choice between Stingley and McDuffie/whoever's left between the two. I like this pick to be McDuffie specifically as I think either the Seahawks or one of the New York teams end up taking Stingley. McDuffie's o/u for draft position is currently 16.5, so you could kill two birds with one stone by taking McDuffie's under and the Vikings to take a CB.
Jermain Johnson to be No. 8 Overall Pick (+900)
The Atlanta Falcons had the worst pass rush in the NFL in 2021 — registering just 1.1 sacks per game. With Aidan Hutchinson and Travon Walker likely off the board, Johnson would allow the Falcons to address this need without having to trade up. Johnson's draft position O/U is 10.5 with even odds on both sides. If that under does hit, this is one of the more likely spots and you'd be getting a significant premium at +900. Admittedly +900 are long odds, though the sportsbooks really give no indication as to where Atlanta is leaning with this pick. I'd recommend putting a unit on Johnson and maybe hedging with a unit on Garrett Wilson at +500.
Top Picks Parlay: Malik Willis, Ahmad Gardner, & Garrett Wilson to be Top 10 Picks (+285)
This is really a bet on Malik Willis being a top 10 pick in this draft. Despite the lack of quarterback firepower this year, the position means more in today's NFL than it ever has and there are a lot of desperate teams out there. Many have speculated that the Steelers, Seahawks, or Saints will trade up in the Top 10 to get Willis, if the Panthers don't select him outright with the 6th overall pick. Whether or not the decision to take a quarterback so early this year is prudent, it's become evident in recent drafts that teams are willing to speculate pretty heavily into uncharted waters on the chance that they may land their franchise quarterback.
Top Picks Parlay: Zion Johnson, Trent McDuffie, Nakobe Dean to be Top 32 Picks (+143)
As far as interior offensive linemen go, Zion Johnson is about as smart as they come. There are a number of teams, including the Cardinals, Steelers, Bengals, and Cowboys who could benefit from having Johnson on their roster and will likely do so. Trent McDuffie, meanwhile, is shaping up to be a lock to go in the top 25 — likely going to a team like the Vikings or the Patriots. What this bet really hinges on is Nakobe Dean. The second best linebacker in this year's draft, behind Devin Lloyd, Dean could fit in perfectly well with a team like the Packers who are trying to fill the void left by Za'Darius Smith. I like the Packers to take Dean at 28 and cash this bet.
2022 NFL Draft Best Bets Video