NFL Divisional Round: Odds, Lines, Predictions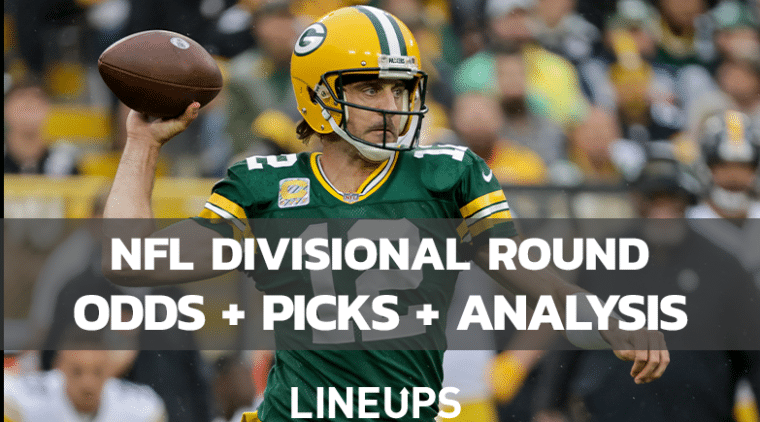 The NFL playoffs are underway, and you can find updated odds, lines, and predictions for the Divisional Round here. We are down to the final eight and the favorites have mostly taken care of business so far. The race for the Super Bowl has started to narrow down. Predictions & Picks will be updated early week.
New York sports betting has also launched this weekend and is just in time for the NFL playoffs. Get the top new-user bonus offers by clicking here or through the sportsbook banners on the page.
Wild Card Record Record: 5-1 SU, 4-2 ATS, 3-3 O/U
My Regular Season Record: 172-99-1 SU (63.2%), 161-110-1 ATS (59.1%), 146-123-2 O/U (53.6%)
NFL Divisional Round Odds
Cincinnati Bengals Vs. Tennessee Titans
The Bengals earned their first playoff win in 31 years last week in a triumphant moment for a franchise that has found new life from the play of Joe Burrow and Ja'Marr Chase. While Burrow's stat line wasn't his best of the season, he had a very efficient 110.4 passer rating and completed over 70% of his passes. Predictably, the Bengals had some difficulty protecting Burrow against the likes of Maxx Crosby and Clelin Ferrell with starting offensive tackle Riley Reiff on Injured Reserve. Tennessee doesn't have quite the pass-rushing prowess that Las Vegas possesses. Ja'Marr Chase finished with nine catches for 116 yards in his first postseason appearance. The Titans dealt with several secondary injuries throughout the year, and they allowed the eighth-most passing yards in the regular season. Cincinnati's elite receiving corps could create some real problems for them in this matchup.
The return of Derrick Henry this week should transform the Titans' offense as he allows them to open things up in terms of play-action passing against a lighter secondary. D'Onta Foreman played well as the starter in relief of Henry, but the Titans are certainly better with the back-to-back rushing king in the lineup. The Bengals allowed just 102.5 rushing yards per game during the regular season, the fifth-fewest in the NFL, but Cincy allowed Josh Jacobs to run at a 6.4 YPC clip last week. Starting defensive tackle Larry Ogunjobi was placed on Injured Reserve, as well, leaving the Bengals lighter upfront. Eli Apple has overcome some early-career struggles to succeed this season while Chidobe Awuzie has been excellent as a free-agent addition. They will be relied upon to hang tough with A.J. Brown and Julio Jones in single coverage as the Bengals focus on loading up in the box to slow down Henry.
It's worth noting that the Bengals upset the Titans last year 31-20 as one of their just four wins of the year, and this Cincinnati team has improved quite a bit since then. The additions of Ja'Marr Chase, Trey Hendrickson, and Chidobe Awuzie, to name a few, have transformed this team on both sides of the ball. Tennessee is a battle-tested team that has fought through plenty of attrition this season, but the Bengals' offense is arguably the most explosive they have faced this season. I like the value on the Money Line for the Bengals in this game, and I'm picking them to cover as short road underdogs as I believe they are the better of these two teams riding some serious momentum into this game.
Key Injuries:
Cincinnati Bengals: DE Trey Hendrickson (concussion) Q, DT Larry Ogunjobi (foot) IR
Tennessee Titans: DT Teair Tart (ankle) Q
Matchup To Watch: A.J. Brown (TEN WR) vs. Chidobe Awuzie (CIN CB)
My Prediction: Bengals win 27-24, Bengals cover, over 47 points
San Francisco 49ers Vs. Green Bay Packers
You might look at the injury report below and think that the Packers are in trouble here, but there are actually a lot of positive takeaways. Stalwart offensive tackle David Bakhtiari got back on the field for the Packers in Week 18, and he'll be ready to go this week. Jaire Alexander and Za'Darius Smith, who have both missed a majority of the season, are trending towards playing this week. First-team All-Pro linebacker De'Vondre Campbell is expected to play this week, as well. However, perhaps most terrifying for the rest of the NFC, is that Aaron Rodgers is reportedly close to 100% healed from the toe injury that has been bothering him all season. While Rodgers's play never dropped off during the toe injury, he will be more equipped to pick apart a limited San Francisco secondary if it's a bit easier for him to move around. After Nick Bosa and Fred Warner were injured on Sunday, the Packers should have an easier time running the ball against a weakened front seven. The emergence of A.J. Dillon alongside Aaron Jones has given Green Bay a dynamic one-two punch at running back. I expect Bosa and Warner to play, but they might not be at 100%.
All Jimmy Garoppolo had to do last week for the Niners to win was not make mistakes, but things get significantly more difficult for him this week. Going on the road to Lambeau with a wind chill down to zero degrees and the potential for snow, you can expect a heavy dose of Elijah Mitchell on the ground. However, Campbell and the Packers' front seven will be ready for that eventuality and defensive coordinator Joe Barry will be looking to make Jimmy G throw the ball as much as possible. Rashan Gary won't have his usual impact running against Trent Williams, arguably the best offensive player in the NFL, but the return of Jaire Alexander adds more depth and quality to a very solid secondary group. With Alexander against Deebo Samuel, Rasul Douglas against Brandon Aiyuk, and Adrian Amos against George Kittle, the matchups work quite nicely for the Packers in pass defense. Still, the 49ers should be able to do enough on the ground and through the short-area passing game to move the ball and keep the Green Bay defense off balance.
The 49ers embarrassed the Packers in their last playoff matchup, winning 37-20 on the back of a whopping 220 rushing yards and four touchdowns from the unheralded Raheem Mostert. That loss stung Matt LeFleur and Aaron Rodgers, as did the loss to the Buccaneers in the NFC Championship game last year. The Packers' defense is much better now than it was back then, and Jimmy G only had to pass eight times in that game as they were dominant in all other phases. I expect the Niners' quarterback to shoulder a heavier burden this week and make a few mistakes that put the Packers in a position to win. With a healthier Rodgers, a revamped defense bringing back some key pieces, and injuries to the Niners' two best defensive players, I certainly like the Packers to win. However, the six-point spread is a bit too generous and I'm taking the 49ers to keep things close with their electric ball-control offense.
Key Injuries:
San Francisco 49ers: DE Nick Bosa (concussion) Q, LB Fred Warner (ankle) Q
Green Bay Packers: LB Za'Darius Smith (back) Q, OT Billy Turner (knee) Q, LB De'Vondre Campbell (elbow) Q, RB Aaron Jones (knee) Q, CB Jaire Alexander (shoulder) Q, DE Kingsley Keke (illness) Q, CB Chandon Sullivan (knee) Q, WR Marquez Valdes-Scantling (back) Q
Matchup To Watch: Deebo Samuel (SF WR) vs. Jaire Alexander (GB CB)
My Prediction: Packers win 28-24, 49ers cover, over 47.5 points
Buffalo Bills Vs. Kansas City Chiefs
This one sets up as arguably the game of the year, and the Chiefs will be out for blood after the Bills beat them 38-20 in Kansas City earlier this year. Josh Allen got everything he wanted in that game, finishing with 315 passing yards and four total touchdowns, but the Chiefs' defense has improved considerably since that point. The addition of Melvin Ingram has been massive for the Chiefs as an additional pass-rushing presence alongside Chris Jones, and the Bills' rookie right tackle Spencer Brown could struggle against him. Mike Hughes has also been an awesome pickup, and he's evolved into arguably the team's best cornerback as the team has gone one. However, the Bills carry awesome momentum into this game as Josh Allen finished with 21 of 25 passing for 308 yards and five touchdowns against what profiled as an excellent New England defense.
Patrick Mahomes threw two interceptions against the Bills earlier this year, and he was pressing as the game went on in an attempt to work his team back into the lead. Since then, the Bills have lost Tre'Davious White for the season to a torn ACL, but they are still the top-rated defense in the NFL in DVOA and a number of other metrics. Buffalo held opponents to just a 30.8% third-down rate, the lowest in the NFL, during the regular season, while Kansas City led the league with a 52.2% third-down conversion rate. The key to the game for Buffalo will be forcing the Chiefs into long third-downs and getting them off the field early in their drives. Tyreek Hill still didn't seem fully healthy in the Chiefs' win over the Steelers last week and Clyde Edwards-Helaire was out, but Mahomes still threw for five touchdowns against Pittsburgh. Replicating that performance against Buffalo will be difficult, however.
The Bills worked for an entire offseason to prepare for this game. Their pass-rush is much deeper and more tenacious, which is a problem for the Chiefs who are starting their backup right tackle, Andrew Wylie. Their secondary, while missing Tre'Davious White, is built to play the Cover 2 shell defense that has given Mahomes fits all year. Their once one-dimensional offense has been elevated by improved play by Devin Singletary and the introduction of more designed runs for Josh Allen. I picked the Bills to beat the Chiefs in the AFC Championship last year, and it was a year too early. Kansas City's defense may be improved from the version we saw earlier this season, but the Bills have been waiting for this moment and I'm picking them to go on the road to Kansas City and get their biggest franchise win in quite a while.
Key Injuries:
Buffalo Bills: DE Mario Addison (shoulder) Q
Kansas City Chiefs: CB Rashad Fenton (back) Q, RB Clyde Edwards-Helaire (shoulder) Q
Matchup To Watch: Andrew Wylie (KC OT) vs. Gregory Rousseau (BUF DE)
My Prediction: Bills win 28-24, Bills cover, under 55 points
Los Angeles Rams Vs. Tampa Bay Buccaneers
The Rams put together their most complete performance of the season on Monday night as they dominated in all three phases of the game. Matthew Stafford wasn't asked to do a ton to earn his first playoff win, but he finished with a near-perfect passer rating as he completed over 75% of his passes and threw for two touchdowns. Cam Akers, who recently returned after tearing his Achilles in training camp just a handful of months ago, played an excellent game in tandem with Sony Michel. Cooper Kupp and Odell Beckham Jr. both scored a touchdown, and those two could prove problematic for a Tampa secondary that hasn't been healthy all season. The bigger question for me will be whether or not the Rams' pass protection can hold up. Stafford was sacked five times against the 49ers in the final game of the regular season, and we've seen him make lots of mistakes this year when he's been under pressure. The Bucs put constant pressure on Jalen Hurts on Sunday with 10 total QB hits, and their variable blitzing has been impressive under Todd Bowles. Antoine Winfield Jr. had a phenomenal game last week occupying the slot position with Sean Murphy-Bunting out again, and I'll be interested to see if the Bucs feel comfortable leaving him there against Cooper Kupp if Murphy-Bunting is unable to play through his hamstring injury.
The Buccaneers should have Leonard Fournette back this week, which will be huge in their effort to take some pressure off Tom Brady. The Rams will focus again on pressuring Brady, as he was sacked three times in the game against the Rams compared to just 19 times in his other 16 games. The best way to beat Tom Brady is by putting pressure on him, particularly up the middle where Aaron Donald dominates. Ryan Jensen seemed to suffer a nasty injury on Sunday, but he walked off the field and didn't miss a single snap – it's hard to believe he's in danger of missing this game. The same goes for Tristan Wirfs, who just became the first Tampa offensive lineman to make an All-Pro team. Those two, along with the rest of the Tampa offensive line, will be crucial against Donald, Von Miller, and the rest of the Rams' elite pass-rush that got after Kyler Murray on Monday. I'll be interested to see if the Rams look to play Jalen Ramsey more in shadow coverage on Mike Evans, as they've been a very zone-heavy defense this season, but their best path to shutting down Tampa's passing game is arguably by focusing their attention on the future Hall of Fame receiver.
On a week full of tough games to handicap, I have the toughest time picking a side in this game. The Rams proved on Monday that when they are firing on all cylinders, they might be the best team in the NFL. However, going on the road to beat Tom Brady and the Bucs presents the Rams with their toughest challenge of the season. The injuries have piled up for the Buccaneers lately, but they've played some of their best football of the season over the past several weeks in spite of that. Ultimately, I'm going with my gut and taking the most successful playoff quarterback of all time over the one who just earned his first playoff win – this should be an exceptional game, however.
Key Injuries:
Los Angeles Rams: OT Andrew Whitworth (ankle) Q, S Taylor Rapp (concussion) Q, DB David Long (knee) Q
Tampa Buccaneers: RB Ronald Jones (ankle) Q, CB Sean Murphy-Bunting (hamstring) Q, OT Tristan Wirfs (ankle) Q
Matchup To Watch: Mike Evans (TB WR) vs. Jalen Ramsey (LAR CB)
My Prediction: Buccaneers win 27-24, Buccaneers cover, over 48.5 points
Divisional Round ATS Confidence Rankings
#1: Packers -5.5
#2: Bengals +3.5
#3: Bills +2.5
#4: Buccaneers -3