NFL 2022 Rookie Player Prop Bets: Drake London Set for Massive Debut Season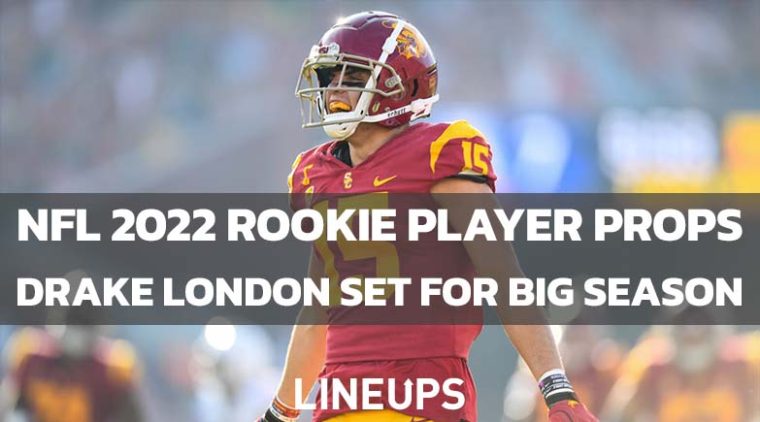 The NFL season is still a few months away, but it's never too early to start looking at some future bets. A noteworthy comment here is that betting the over on player props before the season begins is typically a losing strategy. Injuries are prevalent throughout the season, and even a few missed games can derail a player from reaching the over on a prop. Keep that in mind with the props below.
This year's rookie class is full of fascinating talent on both sides of the ball, and sportsbooks have posted lines on props for several of those players. In this article, I'll take a look at the projected stats for a handful of top rookie players and provide some thoughts on whether I like the over or under on various markets. Let's dive in.
*Odds sourced from DraftKings Sportsbook
WR Chris Olave, New Orleans Saints
Odds: 719.5 Receiving Yards (Over -125/Under -105), 4.5 Touchdowns (Over +100/Under -130)
My Current Projections: 57.6 receptions for 881.2 yards and 5 touchdowns
The range of outcomes might be the highest for Chris Olave out of anyone on this list due to the unanswered questions with the Saints. Will Alvin Kamara be suspended? Will Michael Thomas be healthy? Which version of Jameis Winston will we see – the gunslinger from Tampa Bay or the game manager from last season? Does the loss of Sean Payton have a significant impact on this offense? While those variables present some doubt for Olave, the fit couldn't be more promising with the Saints for a top-notch prospect who they traded up for.
Olave is pro-ready with his polished route-running, excellent ball skills, and downfield explosiveness, and it's easy to see him making some big plays this season. Winston's touchdown rate is primed for regression, so I'd be more inclined to bet the over on receiving yards of the two props. Still, I'd recommend waiting until later in the offseason until we know more about the prospects of this team's offense.
My Verdict: Pass (for now)
WR Drake London, Atlanta Falcons
Odds: 764.5 Receiving Yards (-115/-115), 4.5 Touchdowns (-140/+110)
My Current Projections: 77.6 receptions for 1,025.1 yards and 5 touchdowns
The Falcons' projected total of five wins on DraftKings is the second-lowest ahead of only the Texans, and we know there is a strong correlation between losing teams and increased passing volume. Whether Atlanta's starting quarterback is Marcus Mariota or Desmond Ridder, there should be plenty of garbage time this season. Drake London enters a situation where there is no target competition outside of Kyle Pitts.
London is a contested-catch machine who's a far better route-runner than he's given credit for. I have London down for about a 24% target share, and while the offense will hardly be prolific, it's easy to see London getting to 1,000 yards as a rookie given the situation. In an offense that likely will rank towards the bottom of the league in scoring, I'm not thrilled about betting the touchdowns with all of that juice, but the receiving yardage line is too low here.
My Verdict: Bet Over 764.5 Receiving Yards
WR Garrett Wilson, New York Jets
Odds: 749.5 Receiving Yards (-115/-115)
My Current Projections: 62.3 receptions for 828.3 yards and 4 touchdowns
Zach Wilson's rookie season for the Jets was highly disappointing as he completed just 55.6% of his passes for 2,334 yards through 13 games and threw for more interceptions (11) than touchdowns (9). However, we should see a significant step forward from him this season, particularly with the addition of Garrett Wilson. Wilson is highly talented with his electrifying YAC ability, impressive jump-ball skills, and dynamic route-running.
Long-term, I'm very confident in his ability to become a difference-maker at the position in the NFL. However, Elijah Moore is entrenched as the #1 receiver for now, and Corey Davis is still only 27 years old. That competition could limit Wilson's target share this season, but the Jets should still find themselves in plenty of passing game scripts this season. I'll take the plunge on the over for Wilson here with the vision of plenty of breakaway plays this season.
My Verdict: Bet Over 749.5 Receiving Yards
WR Jahan Dotson, Washington Commanders
Odds: 611.5 Receiving Yards (-115/-115)
My Current Projections: 56.4 receptions for 682.6 yards and 4 touchdowns
The Commanders made an aggressive trade up for Jahan Dotson in the draft, and he has reportedly impressed in camp thus far. Keep an eye on the reports of Terry McLaurin's situation as the veteran wideout still has not reported to camp as he hopes for a new contract. If McLaurin gets traded, Dotson's projection would immediately increase considerably as the #1 wide receiver in the offense.
For now, Dotson is entrenched as the second pass-catcher at best, and he might even be the third depending on Curtis Samuel's health as we enter the season. I had Dotson pegged as more of a second-round draft pick due to his limited contested-catch production and late breakout age, but his ability to separate from defenders and attack the ball in the air will play in the NFL. Still, in a Carson Wentz-led offense with plenty of question marks, I'm not thrilled about betting the over on Dotson here.
My Verdict: Pass
WR Skyy Moore, Kansas City Chiefs
Odds: 680.5 Receiving Yards (-115/-115)
My Current Projections: 42.9 receptions for 571.6 yards and 4 touchdowns
Skyy Moore lands in Kansas City with the best quarterback of any of the rookie wide receivers on this list, so the high-end possibilities are significant. However, Moore likely won't even start in three-wide sets at the beginning of the season with JuJu Smith-Schuster, Marquez Valdes-Scantling, and Mecole Hardman ahead of him on the depth chart. If one of those three players suffers an injury or plays underwhelmingly, Moore could earn more playing time as the season progresses.
I was very high on Moore in the pre-draft process, and I had him as my WR6 in my rankings – he went as the WR13 off the board, so I was higher than the NFL on his talent. In the long run, I expect his polished route-running, elusiveness in the short area, and impressive press release package to make him a productive starter for Kansas City. However, betting the projected fourth wide receiver on the depth chart surpasses 680 receiving yards is a tough ask for me.
My Verdict: Bet Under 680.5 Receiving Yards
RB Breece Hall, New York Jets
Odds: 830.5 Rushing Yards (-115/-115)
My Current Projections: 244 rushes for 1,073.6 yards and 7 touchdowns
The Jets made an aggressive move to trade up for Breece Hall, and while Michael Carter had a solid rookie season, we should fully expect Hall to step into a massive role early this season. Hall is the type of prospect who would have been an early first-round pick a handful of years ago, but teams have wised up to the lack of comparative value of the running back position. Still, Hall is ready to make a significant impact this year.
Hall stands out with elite athleticism (9.96 RAS) and remarkable durability – over three seasons at Iowa State, he had 718 rushing attempts for 3,941 yards and avoided significant injury. For that reason, I'm willing to bet on him staying healthy this season. The Jets have a rapidly improving offensive line, particularly with an injection of youth and the arrival of Pro Bowl guard Laken Tomlinson. Take all that into consideration, and I'm comfortable projecting Hall for over 1,000 rushing yards.
My Verdict: Bet Over 830.5 Rushing Yards