News Corp Australia to Enter Sports Betting Market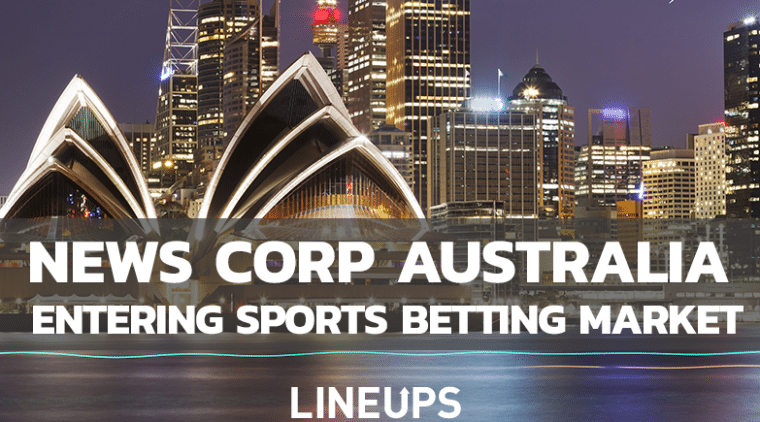 Details of The Deal
Australian media giant News Corp Australia, known widely for its newspaper and magazine publishing, is on the prowl to enter the sports betting industry with intentions to launch an online wagering platform in the Land Down Under.
But News Corp isn't operating alone; they are using a consortium technique with an aim to join several companies together to launch the platform. Two known parties to be involved in the development are Tekkorp Capital, a sports-gambling investment firm out of Las Vegas, and industry expert Matthew Tripp who is partially responsible for the success and growth of one of Australia's biggest operators, Sportsbet. 
BetMakers Technology, a company in which Tripp has substantial equity, will provide the technology and technological support for the endeavor. Spearheading BetMakers' involvement in the launch is CEO Matt Davey, betting expert and previous CEO of sports and gaming platform, NYX Gaming Group. 
It is expected that the new platform will launch under the name BetR and will be subject to a 10-year agreement upon its launch. While the explicit details have not yet been released, they are expected to come sometime soon as the coveted Australian spring horse racing season is right around the corner, marking a perfect time for launch. 
Sports Betting Market in Australia
In 2001, Australia passed the Interactive Gambling Act which effectively legalized several forms of gambling including sports betting, racing, and lotteries. Some of the most popular betting sites in Australia are Betway, Unibet, Bet365, William Hill, Ladbrokes, and Sportsbet, though there are several more. While they have certainly increased their presence in sports betting over the past few years, it still has a long way to go in comparison to other countries.
Arguably the most popular form of betting for Australians is wagering on the Melbourne Spring Racing Carnival which runs from August to November, annually. Some of the internationally acclaimed races that are a part of the carnival include the Melbourne Cup, Victoria Derby, the Cox Plate, and several more, all of which offer straight bets, parlays, teasers, futures, and more. During this time, there are dozens of big betting opportunities for Australians and chances to win huge prizes worth millions of dollars. 
News Corp Australia
News Corp Australia is by and large one of the biggest and most influential media outlets in Australia as proven by owning and operating successful publishing companies such as The Daily Telegraph and the Herald Sun, both of which are among the top five publishers in Australia. 
News Corp also controls Foxtel, which is a joint venture with Telstra offering a pay-TV experience. News Corp has a 65% share of the company which will come in handy as Foxtel regularly broadcasts sports and sporting activities on their programs. 
Between the influence in both print and television, News Corp has set itself up for success in the launch of a new venture as they are able to leverage its existing assets to succeed. This reach alongside an insider expert and a technology giant, positions them to be triumphant in their launch.