New York Surpasses $300 Million in Sports Betting Tax Revenue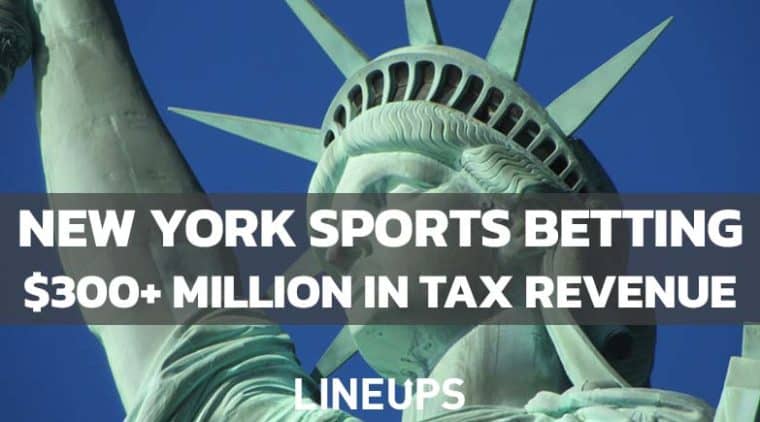 According to New York Governor Kathy Hochul, the state has exceeded $302.3 million in tax revenue through its first six months of operation. That number surpasses every other state's all-time tax revenue total despite New York not having legalized mobile sports betting for nearly as long as some other markets. New York has a 51% tax rate, the highest in the country and far greater than the 19% national average.
In its first six months of mobile sports betting, New York has generated $302 million in revenue from taxes, more than any other state including New Jersey, which went mobile in the summer of 2018 ($237 million in revenue collected).

— Darren Rovell (@darrenrovell) July 11, 2022
New York's Sports Betting Market Soaring
New York has the most prominent mobile sports betting market in the United States, with more than 2.9 million individual player accounts created since the market launched on January 8, 2022, according to Geocomply. Those accounts have conducted 707 million total transactions.
In the first month of legalization, the state handled $1.62 billion in sports bets, the national single-month record. In addition to the $302.3 million in tax revenue, New York has collected $25 million in licensing fees from each of its eight operators, totaling $200 million.
By comparison, Pennsylvania has collected $265.6 million in sports betting tax revenue between November 2018 and May 2022. New Jersey has collected $237.1 million over the same period. Only one other state, Illinois, has reached the nine-figure mark in all-time tax revenue.
Governor Hochul beamed about the recent success, saying, "in just six months, New York has become a leader among states in implementing successful gaming policies, with hundreds of millions of dollars going to important programs that will improve the lives of all New Yorkers."
New York is the first state to ever garner more than $1 billion in sports betting handle across 6-consecutive months; it has now eclipsed the billion-dollar mark in each of the 6 months since regulated wagering began; NY has generated more than $300 million in taxes in that time

— Ryan Butler (@ButlerBets) July 8, 2022
Forecasts Change in New York
In January, when the legal sports betting market launched, New York State had forecast $249 million in mobile sports betting tax revenue for 2022, including $200 million in license fees that had already been collected. However, the state's forecasts have been significantly adjusted from those initial figures.
As of April, New York State projects $357 million in 2023 sports betting tax revenue, which will escalate to $465 million in 2024, $493 million in 2025, $509 million in 2026, and $518 million in 2027. While California and Florida could be among the states to launch shortly, it seems unlikely that any state will be unseating New York as the top market soon.
Would Opening the Market Help the Tax Issue?
Operators in New York continue to complain about the high tax rate, but they continue to operate regardless. FanDuel produced research in August 2021 that the tax rate was unsustainable long-term, but it still pushed through with its bid along with its partners.
FanDuel represented 57.4% of New York's gross gaming revenue (GGR) and 45.12% of its handle for June. Along with DraftKings and Caesars, the top three platforms accounted for over 85% of the state's monthly handle. Given that level of consolidation, it is difficult for smaller sports betting operators to compete.
There has been some discussion of adding more operators to reduce the tax rate, but that wouldn't necessarily be a win for the additional smaller operators. It would be difficult for any operator to gain enough market share to compete with the top platforms in the state seriously, and even with a reduced tax rate, marketing costs would be difficult to withstand.
Bally Bet Launches as Ninth Licensed Operator
Last Thursday, Bally Bet became the ninth and final licensed operator to launch in New York. Bally Bet is an official partner of the NBA, NHL, MLB, and the Bally Sports broadcast network, giving it a unique position in the sports media and betting landscape. Bally's North America Interactive division is expected to generate $125 million in revenue in 2022 but EBITDA losses of $60 million as it spends on expansion in states like New York.
However, Bally Bet doesn't intend to overspend on marketing and has set a goal of profitability in New York by 2024. The launch has been very quiet, and the operator didn't even send a tweet about New York on its official Twitter account until after it began taking bets. The timing is also puzzling, given this is the quietest time of year on the sports betting calendar.
Bally's has said it plans on focusing on viewer interaction with sports betting, but none of its 21 regional sports networks are located in New York. The closest is Bally Sports Ohio. Bally's owns 20% of the Yankee Entertainment and Sports (YES) network, but the Yankees decide what is aired on their network, so the plan for activations with Bally Bet is unclear.
We're in a New York state of mind. Now live!

Download our sports betting app for NY at https://t.co/N4tiyGCgYU.#letsplay #ballyverse pic.twitter.com/UsWJ5paIHI

— Bally Bet (@BallyBet) July 8, 2022