New York Sports Betting Handle: Reaches $150M in Opening Weekend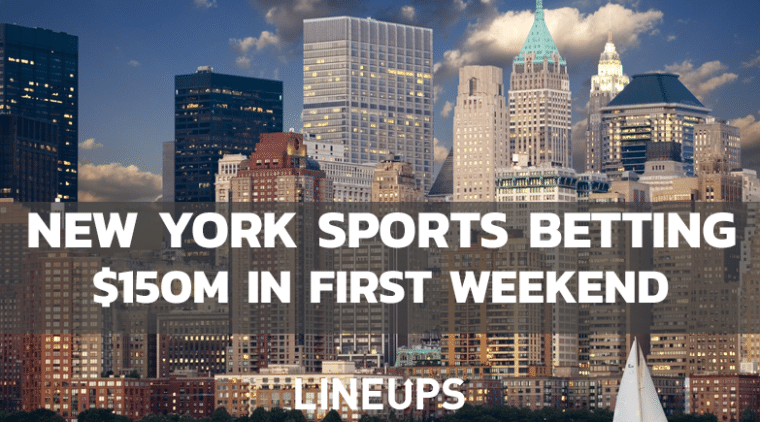 New York Sports Betting by the Numbers
New York launched their online sports betting market on Jan. 8, and with over $150 million in wagers in its opening weekend, it became one of the most successful online sports betting launches to date. Nine operators were approved for participation in online sports betting in New York, but just four (DraftKings Sportsbook, FanDuel Sportsbook, Caesars Sportsbook, and BetRivers Sportsbook) operated in the opening weekend.
In the first 12 hours of its launch, New York's online sports betting launch recorded 5.8 million transactions. This is the largest launch by number of transactions by 64%, topping the second-biggest launch, which was in Pennsylvania, by 2.5 million. 650,000 different accounts were made in 17.2 million geo locations by the end of the opening weekend. By the end of the Rams-Cardinals game on Monday night, 1.2 million different accounts had been made and the 17 million geolocations were up to 17.9 million. This uptick can be partially attributed to the launch of BetMGM, one of the nine operators that were initially approved, which launched on Monday morning. The last four mobile sportsbooks, PointsBet, Resorts World, BallyBet, and WynnBet are scheduled to join the market this year.
Of the 1.2 million accounts, 9.3% of them previously placed bets in New Jersey, which was a state flushed with concern about their own revenue after the New York launch, but there was no significant damage to their revenue.
New York Sports Betting Revenue
New York is implementing a 51% tax (highest in the nation) on sportsbook operators and according to their 2023 budget, they are expecting to receive a whopping $357 million in tax money on sports betting. What do they do with the money?
Per New York State's Executive Budget, "for mobile sports wagering revenue, effective FY 2023, $6 million will be directed to programs addressing problem gambling, $5 million will be directed to a youth sports grant program statewide, and the remaining amount will be directed to education. License fee revenue is directed to education."
"The State projects $249 million in revenue (includes $200 million in already collected license fees) in FY 2022, $357 million in FY 2023, $465 million in FY 2024, $493 million in FY 2025, $509 million in FY 2026 and $518 million in FY 2027," per the executive budget.
Also in the budget was the expected approval of three more casino licenses in the state, per New York governor Kathy Hochul.
New York Senator Joseph P. Addabbo Jr. concurred: "today's executive budget released by Governor Kathy Hochul presents a fiscal path forward for New York State during these difficult times. I believe the inclusion of expediting the three full casino licenses for our downstate region has the potential to bring in $1.5 billion in revenue for the state, additional educational funding and improvements to problem gambling programs. I look forward to continuing to work with the Hochul administration and the Gaming Commission to ensure that gaming in the state expands and advances in a credible, reasonable manner," Addabbo Jr. said.
These numbers should realistically keep increasing through January as we get further into the playoffs and into February with the Super Bowl on the horizon, especially with the expected success of the Buffalo Bills.