New York Sports Betting Passes $10 Billion Handle Mark Days Before NFL Kickoff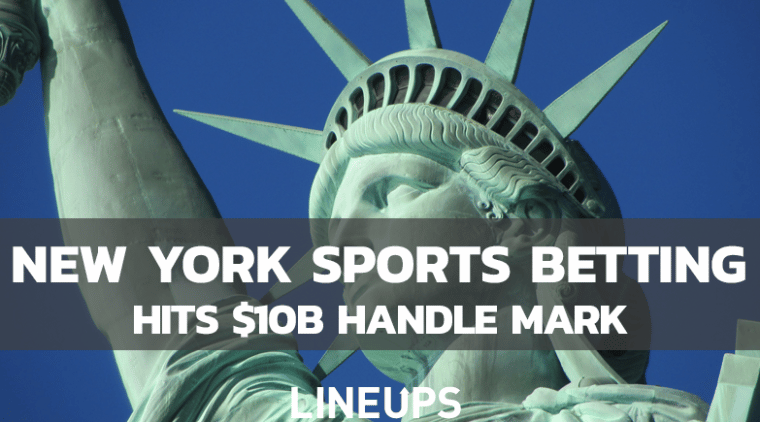 Revenue Report: Week Ending August 28 
The New York State Gaming Commission just released its next weekly revenue report for the week ending on August 28. The report showed a $194.5 million handle for that week, which was the first week-over-week decrease in the month of August. Still, this week was big for other reasons: it pushed the all-time sports betting handle in New York past $10 billion. 
In just eight months, New Yorkers have wagered just over $10.1 billion in the Empire State across the state's nine mobile operators. That has resulted in just over $765 million in gross gaming revenue and with a 51% tax rate, over $390 million in tax revenue for the state of New York. 
FanDuel is still leading the operators in New York as seen through its weekly report ending August 28. It took in roughly $83.7 million in wagers and just over $8 million in gross gaming revenue for a 10.5% hold on the week. DraftKings was behind FanDuel, posting a $53.8 million handle and $4.5 million in gross gaming revenue, a 31.6% drop from last week's gross gaming revenue for DraftKings. 
PointsBet saw one of its more successful weeks hitting very close to $1 million in revenue, which the operator has not done since March. 
Fall Sports Betting Outlook
While these numbers are impressive, they will likely be considered child's play in a few short months after the NFL season gets underway. New York's sports betting market has yet to experience an entire NFL season, which is poised to take sports betting in the Empire State to new heights. 
In January and February of this year, right when sports betting launched and the NFL season was ending, mobile sports betting in New York generated over $3 billion in wagers. Now that bettors have some experience under their belt and four additional months worth of NFL games to bet on, this handle should skyrocket. Not to mention the additional bets that will come from the World Series, college football, NBA, and NHL this fall. 
Will New Yorkers See The Yankees At The World Series?
New Yorkers are no doubt excited for football, but first, they'll pay homage to the beloved Yankees. The team has been in a bit of a slump as of late, but Yankees fans are loyal; they'll continue to hammer the sportsbooks with Yankees bets. 
Previously the favorite to win the World Series, the Yankees are now +550 to win in October behind none other than New York rival, the New York Mets. The Yankees still sit atop the AL East, a few games ahead of the Tampa Bay Rays, though the margin is narrowing. The team is 9-11 in their last 20 games despite Aaron Judge's home run count growing to a whopping 54 on the season. 
If the Yankees don't make the World Series as planned, this will only result in more bets on NFL games, so either way, New York won't be suffering. 
Nevertheless, we have really only seen a fraction of what New York is really capable of in terms of sports betting and the fall will present the perfect opportunity for New York to secure its spot as the top market in the U.S.