New York Sports Betting Breaks Another Revenue Record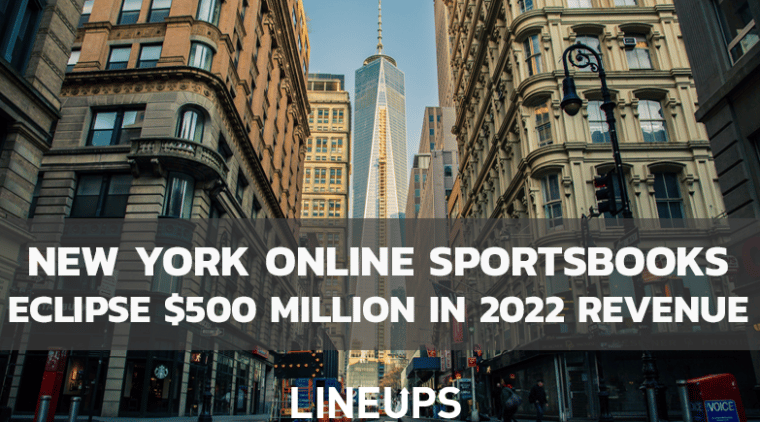 Five Months In
In a continuation of New York's takeover of the U.S. sports betting market, New York's gaming commission and Gov. Kathy Hochul announced that it has broken yet another state record for tax revenue having generated over $267 million in revenue in its first five months of operation. New York has collected more state tax revenue from sports betting in these five months than any other state has over multiple years. New York's online sportsbooks have handled over $7 billion in the last five months and over $500 million in gross gaming revenue. 
Tax Rate & Population
The closest state to New York in terms of revenue is Pennsylvania, which has generated $253 million in revenue since November 2018, followed by New Jersey, which has generated $229 million since June 2018. The discrepancy in numbers is in large part due to drastic differences in tax rates. While Pennsylvania has a higher-than-average tax rate of 36% on sports betting revenue, it is nothing compared to New York's 51% rate, which is the highest in the country. New Jersey's is a mere 13%. The other part of New York's leadership in this space is because of its population size – it's the fourth-most populous state, behind California, Texas, and Florida, all of which do not currently operate legal sports betting markets. 
Beneficiaries of New York Sports Betting
"In less than half a year, New York has become a leader among states in implementing successful gaming policies, with hundreds of millions of dollars going to important programs that will improve the lives of all New Yorkers," proponent of sports betting, Governor Hochul said. "I am committed to upholding responsible and effective gaming policies that will move the industry forward and continue to drive our state's economic growth."
The mobile sports wagering tax revenue generated by New Yorkers is being reinvested into elementary and secondary education in the state along with gambling prevention services. Additionally, the state has collected $25 million in licensing fees from each operator in the state, totaling another $200 million for the Empire State. The eight operators in New York are: BetMGM, FanDuel, DraftKings, BetRivers, Caesars, PointsBet, WynnBET, and Resorts World Bet.
Slow But Still Steady
In May alone, mobile operators handled over $1.26 billion in wagers, generating almost $110 million in gaming revenue, including $53.8 million in revenue for operators and $56 million towards education. While these numbers are leading the charts for May among states, it was actually a relatively slow month for New York compared to early months when football season and basketball season were still in the picture. Its opening month of January posted the state's record monthly high handle, bringing in $1.67 billion in wagers, followed by March at $1.64 billion.
"These numbers further prove that New York's gaming industry is robust thanks to the implementation of effective gaming regulation and the actions of responsible sports wagering operators," said New York State Gaming Commission Executive Director Robert Williams. "The results — hundreds of millions of dollars in revenue in less than six months of operation — speak for themselves."