New York Sports Betting Revenue Down 41% in Week Ending May 29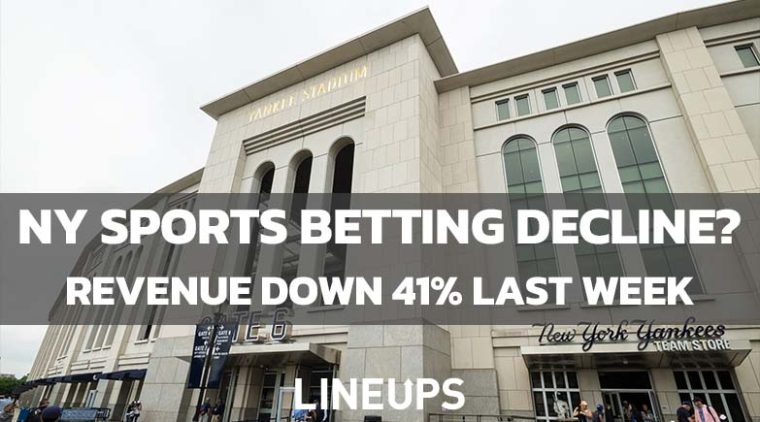 The online sports betting market in New York slowed down a bit at the end of May as the state's operators reported a combined $13.8 million in gross gaming revenue (GGR) for the week ending May 29. That GGR is the third-lowest the state has seen since launch and is down about 41% from $23.5 million in the week prior. The 5% hold rate reported for the week is significantly lower than the state's all-time hold rate of 7%.
Handle Trending Down Overall
New York's overall sports betting handle increased in the week ending May 29 as the state's eight operators combined to collect $271.9 million in wagers. That's a 4.1% increase from $261.2 million in the week prior. However, New York has seen an overall handle of under $300 million in four of the last five weeks after closing April with just under $1.4 billion in wagers, the lowest single-month total since launch.
Results to Date
As of the week ending May 29, New York's online sportsbooks have now generated over $530 million in GGR since the market launched on January 8. To date, New York's overall handle is just over $7.4 billion, so the state has generated a hold rate of about 7.2% to reach those revenue results. With a 51% tax rate in the state, New York has received $270.5 million in tax revenue in the handful of months with legalized online sports betting.
For reference, New Jersey has had legalized sports betting since June 2018, shortly after the monumental PASPA ruling. The Garden State has collected $27.2 billion in total wagers through April. Still, its $1.8 billion in revenue has resulted in just $229.1 million in tax payments for the state – New York nearly surpassed that number in its first four months of operation.
FanDuel Extending Lead
FanDuel has quickly become the preeminent sports betting operator in New York, as in much of the United States. In the week ending May 29, FanDuel had a handle of $121.6 million in wagers, representing 44.7% of the total market. That extended FanDuel to just $2.88 billion in total wagers since launch, and it should hit $3 billion by the end of the next reporting week if recent trends hold.
FanDuel also generated an impressive GGR of $8.38 million, representing 59.8% of the total market. The operator has generated $234.6 million in total GGR since launching its online offerings, which has led to $119.6 million in taxes for the state. For reference, FanDuel has generated more tax revenue for New York in just over four months than Nevada's entire sports betting market has developed in its lifetime due to the staggering tax rate.
DraftKings, Caesars, and BetMGM Trailing Behind
A clear-cut top four in the New York sports betting landscape has emerged, with DraftKings, Caesars, and BetMGM joining FanDuel atop the market. Those three sportsbooks were the only ones other than FanDuel reported a double-digit handle for the week ending May 29 and GGR over $1 million. The top-four in the market make up 94% of the state's total sports betting handle to date.
DraftKings generated a handle of $71.1 million for the week ending May 29 and GGR of $1.9 million to finish in second place in both categories. DraftKings should reach a total handle of $2 billion sometime in the next few weeks with a current 24.3% market share. In addition, DraftKings has generated $121.9 million in total sports betting revenue to date, which has generated $62.2 million in taxes.
Caesars trailed behind with $38.6 million in handle for the week and a GGR of $1.6 million. BetMGM was at a $25.6 million handle and a GGR of $1.5 million. Caesars has generated $123.7 million in GGR, more than DraftKings, and $63.1 million in taxes. Caesars has a 21.9% market share in the handle while BetMGM is at 9%, significantly behind despite the last week being fairly equal for the two sportsbooks.