New York Sports Betting Market Passes the $1.6 Billion Mark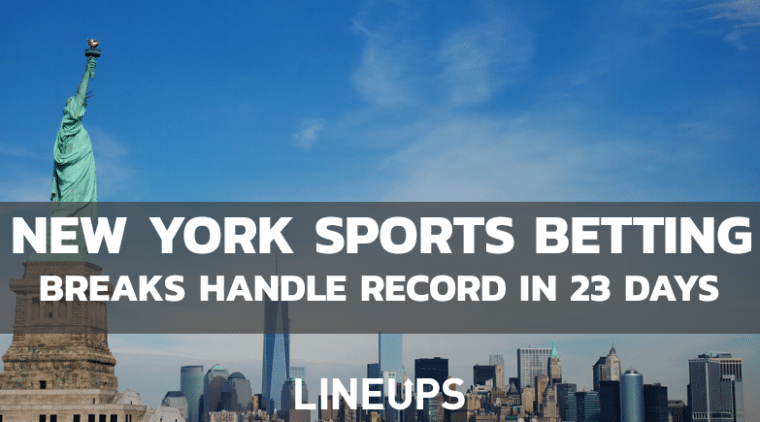 New Your Sports Betting Handle Update
The online sports betting market launched in New York eight days into the new year and made quite a name for itself in its first 23 days. Sports bettors in New York placed a record-breaking amount of money in wagers in its first month – to the tune of $1.625 billion. This breaks the previous one-month handle record, which was $1.3 billion set last October in New Jersey. It also breaks the previous opening sports wagering handle record ($777 million) which was set by Arizona in its first month last September.
There are six live operators in the state that took in bets contributing to this handle. DraftKings, Caesars, FanDuel, Pointsbet, BetMGM, and BetRivers. In the last week of January alone, these six operators took in almost $450 million in bets, generating $21.6 million in revenue and $11 million in tax revenue for the state of New York. Caesars, FanDuel, and DraftKings accounted for 82.8% of the handle in the last week of January, and BetMGM, PointsBet, and BetRivers made up the remaining 17.2% of the handle in that week.
Caesars' Leads the NY Market
Caesars Sportsbook had the most successful outing of the six operators in January, accounting for $615.5 million of the $1.6 billion in total wagers for the month. This is likely due to the promotional offerings of Caesars, which was three times higher than the second and third place leaders, DraftKings and FanDuel, which brought in a combined $869.45 million in those 23 days. BetRivers, which has been live since the launch on Jan. 8, accounted for just 0.7% of total revenue generated from these operators in January. BetMGM launched one week later and accounted for 2.85% of total revenue, and PointsBet launched in the last week of January and accounted for 2.1%.
Caesars accounted for 49.45% of the total tax revenue or $28.5 million generated in the month of January by these online operators. DraftKings generated $13.82 million in tax revenue for the state, FanDuel drove in $12.04 million, BetMGM added $1.64 million, PointsBet tallied $1.91 million and BetRivers brought in a pitiful $426k for the Empire State. The tax rate on online sports betting operators is 51% in New York. Much of this tax revenue will be going toward educational measures and to funding programs that support addiction education and prevention.
Since the end of January and in the early days of February, WynnBET has also launched in New York; however, it is currently for sale, and it is unclear how this sale will affect its contributions to New York. Nonetheless, revenue and handle records are likely to keep breaking in New York as nine operators have been approved for business which means two more are still coming – Resorts World Bet and Bally Bet. New York is expected to become the number one market for sports betting, and it comes at no better time as the Super Bowl is just over one week away.